UK Scanner Law - Wireless Telegraphy Act
After reviewing a USB stick that can pick up signals from aircraft, we were reminded that listening to transmissions that aren't intended for us, is a breach of the Wireless Telegraphy Act. Here's our discussion on scanners and aircraft monitoring from Show 87
Listen to FrequencyCast Show 87 - Wireless Telegraphy Act Feature
Wireless Telegraphy and Listening:
Continued from Gadget Show Live 2013 Transcript Part 2
Pete:
Now, talking about the last show we did, we talked about another USB device, not the Android TV stick. We talked about that one - can you remember that?
Kelly:
Yes, this is the one where you tracked the aeroplanes, no?
Pete:
Yeah, and we got into trouble for that, didn't we? This is a little dongle, it's about £10. It does Freeview, DAB, FM, and a few other unexpected channels, and we had this one in, this is from John Quirk - hello, John. He's talking about the Realtek USB stick, and he says: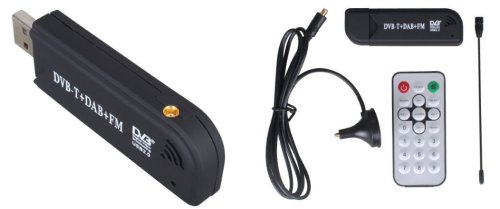 Realtek DVB-T TV RTL-SDR Radio Tuner USB Stick
Kelly:
"It's an offence under the Wireless Telegraphy Act to receive transmissions that you're not authorised to. The transponder app may fall foul of that."
Pete:
OK, now I remember, when we were recording the last show, you said there was something a little bit dodgy about being able to listen in on things, didn't you?
Kelly:
I did - I hate to say, I told you so, but I told you it was dodgy!
Pete:
Well, John is actually quite correct. It is illegal to listen to frequencies that you're not authorised to receive. Now, this dongle, as I say, it picks up DAB, FM and Freeview, all of which are, of course, legal, and there are some things that you're allowed to listen to. So you can listen to UK CB radio, for instance; and you can listen to UK amateur radio without having to have a licence. Of course, we're licensed, aren't we?
Kelly:
We are indeed.
Pete:
But the dongle does let you listen to all sorts of other frequencies as well, including ones that you're not allowed to. Now, for the strict letter of the law, we turn to the government's website, and apparently it is illegal for someone without authority to use:
Kelly:
"Wireless telegraphy apparatus with intent to obtain information as to the contents, sender or addressee of any message, whether sent by means of wireless telegraphy or not, of which neither the person using the apparatus, nor a person on whose behalf he is acting, is an intended recipient."
Pete:
You did that very well. Did that all make perfect sense?
Kelly:
No, not at all! To be honest, I struggled with that a lot. There was far too many long words and tongue-twisters.
Pete:
Yes, it's a rather odd law. There are a lot of things that you're not allowed to listen to. For instance, you're not allowed to listen to aircraft transmissions, or air traffic control - did you know that?
Kelly:
I didn't know that, but then I wouldn't be listening anyway.
Pete:
However, it's very easy to pick up a hand-held scanner. If you just look at the Maplin catalogue, just have a look at that little item there for me?
Kelly:
OK, so that's an Air Control M8 airband radio.
Pete:
So for £20, you can stroll into your high street Maplin ...
Kelly:
And it's legal to buy?
Pete:
That's the loophole - if you look at this little thing here, what's that box there, for £74?
Kelly:
That's a black box MK2 VHF air traffic monitor.
Pete:
And this one here is an aircraft radar detector box. So these products exist, and it's very, very easy to just go out and buy something that will let you listen to a frequency that you're not allowed to listen to.
Kelly:
So basically, it's all dodgy?
Pete:
Well, there's the interesting little loophole - it's not illegal to buy, or illegal to own; it's illegal to listen.
Kelly:
Ah, OK. I don't really see the point in buying one, to be honest. It seems a little bit pointless.
Pete:
Certain people are allowed to use these, so pilots, for instance, can have a portable radio, and they're allowed to listen to airband radio. We're allowed to get scanners that listen to the ham radio frequencies, of course, and transmit on the amateur frequencies, but it is illegal to listen to something that you're not authorised to.
Kelly:
Yeah, it makes sense.
Pete:
It is a bit of a daft rule, though. I don't know if you've ever been to an air show, for instance, but there's so many people walk around with scanners listening to the aircraft, and you can normally buy them. You go to an air show, and there's stands selling equipment to let you listen to planes taking off and landing, and I've been on a couple of flights, I don't know if you have, where they actually feed air traffic control into the plane, so as a passenger, you can sit there and hear the air traffic.
Kelly:
I've not experienced that actually - how interesting. But I do think you're trying to come up with an excuse for yourself now, so you can carry on doing this.
Pete:
So going back to John's email, yes, he's correct - we shouldn't be listening to aircraft traffic, or using these little things to pick up transponders, but I think it's a little bit of a silly rule, like the other silly rule - what are you not allowed to do while you're driving?
Kelly:
Use a mobile phone.
Pete:
However, you are allowed to use a two-way radio. So CB radio, amateur radio and obviously taxi drivers using their radios, is fine, but not a mobile. I can't really see the difference myself.
Kelly:
No, I mean, I don't really see the difference, but I guess you're not going to be texting on a radio, so there's an element of cutting down other activity.
Pete:
But of course, you are still distracted from your driving by playing around with the buttons on your radio and talking.
Kelly:
Indeed.
Pete:
So thank you very much, John, and yeah, we won't be looking at aircraft again, will we, Kelly?
Kelly:
We won't, we promise.
Pete:
And we'll be looking at some more of your feedback in just a moment.
Listen to FrequencyCast Show 87 - Wireless Telegraphy Act Feature
Related Links: