Classic Tech - The Calculator
A look back in time at the history of everyone's favourite, the pocket calculator. Here's our transcript and pictures
Listen to FrequencyCast Show 56 - Classic Calculators
A look at the humble calculator:
As requested by one of our listeners, and after a suggestion by regular Ian Coxall, this is the first feature on a piece of classic technology, and we featured the calculator. Here's a transcript:
Follows on from the Triax Tri-link Review
Pete:
And next up, our new look at classic tech, but first, a commercial break.
"Hey You. Do away with that Tally Stick... Now, you can upgrade to Abacus 1.0. Ten columns of addition power in a handy portable frame. Just slide the beans around to make adding and subtracting your 2700 BC tax return a doddle. The new Sumerian Abacus... Available from your local Babylonian supermarket 4,800 years ago."
Carl:
I've got to move on, so I may as well buy one of those.
Pete:
There you go. So this is a new feature where we look back on some classic old technology. This one was suggested by Graham Holland, who sent us a survey response, saying, "I love the idea of looking back at historical technology products. Why not start with the digital calculator, which is the first mass market device?" So we'll do just that.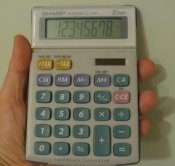 Carl:
OK, well this is why I have to go and get all my favourite products, isn't it?
Pete:
First off, a little bit of history. So there was the abacus, many many thousands of years ago. We had the slide rule in 1622. The first mechanical calculator was invented in 1642 by Pascal.
Carl:
Was it? Is that because he beat Newton to it?
Pete:
1820 - Thomas de Colmar invented the first commercial mechanical machine called the Arithmometer. Babbage, famous for the computer, in 1822, came up with the "difference engine" that could hold seven numbers, 31 decimal digits each.
Carl:
Clever!
Pete:
Then Curta came up with the one-handed adding machine in 1948.
Carl:
OK, I can't wait till we get to Texas Instruments.
Pete:
Have you ever seen one of those before?
Carl:
Are they the metal ones?
Pete:
Hmm - indeed they are. They're called the Addiator. They were all the thing in the Twenties onwards - little slidey pocket calculators. Where's the digital dinosaur when we need him? Then we had the first electronic calculator, the all-transistor IBM 608 ...
Carl:
Nice!
Pete:
... which was housed in several cabinets and cost $80,000.
Carl:
Oh, that's good - I've got three of those at home.
Pete:
Then the Casio, they had the model 14-A in 1957, which used relays, and was actually built into a desk.
Carl:
Good grief!
Pete:
As you said earlier, the first hand-held calculator was developed by ...
Carl:
Texas Instruments.
Pete:
When?
Carl:
1982.
Pete:
1967. It could add, multiply, subtract and divide, and its output was on a piece of paper.
Carl:
Oh, I didn't realise that.
Pete:
There you go. In the Seventies, we had the first range of what we would recognise today as decent calculators. These included the Sanyo "Mini Calculator", the Canon Pocketronic, and the QT8B "micro Compet".
Carl:
And then Casio put some on watches later in the Eighties, didn't they?
Pete:
They did. One of the first low cost calculators was from Sinclair, that was launched in August '73, retailing for £30.
Carl:
Gosh - bet it's worth more now.
Pete:
And of course, the first LCD calculators - they were actually Rockwell International brought those out in 1972. The one most people are going to remember is the Sharp EL-805, also in 1972. Now you may well remember this one - the first graphing calculator?
Carl:
Oh yes - draws graphs, doesn't it?
Pete:
That was the Casio FX-7000G, back in 1985.
Carl:
Do you still get those?
Pete:
I think you can still get them, yeah.
Carl:
I might go and get another one.
Pete:
And then there's your personal collection of calculators. Go on - sling that one over, I'm dying to know.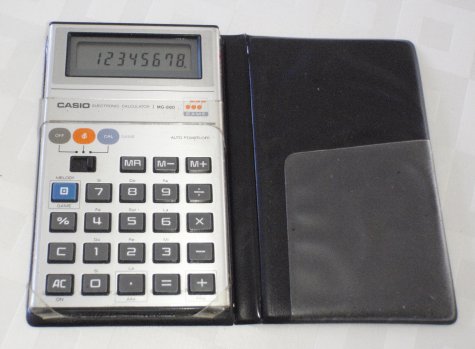 Carl:
Now this is my Melody calculator - I love this. This was by Casio. This one sounds a little bit like this - it's got this in-built tune already in there ...
(it plays "And When The Saints Go Marching In")
Pete:
Oh, make it stop!
Carl:
But it's better than that, because if you press the numbers, look!
(it plays a scale)
Pete:
You've got the original 1980s' batteries in that, haven't you?
Carl:
I think so. And also, it has a game on it, because if you switch it to this last function, if you press the blue button, then you'll get a game - it's like Space Invaders with numbers or something.
Pete:
Go on then - give us the other one. This is a talking one, isn't it?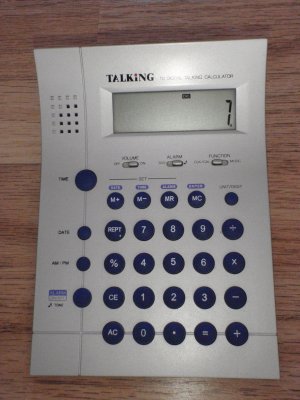 Carl:
These are quite good - I like these, because you know when you've hit the numbers.
"One, two, three, plus, minus, times"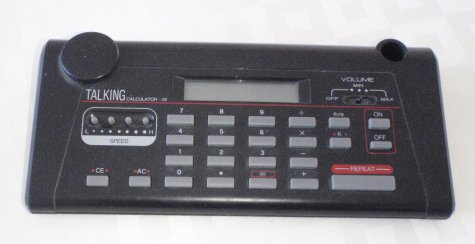 And what I particularly liked about this model is that it also tells the time.
"It's 12.33 am."
Yeah - hold on a minute, before we put these away, let me just try something.
"Point seven seven three four"
Now hopefully, if I hold it upside-down, and press the repeat button ..."
"Zero point seven seven three four."
Oh, that was disappointing - I was hoping it would say "HELLO".

Pete:
So there we go - we've got digital watch calculators now, of course, all manner of other very clever calculators, including your collection of old tat there.
Carl:
Yeah, we're going to put some images of these on your website.
Pete:
Oh, go on then. My favourite calculator is this - the Livescribe Pulse Pen.
Carl:
Go on then - show off your toy!
Pete:
Well, this pen uses special paper to capture handwriting in audio. We actually reviewed this back in show 40, and as well as being my all-time favourite gadget, it also calculates using handwriting. Let me just switch this on.
"Main menu"
There we go, and I'm writing on the special book. I write the word "calc" and I write a sum: 23 times 47 = ... right, look at the pen's screen, 1081, and it's got that just from my handwriting.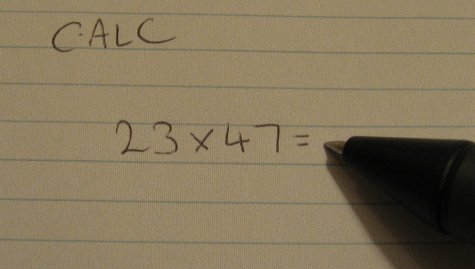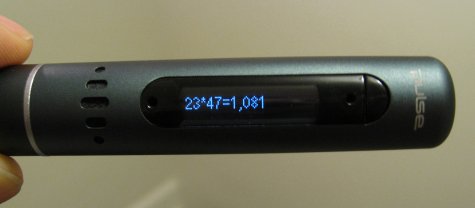 Carl:
Very clever - all right, try this one, Pete. What's one two three times five?
Pete:
One, two, three times five, er, six fifteen.
Carl:
Six fifteen? - time for some interaction.
Listen to FrequencyCast Show 56 - Classic Calculators
More information: