Triax Tri-link TV Distribution Review
As requested by one of our listeners, we took a look at this novel home TV distribution system in Show 56 of our podcast. Here's a transcript and some pictures.
Listen to FrequencyCast Show 56 - Triax Tri-Link Review
Triax Tri-Link System:
Pete shows Carl the new home distribution system, the Tri-link from AV manufacturers Triax. Here's the transcript:
Follows on from HD Questions Transcript
Right, moving on to the second item in today's Focus, which is this.
Carl:
Good grief - what is this? It looks like some sort of intermediate box between your TV and something. Oh, it's got SCART, it's got a channel selector, it's got an RF out, it's got ... oh, a nine volt out there, IR, a power on/off switch, DC in and RF in, and a few gain controls and other things around it. Tell me - what is this?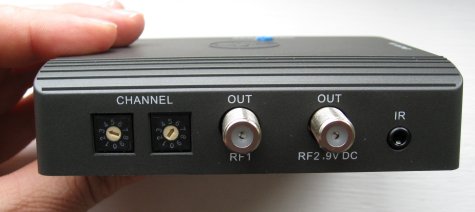 Pete:
Now we have to thank Greg Smith, one of our listeners. He suggested that we try something called the Triax Tri-Link, which is what I'm holding in my hand. So this is a cunning little box that you use to send your TV around the house.
Carl:
All right, OK - and how is this an advantage over other devices?
Pete:
The actual question we had in from Greg: "Was just wondering if you had a view on the Triax Tri-Link, and do you know if it works with BT Vision?" So what it does, let's explain what this does, is - it has a SCART socket in and a SCART socket out. So what you do is, you plug something like a Freeview box or a Freesat box or a BT Vision box into the SCART socket on the left hand side, and you use it as a loop through, so you can have the output on the right hand side as well.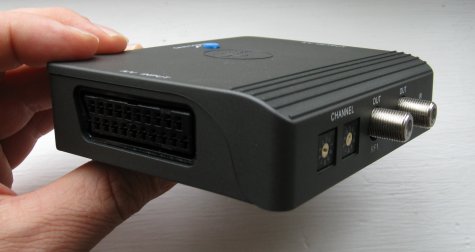 Carl:
Very good.
Pete:
You plug a TV aerial in there, and if you have Sky, you can also plug your Sky RF feed into there as well.
Carl:
Good grief! - so it takes a lot of inputs, right. Then what does it do?
Pete:
It's a modulator. Now you're familiar with the RF modulator?
Carl:
I am - I used to have one, didn't I?
Pete:
Two little dials here for channel, and you can dial up your channel between 21 and 68 to get your modulated frequency. This will effectively send the output of up to three things, so your TV aerial, whatever's on your SCART, and your Sky box, up your TV aerial to other TVs in your house.
Carl:
Oh, right.
Pete:
Add to that one other little feature - it's also got an amplifier in it.
Carl:
Oh, very nice - so you can actually amplify the signal that comes in.
Pete:
So the way it works - it comes with a box of bits, there you go. What you have here, this is the Magic Eye solution, so at the remote TV, you plug that into your TV, through the little coax socket, and the incoming TV aerial into that. You've got a little eye thingy that you point your remote control at. This will send your infrared control commands down the TV aerial, back to the host box on your main TV set.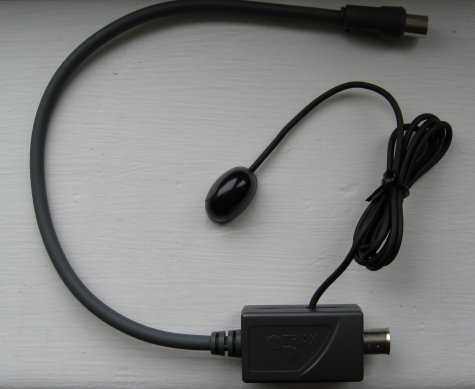 Carl:
Ooh - that's clever.
Pete:
This little wire here is on a 3.5 mm jack, and that's an infrared transmitter. So the way it works is, you could wire it up to something like BT Vision, where you plug it in through the SCART, up your TV aerial, you set up these little infrared remote control sensors, and you can use your BT Vision remote control upstairs to change the channel downstairs.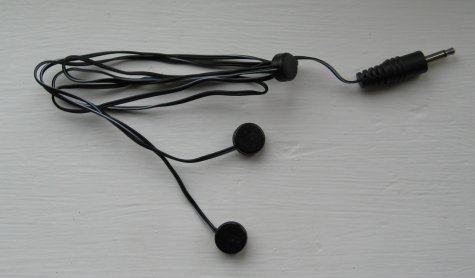 Carl:
Very good!
Pete:
There's only one slight problem that I've found with it. Can you see - if I unplug that, can you see what the problem there is?
Carl:
It's the wrong connector?
Pete:
Yeah. So this has got screw thread F plug connectors, that you're more used to seeing on something like a Sky box, whereas of course most people in the house have got coax aerial sockets.
Carl:
So you have to go out to Maplin and get a converter?
Pete:

Yeah, just like this little one here. So you have to plug that in there, screw that in, and it will now take a standard aerial connection. I'm surprised they don't supply these with the kit as standard. A little bit disappointing, but certainly it's only a couple of quid to get some of these to make this work. It comes with a 12 volt power supply, two infrared transmitters, digital link for the other TV set, and a manual.
Price between £40 and £50 - see our show notes for a pic and some links.
Carl:
Did we mention Greg's answer to his question? - does it work with BT Vision?
Pete:
Yes indeed, it does work with BT Vision.
Carl:
There you are, Greg - I got him to answer it in the end.
Continues with our Classic Tech Calculator Transcript
Listen to FrequencyCast Show 56 - Triax Tri-Link Review
More information: