Voice Calls with Verballs
In show 08 of our podcast, we took a look at the Verball - a hands-free voice phone for use with Internet calling service Skype. This page takes a closer look at the Verball, and why we think this is the top gadget of 2006...
We featured the Verballs in Show 8 - have a listen.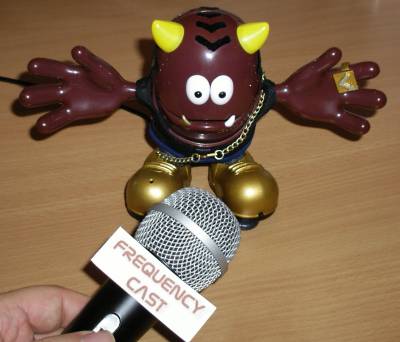 The "Mr. V" Verball, being interviewed for Show #08
What is a Verball?
If you have a PC, and you're interested in making cheap voice calls over the Internet, then a Verball could be the answer. Verballs are loudspeaking phones that plug into your PC and can be used with the Skype service to make and receive low-cost voice calls.
Verballs plug into a spare USB socket on your PC, and with the Skype software, make voice calling easy. Instead of wearing a boring headset to make phone calls, use a Verball - it's hands-free, hilarious, and it's mouth moves with the caller's voice, and it waves it's little arms about.
Voice-over-Internet - They have a built-in microphone and speaker, so act as a loudspeaker phone for your voice-over-Broadband phone calls
MP3 Playback - You can set your PC to allow MP3 music and speech files to be played from the Verball's speaker - your Verball will 'sing' the lyrics with it's little moving mouth
Attention grabbing! Waving arms, flashing lights and music will alert you to incoming Skype calls
There are five in the family: Striker (the football nut), Slick (the Blue boss, looking sharp in his suit), Mr V (complete with Bling), Baby (with his little furry coat) and Britney (the girly one).


The Verball family - Boss, Baby, Britney, Mr V and Striker
Getting a Verball
Pete, our Technologist, fell in love with the Verball, just after reading the spec, ands we've not been able to get this off his desk since. At under £30, they're a great Christmas gift for any lover of technology, or little plastic things to clutter up a madman's desk. Get your hands on one from UK supplier Firebox.com
Availability
You can find Verballs online at the following places:
Using a Verball
Very easy to use. First, you need Skype, the PC-based Voice-over-Internet application. This is free from www.skype.com.
Next, you need to plug your Verball into a spare USB port on your PC
Then, you need to download a tiny bit of software from www.verballs.com to get Skype to recognise your Verball.
Then, you're all set. The Verball is powered from the PC USB port, so needs no batteries, and he's mostly well behaved!
Our summary? Top gadget. Just get one! Hear Pete and Carl review the Verball in Show 08