VoIP: Voice & Video over Broadband
VoIP represents voice over the Internet - Simply, this means that you can use the Internet to route voice calls around the world, at a fraction of the cost of using a standard phone to dial long distance calls.
We covered VoIP, and how to make cheap voice and video calls over Broadband, in show 08 of our podcast series. On this page, we look at voice and video calling over the Internet in more detail.
We explored Voice-over-IP in Show 8.
What is VoIP?

VoIP stands for Voice over Internet Protocol, but don't let that scare you - With Voice over IP, you get free phone calls over the Internet.
Assuming you have a computer with a broadband connection, you'll be able to make voice calls over the Internet either for free, or for a very low cost - much cheaper than dialling a long-distance or International phone number.
Getting VoIP
In Show 08, we looked at the main options available for voice and video over the Internet. Below is a quick comparison table, then we'll look at each of the options in more detail. Note that where we talk about costs, we're excluding the cost of your Internet / Broadband connection, which we assume you already have and pay for.
Service
Summary
What you need
Cost
MSN Messenger / Windows Live
Free voice and video to other computers

Two computers
Two headsets (with microphones)
2 Webcams (for video)

The Messenger software is free
Skype
Free voice and video to other computers

Two computers
Two headsets (with microphones), or a Skype handset

The Skype service is free
Skype Out
Low-price voice calls to normal phones and mobiles. Big savings on International calls

A computer
A headset with microphones, or a Skype handset

Software is free - you pay a heavily-reduced fee per minute for calls to landlines and mobiles
BT Broadband Talk
Unlimited UK evening and weekend calls (up to one hour per call). Low cost International / mobile calls. High-definition sound
BT Broadband Talk account free to BT Broadband customers, otherwise £2.99 a month. BT Softphone software is free
BT Broadband Video
Video calls, high-definition sound. PC software or special videophone handsets transmit and receive video calls over Broadband
BT Broadband Talk account free to BT Total Broadband customers, otherwise £2.99 a month. BT Softphone software is free. Videocalls free til Jan 2007, then 10p per minute
Vonage
Free unlimited local and national calls anywhere in the UK. Connect your existing phone handsets into the free Vonage box.

Vonage subscription
A compatible router
Vonage box (free)

£5.99 a month for the Vonage account.
Windows Live Messenger / MSN
If you use MSN Messenger, you've already got all you need to do voice and video - all you need is a headset (for voice) and a webcam (for video). This does rather tie you to communicating only with other MSN users, and having to be tied to your PC.
This is a piece of free software from Microsoft that is mostly commonly used as an Instant Messenger client to allow users to chat (by typing text) to other MSN / Windows Messenger users. The software also comes with voice and video software, so can be used to make and receive voice calls to other MSN / Messenger users - for free. To use this, you'll need to download and install the free Windows Messenger Live software. You'll also need a basic headset with a microphone (see PC World , Maplin or Dabs.com)
Skype
MSN is a basic way of getting voice over Internet, but with Skype, VoIP services start making voice and video over the Net a lot more attractive. They're the top name for voice-over-Internet at the moment. You can sign up for a free Skype account and either use your PC headset, or a special VoIP phone to make voice calls.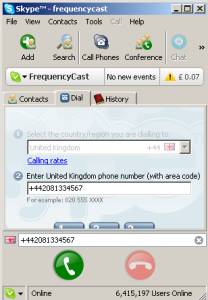 The basic Skype offering is a little similar to Windows Messenger... it's a PC-based text and voice messaging solution used to communicate between computers. Where Skype is different, is it's designed as a telephone / voice solution - so it's geared to the job. Additionally, you can also use a range of handsets and headsets with Skype, making it feel like you're using a phone service, not a bit of PC software.
Where is gets really good, is that you can use the Skype Out service to connect to standard phones (not just to other computers). This includes landline, international and calls to mobiles. The beauty of this is that the calls are an awful lot cheaper, as they're routed over the Internet, and not over the standard public phone network. With Skype Out, the majority of the call goes over the Internet, with only the last leg of the journey being transferred over the public phone network - effectively doing away with long-distance call charges.
If you're in the UK using Skype, calls to landline numbers in Europe, USA and Australia cost 1.2 pence a minute - a lot cheaper as the calls are routed over the Internet. Skype is not just for the PC or Mac - it's also available for a number of mobile phones, as well as the Asus Eee PC.
We use Skype for our Podline feature. If you're a Skype user, you can send us a voice message - our Skype ID is "frequencycast"
More details? Go to www.skype.com , and get a free download of the software you need.
Headsets and Skype phones are available from online retailers such as
Skype Shop
,
Dabs.com
,
Amazon
,
Maplin
or
PC World
.

These little gizmos are actually hands-free speakerphones for voice-over Internet with the Skype service and there's five in the family. Verballs plug into a spare PC USB socket, and they wave their arms about when you've got an incoming phone call. Best off, their mouths moves along with the incoming voice. Clever, cool, and they also let you listen to MP3s, download ringtones, and use text-to-speech software.
Great fun, and less than £15 from Firebox. More on our Verballs page
BT Broadband Talk

Customers of BT Total Broadband get a free BT Broadband Talk account. This offers free UK Evening and Weekend calls, provided that the call doesn't last more than an hour. Calls to mobiles and International number are also cheap - costs comparable to Skype.
Marketed with a range of phone handsets and the BT Home Hub, the BT Broadband Talk service uses something called HiDs for high-definition sound. As you'll hear from the tests we ran in Show 08, the sound of Internet calls over this service is pretty impressive - and much better than Skype.
You can either use a compatible handset, such as the Hub Phone, or you can use the free BT Softphone software, to connect with a PC.
Non-BT Broadband customers can also use BT Broadband Talk, but there's a charge of £2.99 a month to non-BT customers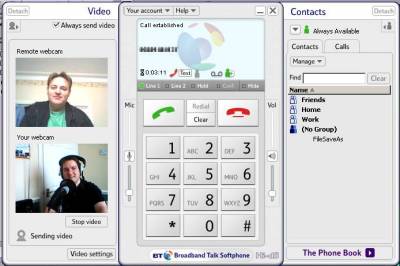 Voice and Video over a BT Softphone
BT Broadband Video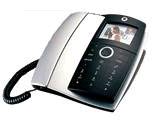 Fancy making video calls? We tried this out in Show 08, with good results. Pictured to the left is the BT Videophone 1000. BT are keen to push video calling over their BT Total Broadband network, and they've brought out a couple of phones that make video calling over Broadband a reality. In our opinion, the handsets are perhaps a little pricey at the moment, but still excellent bits of kit. You can also make use of the BT Softphone bit of software, together with a webcam.
The Videophones support video and high-quality voice, and connect to broadband via an Ethernet cable and a compatible router. BT has released two videophones, the BT Videophone 1000 and the wi-fi enabled BT Videophone 2000 - Both of these are available from BT Shop.
Update: Nov 2007 - Prices on the two BT Videophones featured in Show 08 have dropped - Both the BT Videophone 1000 and BT Videophone 2000 (wi-fi) are less than £50.
Until January 2007, video calls over BT Broadband Talk Video are free - from then, video calls will cost 10p per minute.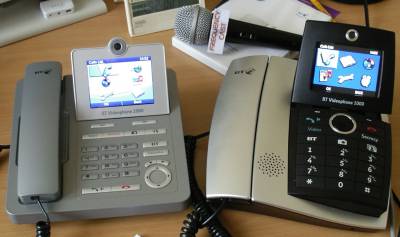 The BT Videophone 2000 and BT Videophone 1000 video handsets
Vonage
VoIP services from Vonage are a little different to the others we've mentioned here. With Vonage, you can use your existing home phone handsets, and you don't need to have your PC powered up to make and receive calls.
You get unlimited voice calls to UK landlines, for a monthly cost of £7.99. You can call any number world wide including mobile phones numbers (rates available on www.vonage.co.uk). Calls to other Vonage customers someone anywhere in the world are free, included in the £7.99 monthly charge. There are other plans available, that offer free calls to certain countries. Take a look at their World Plans if you're looking for free calls to the USA, Canada, Europe, Australia and New Zealand.
VoIP services include features such as caller display/ID, call forwarding, call return, conference calling, and sophisticated voicemail such as voicemails emailed as an attachment to your email. These features are free with Vonage.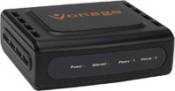 To use Vonage, you get a free adapter that plugs into your broadband router. You can then connect your existing phone handset.
One nice little extra is that you can take your Vonage number away with you while you travel - For example, if you live in London and your Vonage phone number is 0208 765 3636, you can take your Vonage box on holiday, connect it to a broadband account in the country you're visiting, then get calls on your London Vonage number. People in London call you on your Vonage number are only paying a local call.
You can also set up separate numbers and voicemail boxes for family members, which could be ideal for households with resident teenagers or multiple house sharing residents.
For more details, go to www.vonage.co.uk
Orange
UK mobile operator Orange has just announced a mobile phone service that's a combined wi-fi mobile. When you're in range of your wi-fi network, you'll be able to make calls over the Internet, and when you drift out of range, you'll switch to the Orange mobile network - all apparently without a break in service. Nifty.
The handset is called the Unique Phone. More at www.orange.co.uk
Want more info? Listen to Show 08 of our podcast from your computer.
Got a question on voice-over-IP that we can answer in the next show? Call 020 8133 4567 or send us a message