Nintendo Walk With Me Review
In our July 2009 show, Show 41, we played with Nintendo's fitness device for the DSi handheld machine - Walk With Me is supplied with two pedometers and some clever software.
On this page, you'll find a link to the show and a full transcript.
Listen to FrequencyCast Show 41 - Walk With Me Reviewed
Transcript of FrequencyCast's UK Broadband focus:
Pete:
Next, this thing here.
Carl:
It looks like one of those car alarm things without the key attached to it. It's an infrared button in a box basically with a green flashing LED on it, which flashes when you move it, it appears.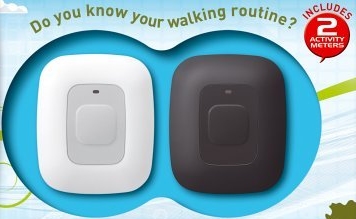 Pete:
Flip it over.
Carl:
Aha, oh - it's got something written on the back, it says it's made in Japan. It's a Nintendo DS, it's something to do with the Nintendo DS - I'm going to press it and find out what happens. Well, the little green flashing light went red.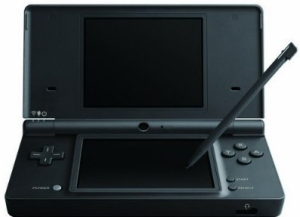 Pete:
And that was about it. So what this is is a gadget that you stick in your pocket, and you walk around with all day, and effectively it's a pedometer, so it tracks your movements and how many steps you take. Now, I've had this in my pocket since this morning, now I'm now going to switch on my DSi ... OK, so this is an application called Walk With Me, I'm just going wait while the application loads.
Carl:
Oh, there's a picture of you on there.
Pete:
Absolutely. Walk With Me, check your rhythm - I'm going to press that button. Read that out for me?
Carl:
"Hold the activity meter as shown, then press the button for one whole second."
(various bells and beeps)
Carl:
Well, great graphics - I love that. You just held that up at the back of the DS and it's just dropped in the information. Now it tells you everything about what you've done today.
Pete:
So here we go, it says, "I started measuring you at 7:41 this morning" - that's almost the same as last time, so I hit my target at 12:33, the longest still period was between four and five o'clock when I didn't move for one hour 18 minutes.
Carl:
That's worrying!
Pete:
Measuring ended 21:43, and there you go. So what this is actually doing is, every time I walk, it's measuring my movements, and I can sit here and scroll through what I've done and how far I've walked, and how many steps. I just think that's a really cool little gadget.
Carl:
Yeah, I think it's great fun. It's good for the kids, keeps them healthy, helps them monitor what they're doing, they'll probably turn this into a game eventually.
Pete:
So here you go, you see I've achieved my target, and you can see I was doing most of my walking between nine and six, which is me walking to and from the office, and then during the day that's me going to the loo and having a coffee break, that sort of thing, and that's me on the way round to the studio - a really clever device.
Carl:
Is that where you were doing nothing for an hour?
Pete:
That's it. It also tells you what animal you are, so apparently my walking was steady and constant, I'm the rhythm of a busy ant. My rhythm type for the day is ...
Carl:
Morning ant.
Pete:
I was a horse yesterday.
Carl:
But of course!
Pete:
There you go, so that's the DSi little thing that you put in your pocket, more details up on the show notes.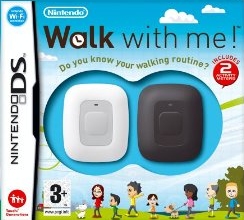 The Nintendo "Walk with me" is available with free post/packing from Play.com.
Listen to FrequencyCast Show 41 - Walk With Me Reviewed
Other links