Nintendo DSi Review
The FrequencyCast UK team gets hands-on with the Nintendo DSi handheld gaming console
What is the Nintendo DSi?
Released in April 2009. this handheld games console follows in the footsteps of the Nintendo DS, GBA and the Gameboy. It has two screens, there are loads of games available, and it's very portable.
The DSi offers features not found on previous models, notably improved connectivity and wi-fi support. You can surf the net, take photos, record audio and listen to music.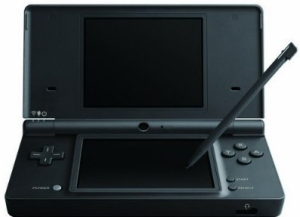 For a full description of what the DSi can do, listen to our 20 minute audio review...
Nintendo DSi - Audio Review
You can download our 20 minute audio review of the Nintendo DSi as an MP3 file, or listen over the Internet, using our pop-up player.
Nintendo DSi Features:
High-quality pocketable games console
Huge range of games
Two screens (one is a touchscreen)
wi-fi connectivity
Two cameras
Music and photos
Supports SD cards
Nintendo DSi UK specifications:
UK version model number TWL001(EUR)
Dimensions: 75 x 137 x 19
Weight: 214g
Wireless wi-fi: 802.11b/g
Charge time: 2.5 hours
Battery life: 3 - 14 hrs (depending on brightness)
Nintendo DSi UK availability
You can get the DSi from the following online retailers:
DSi Differences:
The Nintendo DSi replaces the Nintendo DS Lite. What are the key differences?
wi-fi connectivity (802.11b/g)
Two cameras
Support for SD cards (including SDHC)
Support for recording and playing back audio
Photo editing
No slot for GBA cartridges
Slightly smaller power connector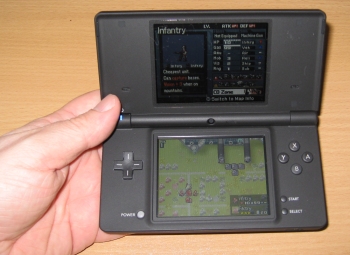 DSi Photos
The Nintendo DSi has two motion-detecting cameras
Onboard photo editing, manipulating and mucking around
Note that you can't import photos onto the DSi for viewing or editing
There's also a calendar that lets you add hand-written notes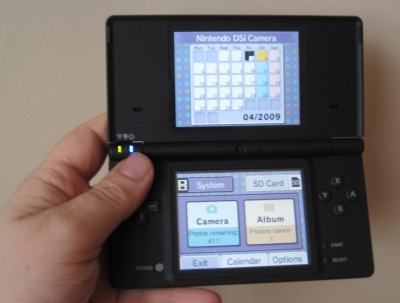 Pictochat
Wireless chat with other DS, DS Lite and DSi consoles
DSi Sound
Record and play audio
Supports recording of AAC files only (m4a, mp4, 3gp) - MP3 NOT supported
With sound filters for having fun with sound
A free annoying budgie
DSi Shop
Download additional games to your Nintendo DSi. You can only buy in "Nintendo Points" - you'll need to buy points to buy games.
DS Download
Allowing multi-player gaming... download demos or go head-to-head with others wirelessly
Web browsing on a DSi
The DSi can use wi-fi to connect to the Internet. A free Opera web browser is available for download on the DSi via the DSi store.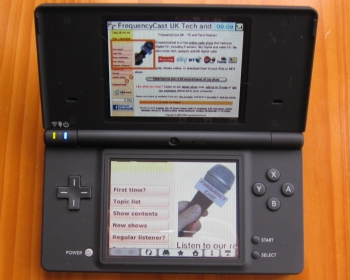 If you're looking for help and advice on how to connect the Nintendo DSi to the Internet for web browsing, go to www.filesaveas.com/nintendodsi.html
Other stuff
DSi has Parental controls
You can update the DSi software over internet
The DSi has a Nintendo Wii-like interface
The DSi is supplied with a mains lead and two styli
Recommended Game:

Our recommendation for the top game for the Nintendo DSi is "Advance Wars - Dark Conflict"
The fourth in the family of "Advance Wars" games, this is a war strategy game. It's turn-based, and before each turn you buy troops, tanks, aircraft and ships, and battle against computer opponents. You can also play with others by passing the console to a chum. Hugely additive and well worth trying.
Advance Wars Dark Conflict is available from GAME or Play.com.

Walk With Me: We reviewed the Nintendo Walk with Me in show 41 - Read our transcript.
Nintendo DSi Questions
Q. I want to buy a game. How much does 2000 Nintendo DSi or Wii points cost?

2000 points costs around £20. You can buy points online, or get a 2000 points card from HMV (free delivery!) or GAME


Q. I'm having trouble downloading content to my DSi

Most likely you've not set your DSi to connect correctly. See the help on the FileSaveAs DSi Connection Help page

Got a question or comment about the Nintendo DSi? Contact us now
Other Links