Waze - The Social Navigation Project
FrequencyCast is 100% behind Waze, the service that lets users create and maintain local maps - think Wikipedia for maps.
We reviewed Waze in a podcast update in March 2010. Have a listen, then get Wazing!
Listen to FrequencyCast's Mid March 2010 Update - Waze Explored
What is Waze?
Waze is a social navigation application that's available for a range of GPS-enabled smartphones including the iPhone, Android phones, Windows Mobile and Symbian OS devices. If enough people here in the UK start using this, it could be an amazingly useful and powerful service.
Rather than your standard sat-nav app where you drive from A to B on a specified route, drive with this app, and the data gathered goes to build an accurate map of roads, junctions and average speeds.
If you see a jam or a traffic cam, press a couple of buttons, and other drivers can see what's going on in real-time. A great idea, and it's working well in the US, but over here, the road coverage is pretty thin. You can pick up points for "munching" your local roads, adding to the map and picking up bonus cupcakes.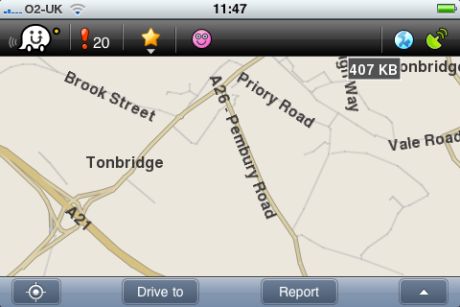 How to use Waze
Download the Waze application onto your smartphone. The app is free. The app makes frequent calls to the mobile Internet, so make sure you have an Internet-friendly tariff.
Waze is available for:
Android phones: Download from the Android Marketplace
Some Windows Mobile devices
Some Symbian OS / Nokia devices
Once installed, create a free Waze account, and drive around! All will become clear.
Transcript of FrequencyCast's Update - Waze:
Pete:
... I really want to talk about this thing here called Waze.
Carl:
Right, OK, this is the one that does speed cameras, etc and so forth, isn't it?
Pete:
It kind of does, but this one's a little bit different. So when you've got your smartphone, you can have a mapping solution in the satnav that does the whole turn left, turn right. This Waze idea is actually all about social road mapping.
Carl:
Right, OK, and ...?
Pete:
So what you do is, you sit this in your car, and whenever you do a journey, you just leave it running, and it maps out the roads. It's a little bit hard to demonstrate, but I'm going to show you, on the way to the studio tonight I left this running, and if you look at this, from where we came in, there were a whole bunch of gaps on the roads, and I've filled them in as I've been driving, so I'm actually more or less doing some property true cartography here, by actually creating street maps.
Carl:
That's a very clever little trick you've got there.
Pete:
I thought you'd be impressed. This is only fairly recently launched in the UK, and the maps are very thin, you can see here, looking at our home town, there's quite a few gaps there?
Carl:
There certainly are.
Pete:
But there's actually a really clever idea behind this, if this actually takes off, and it could well do, and a few people actually start using this and building maps, the real clever bit, and I actually tried this a little bit earlier today when I was out and about, is you can see other people who are currently driving around as well.
Carl:
Nice, that's quite clever really, isn't it?
Pete:
Now for me, the only person I could find was about 45 miles away and driving in the wrong direction.
Carl:
I think that's most people, Pete, they're trying to get away from you.
Pete:
Actually yeah - funnily enough he did speed up when he saw me log on. But the idea is, if a few people in your area are actually on the system, you can actually see what speed they're travelling, and which direction they're travelling in, and if there are any road problems, and in theory you build up a really good database of what the quality of the roads are actually like, far more up-to-date and accurate than you get from the sat nav companies, because their data's typically about six months out of date by the time you get it, so actually seeing what happens on the roads. In America, this has really taken off.
Carl:
I can imagine this is actually a very slick application, really.
Pete:
As you're driving along, there's a report button here, if I press that report button, what pops up?
Carl:
Police, traffic jam, accident, hazard, speed camera?
Pete:
So what happens is, let's say you're driving along, you get stuck in traffic, you hit the traffic jam button, and you've got an option to add a description, obviously you've got to be stationery to do this, and you can actually say where it is, your mood, so happy/unhappy/miserable, whatever particular traffic accident status you want to put, and also add image, and you press that button, and the camera turns on, and you can actually take a picture of the traffic jam you're in.
Carl:
That's very clever, isn't it?
Pete:
Once you've hit the send, that's available to anybody else that's driving in your area, so not only can they see what speed you're doing; what your name is, if you want to publish that information; how long you've been in traffic; what speed you were doing before the traffic, and a picture of the accident or the hold up.
Carl:
So you can see the state your wife has left your car in, yeah?
Pete:
So I really want to encourage our listeners out there, download a copy of Waze, it's only going to take off if more people actually pick this up and start using it. It's available on the iPhone, obviously; also on all the Android phones, and on a good selections of Windows Mobile phones and on a collection of the Nokia Symbian devices as well, so go and look at it: waze.com.
Carl:
Thanks for that, Pete.
Listen to FrequencyCast's Mid March 2010 Update - Waze Explored
Links: