X-Pro Tools Spirit Levels
As part of our coverage of Gadget Show Live, we took a look at probably the best spirit levels on the planet, made by Paul Sparrow of X-pro Tools. Here's our interview.
If you're looking for the ultimate in professional and versatile spirit levels, you'll find it hard to match the range at X-Pro Tools. We met MD and Inventor Paul Sparrow at Gadget Show Live 2012 to find out just what made this range of tools so special. Check out our interview.
Win interview Paul Sparrow from X-Pro Tools at Gadget Show Live 2012
To check out the range, and order a spirit level, go to www.x-protools.com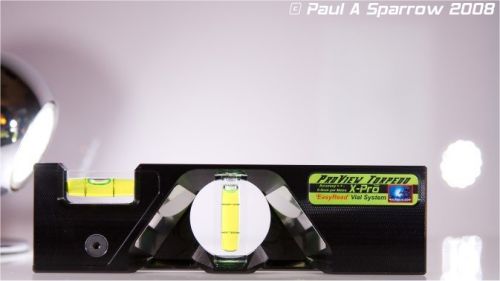 ProView Torpedo Spirit Level from X-Pro Tools
X-Pro Tools Interview:
A keen DIY person, Carl spotted the X-Pro Tools stand and spoke to the MD, Paul Sparrow. Here's a transcript:
Transcript continues from Phoenix FM Interview
Pete:
Now, time to hear from Carl, as he gets his hands on something that every toolkit shouldn't be without - a decent spirit level. Here's Paul Sparrow to tell you about the X-Pro Tools.
Paul: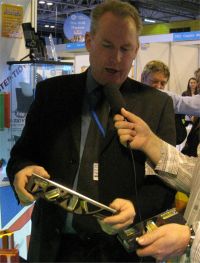 The spirit level was originally designed and invented in 1660, so it's already 350 years old, and the vial that we use today was invented in 1920, and they haven't really changed all that much since then.
Carl:
Sorry - that's almost a hundred years in a spirit level world, isn't it? - the modern spirit level.
Paul:
And the problem that most tradesmen experience with a normal level is that they keep banging their heads on the wall when they're trying to level a vertical surface and stuff like that, because they can only be seen correctly from a very specific view.
Carl:
Now, I have actually experienced this problem - especially when you're holding heavy drills and things like that, you sort of level it all up in the semi-dark of a corner, and by the time you actually get to do your hole, it's all over the place, isn't it?
Paul:
Yeah, that's the trouble, yeah. So I mean, what I've done is, I've strategically positioned mirrors within the body of the level, so that you can now see it from a perfectly normal comfortable standing position, and you can also use the drill without having to lose sight of the bubble.
Carl:
This is actually quite innovative, and it's simple, yet very effective.
Paul:
In the scaffolder's one, the torpedo's only got your horizontal and your vertical, but the interesting thing with the original torpedo is that it's got three different viewing features: you've got the plumb view, which is your vertical, which is left and right-handed; you've got a dual-axis view, because it actually levels on the side of the item, so when you're doing a levelling surface like a table or a worktop or surface, you can level in both directions at the same time in a single view ...
Carl:
Very handy, that. That is actually very important.
Paul:
.... and you've also got a unique feature specific to the X-Pro range - the horizontal vial is visible through the end of the level.
Carl:
How simple, but so brilliant!
Paul:
It's the only level in the world that levels away from the person using it, so you don't have to climb up onto steps, sticking your head into the shelf space, trying to get a clearer view of the vial.
Carl:
So how do I get hold of one of these?
Paul:
Well, you can go to our website, which is www.x-protools.com. Talking about the life cycle of this, it's 316 marine grade stainless steel mirrors, so they're unbreakable, but technically you could drop that in the mud, and they'll dig it up in a million years' time, and it'll still work.
Carl:
Fantastic - so it's something for the archaeologists as well.
Pete:
If that sounds of interest, catch the full interview up on our website, and for details of everything discussed in today's show -
Kelly:
Go to frequencycast.co.uk.
Win interview Paul Sparrow from X-Pro Tools at Gadget Show Live 2012
More information: