Phoenix FM FrequencyCast Interview
Pete from FrequencyCast was interviewed on Phoenix FM on the 12th of July 2012, as part of the Scott Ross Drivetime show. Here's an extract and a transcript of the interview.
Pete from FrequencyCast, interviewed on Scott Ross show on Phoenix FM in July 2012 (5 mins)
Phoenix FM Community Radio Interview:
Pete was interviewed about FrequencyCast on the Scott Ross Show on community station Phoenix FM. Here's a transcript of the extract we featured in show 78: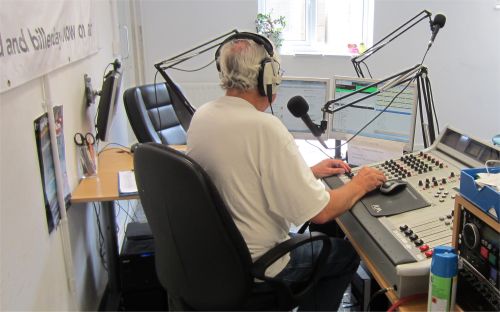 Scott Ross on Phoenix FM
Transcript continues from 2o12L Callsign
Pete:
Well done to the 2O12L amateur radio operators, working around the clock for seven weeks. See the video clip up on our site for some behind-the-scenes pictures. And, just briefly staying on the subject of radio, I was recently interviewed by Phoenix FM, about your favourite radio show, FrequencyCast. Here's a quick extract.
This is Phoenix FM.
Scott Ross:
Now, I know that your podcast is related specifically to all things technical, such as digital TV, but what topics have you covered to date, and what's the current hot topic?
Pete:
We cover all sorts of things, really. We tend to get a lot of questions about things like Freeview, being a big one; people doing the digital switchover that happened a few months ago; and the roll out across the UK of digital TVs. The hot topic for us at the moment is this issue that, in a year's time, people's Freeview is all going to switch off, so we've just completed the switchover; in a year it's going to start not working.
Scott Ross:
But how much of it won't work?
Pete:
Well, this is the interesting bit. So we've gone digital - that frees up a chunk of the TV band, and the government will be selling that off to mobile phone companies, to operate the new 4G network, and because that'll be on the same frequency as your telly aerials used to, you'll be able to pick up mobile phones on your TV, which will mess up your Freeview reception - all very complicated, but in about a year's time, people could start having all sorts of interference problems with Freeview.
Scott Ross:
So what do they do?
Pete:
They get a filter, a little plug-in filter that plugs into your TV aerial. The debate at the moment is, do the mobile phone companies pay for these things to be fitted, or us consumers expected to foot the bill for these £20 filters to solve this interference problem?
Scott Ross:
Dear me! - it just seems crazy to me. That will only affect Freeview - it won't affect Freesat, or anything like that?
Pete:
No, it won't affect Freesat, cable or Sky, nothing like that.
Radio:
This is Phoenix FM.
Pete:
And remember, we make our shows available to community, hospital, student and online radio stations, so if you know a radio station that you'd like to carry FrequencyCast, please let us know.
Syndication: Want us on your station? See our FrequencyCast Syndication section.
Transcript Continues: X-Pro Tools Spirit Levels
Pete from FrequencyCast, interviewed on Scott Ross show on Phoenix FM in July 2012 (5 mins)
More information: