Lavazza Amodo Mio Podcast Review
In our January 2010, our coffee lover Pete, told us how to make the perfect cappuccino with Italian coffee. Here, you'll find a transcript.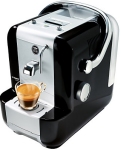 Listen to our review of the Lavazza Amodo Mio - 14 January 2010 update
Lavazza Amodo Mio Transcript:
Carl:
Right, time for HD Freeview. No, Freeview HD?
Pete:
No, it's actually time for a cup of coffee.
Carl:
Oh, super - tea please.
Pete:
Yeah, you're a tea man, aren't you, not a coffee drinker?
Carl:
I'm hot chocolate actually.
Pete:
Oh yes, true enough, OK. So I'm a coffee fan, and I was in Waitrose and some chap grabbed me and said, "Buy this coffee machine".
Carl:
So you did, didn't you? You bought it, yes!!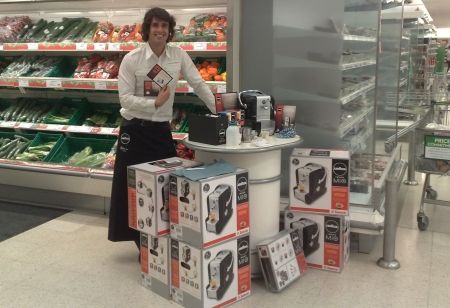 Free coffee from the man in Waitrose
Pete:
So I have a new coffee machine, and my favourite type of coffee, I love Italian coffee, none of this other, you know - Italian coffee's where it's at, and there's two brands.
Carl:
You're so Vinnie.
Pete:
Thanks. Who does Italian coffee?
Carl:
The Italians?
Pete:
Companies?
Carl:
Cornetto, Walls?
Pete:
Illy and Lavazza are the two big Italian coffee companies.
Carl:
Why would I care?
Pete:
Yeah, I know you don't care, I do, and this is my three minutes of the podcast, so I'm going to talk about a coffee machine, and what I've actually done is I have here, on this memory stick - see that little memory stick there? - I have a recording of me making the perfect cappuccino - do you want to hear it?
Carl:
Do I have to?
Pete:
So first of all, I have my cup and my box of Lavazza coffee, Lavazza is a lovely Italian coffee. So let's get started: the first thing I need is some coffee, and I have a box of Lavazza A Modo Mio Espresso coffee, there's about six or seven different varieties, the one I'm going for is a medium Deliziosamente coffee, which apparently is medium body, medium flavour, and medium aroma.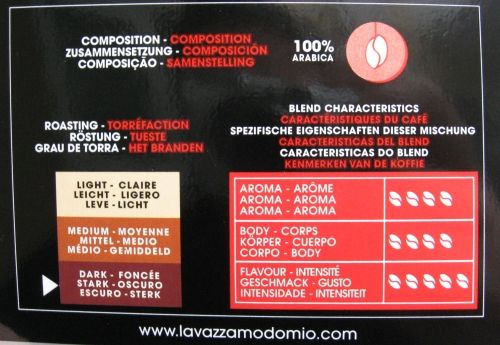 So we take the little cartridge, it's about the size of just a little bit bigger than a 50p, slot it into the slot of the machine, shut the lid, and then pull down this massive handle which pierces the cartridge.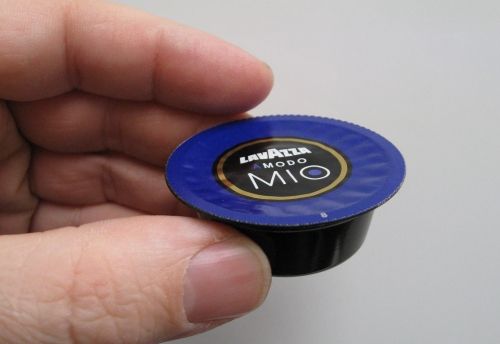 Now, the cup goes under the little nozzle, and we press the button for coffee.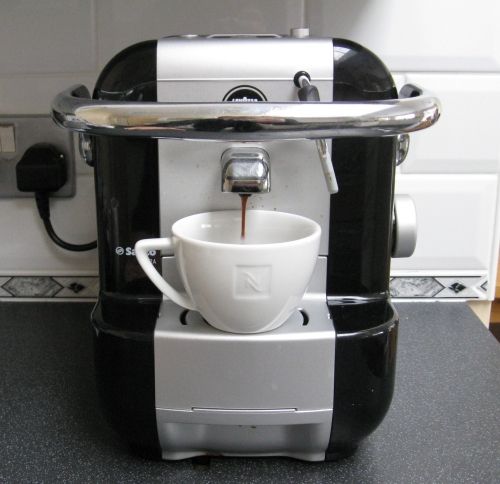 So we have a slow stream of very dark-looking Italian coffee coming out now. So there we go, that's the coffee part of it done, now onto the nice frothy milk. So the first thing we're going to do is you have to hold down the steam button, and this does take about 20 seconds or so, so I may pause the recording while the steam builds up ...
... the steam's almost ready, so what I'm now going to do is just pour a little bit of milk into this jug - there's my milk ready to go. Now I have to just turn this little dial to get rid of the excess water and start the steam. There we go, I've done that. Now, milk jug underneath the steam frother ... frothing away, just got to get the frother on top of the milk there, leave a bit of steamed heat in to get the milk nice and hot and a little bit of frothy frothy ... turn the dial back off, that's the frothing done, so my nice little cup and saucer, let's pour some lovely hot frothy milk onto it - look at that, what a work of art, there we go. Beauty, there is my lovely cappuccino. I just have to wipe my nozzle ... yes, I know, there we go.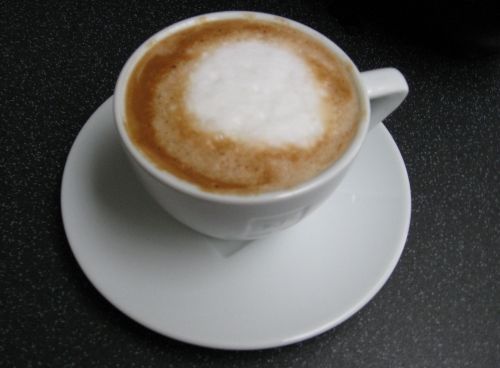 And now, turn the machine off, and let's try this coffee. Mmm, that's not bad coffee actually - pretty impressed, could be slightly hotter I guess, but yeah, a very nice coffee.
There you go, you enjoyed that, didn't you? And if you want to see a picture of me making the perfect coffee, www.frequencycast.co.uk/lavazza.
Carl:
So you're a happy caffeinated bunny now, are you?
Pete:
Oh yes I am, yes, it's a very nice machine, it does lovely Lavazza coffee (I'm trying not to sound like a commercial here, but it does do very nice coffee), it's the Amodo Mio, link's up on our show notes, and it is very good, apart from that little steam button that you have to hold down.
Carl:
Sssshhh!!
Pete:
Thank you very much, there we go. We actually posted about this, and Steve Wilton leapt in and said, "Can't stand the stuff - give me tea any day", and I think Vinnie the Bearded Buffalo's with us on that one as well, so a nation of tea drinkers apart from me with my wappuccinos.
Carl:
Right, anyway ... Freeview HD?
Availability:
The Saeco Amodo Mio Lavazza Espresso Machine is available from:
Know of another supplier? Contact us
More information: