Bicygnals - The Angel Cycle Helmet
At the Ideal Home Show, we caught up with the Bicygnals team and looked at the Angel biking helmet that offers 360 degrees of light, for all round cycle safety. Here's our interview with Bicygnals.
What is the Angel?
We were at the Ideal Home Show 2012, where we met up with Robert from Bicygnals, who spoke to us about the Angel helmet.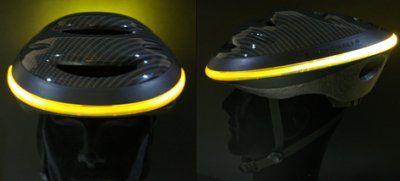 The Angel cycle helmet brings a new dimension in visibility making for safer cycling. The helmet has a light pipe all the way around the helmet's rim. The helmet light is powered by a built-in battery that's charged via a USB connection. Make sure you're visible when biking in the dark, with the glow of the Angel's halo.
The helmet offers high visibility with either a static light, or a flashing light. An innovative product with carbon fibre effect finish with adjustable strap.
Here's our Sarah at the Bicygnals stand, modelling the Angel.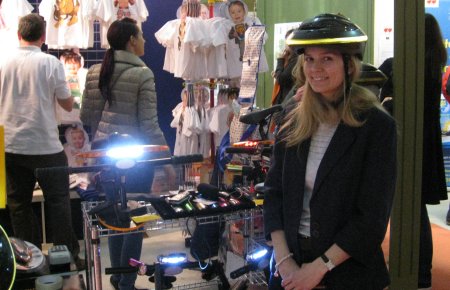 Bicygnals Interview: We discuss the Bicygnals Angel Helmet with Bicygnals (5 mins)
More on the Angel:
The Angel uses 2 x 0.5W LED fibre-optic technology for the illuminated 360 degree halo effect. It has an integrated USB rechargeable battery with a with retractable charger supplied. The Angel's unique design features distinctive venting, the prominent illumination ring and printed polycarbonate.
The Angel has fully adjustable straps, is suitable for size 54-61cm and complies with UK safety standards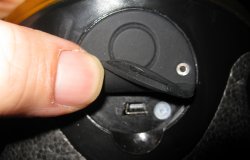 The USB charging port on the Angel helmet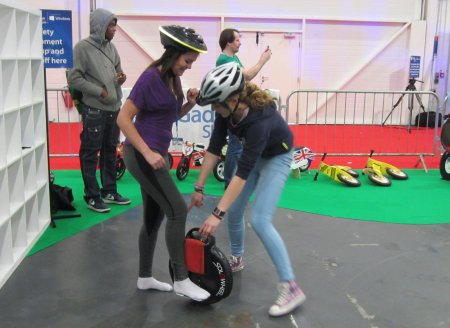 Kelly, getting to grips with a Solowheel at Gadget Show Live Xmas 2012 in a bicygnals helmet
Related links: