Gadget Show Live Xmas 2012 London Report
Pete and Kelly visited the opening day of the first Gadget Show Live in London, their Christmas special at the Excel Centre. Catch our report in Show 82. Here are a few of the sights and sounds captured by the FrequencyCast team.

Gadget Show Live Xmas 2012 Special Report:
From the 30th November to the 2nd of December 2012, the Gadget Show Live expo hit London for a Christmas Special, and we were there. Catch our 21 minute feature in Show 82:
Listen to FrequencyCast Show 82 - We're at Gadget Show Live London 2012
Here's a collection of photos, plus a summary of the products featured in our special: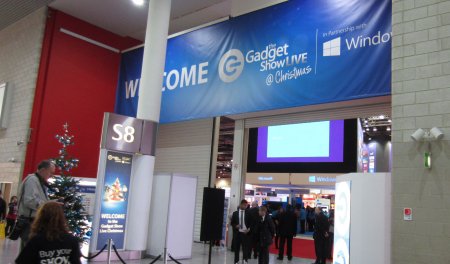 The main entrance to GSL Xmas at London's Excel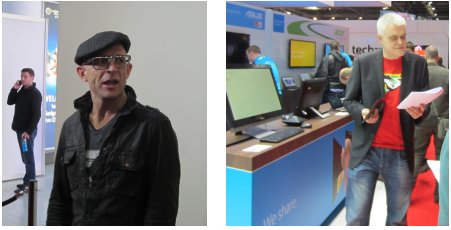 Snapped - Jason Bradbury and Jon Bentley at the opening day
VIDEO MONTAGE - Kelly and Pete at Gadget Show Live!!


Enjoyed this video? When you're next shopping at Amazon, use our FrequencyCast Amazon Store
Nintendo Wii U
The first day of Gadget Show Live was also the launch day of Nintendo's new Wii U console, with a "novel" touchscreen controller, and support for HD. Pete gave it a try, as you'll hear in our feature.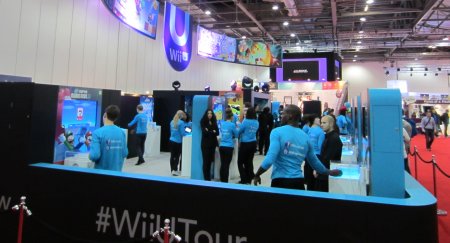 Wii U stand just before launch!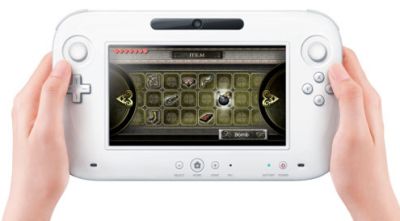 The all-net Wii U controller, launched at Gadget Show Live
Neurosky
We first met the brain control experts at Neurosky at Gadget Show Live 2010, Kelly tried on a set of mind-controlled rabbit ears!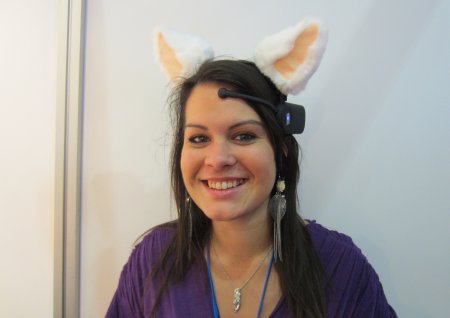 Kelly, using the power of thought to make her ears wiggle
Echostar HDT610R
We spoke to Mark from Echostar about the new EchoStar HDT 610R Ultra Slim Freeview+ HD Digital TV Recorder. An impressive recorder that's now available from Amazon.co.uk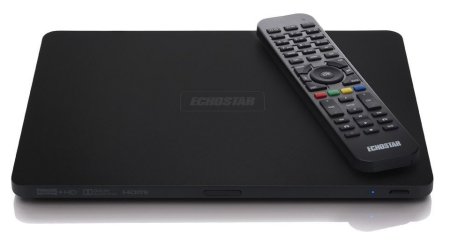 EchoStar HDT 610R Ultra Slim Freeview+ HD Digital TV Recorder
Snowing Xmas Tree
Thanks to Glen for showing us the Snow system indoor snow effect tree kit. More details at www.snowingchristmastreekit.com. Here's the pic that made the team giggle so much: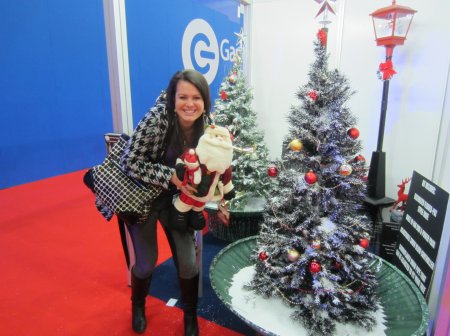 Velosolex and Solowheel
Catch Pete riding the Velosolex pedelec bike designed by Pininfarina, and Kelly trying to get to grips with the Solowheel. She's also wearing a bicygnals helmet! Thanks to Guy from Leftfield Bikes for the help and support!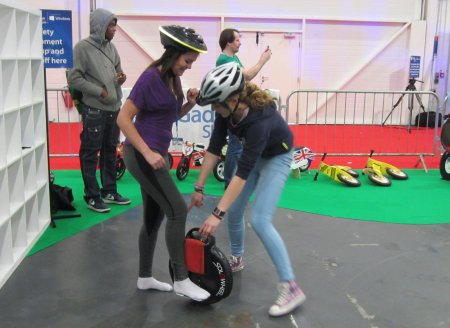 Kelly, getting to grips with a Solowheel
Screen Kleen
Great to see our good friends from Screen Kleen, makers of our favourite screen and gadget cleaning kit... and it's now available in the Argos Catalogue.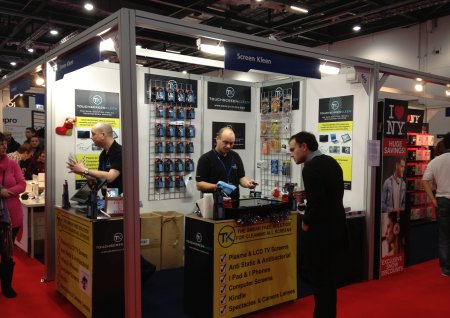 The guys from Screen Kleen, showing how to remove baby oil from an LCD TV set
Designer Mirror TV
Thanks to Sunny from designermirrortv.com for showing off the great range of mirrors that turn into TV sets with touch-screens: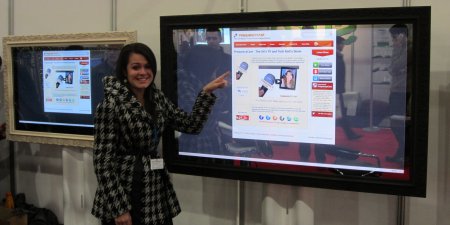 Designer Mirror TV sets, showing our website on their mirror
Bubblepix
Without doubt, the most interesting gadget we've looked at in a long while, the impressive 360 degree BubbleScope from Bubblepix. We now have one, and will be featuring a longer interview with Tom Lawton, the inventor of this magic iPhone camera attachment.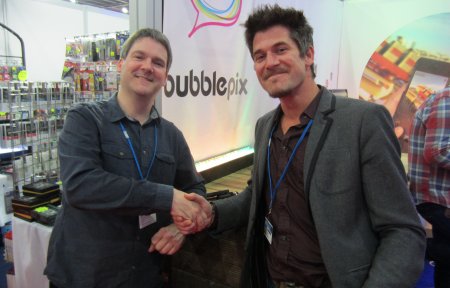 Pete with Tom Lawton, creator of the Bubblepix Bubblescope


Our first Bubblepix image - It looks a lot more impressive on the Bubblepix app!
Gadget Show Studio Set
As with the show in Birmingham, there's a mock-up of the Gadget Show studio. We couldn't resist having a play!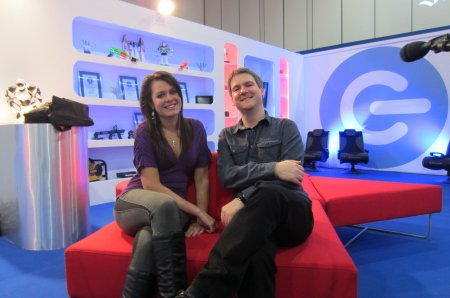 Kelly and Pete, playing in the Gadget Show TV studio
Movband
We spoke to Kevin from Movband UK about the wearable fitness tracker that's simple, and much cheaper than the Fitbit and Nike Fuelband - Details of the new Movband at www.movbanduk.co.uk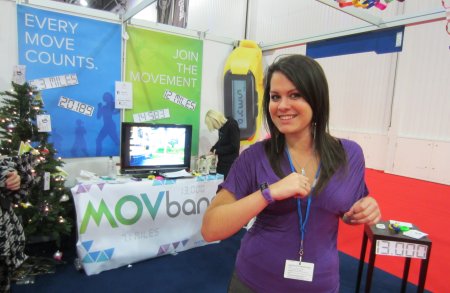 Kelly, wearing the MOVband... in purple of course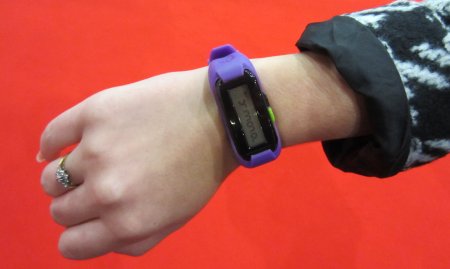 Close-up of the purple MOVband wearable pedometer and interchangeable strap
Fridja Vertical Ironing
Hate ironing? Ben explains the vertical steam iron product that makes ironing a breeze, and works with dry-clean only clothes - Details at fridja.com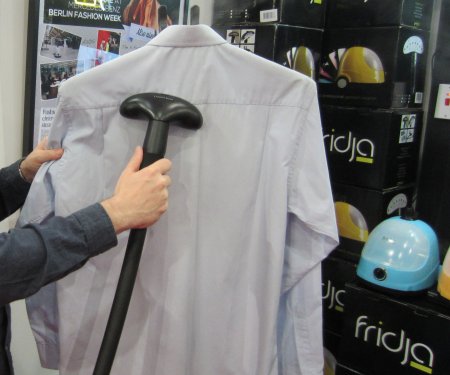 Pete, showing off his vertical ironing skills with a Fridja
Aves DAB Radios
Thanks to Lizzy at avesdigital.co.uk for showing off the impressive range of new DAB+ radios. We hope to be taking a closer look at this range soon. They're available now from very.co.uk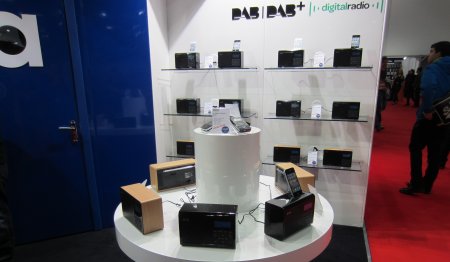 DAB Digital Radio range from Aves Digital
CD Slot Mount
We found the £9.95 winner of the British Invention of the Year award - a device to hold your phone or sat-nav by plugging into your car's CD slot. Here's one, holding our Olympus voice recorder. Available from cdslotmount.com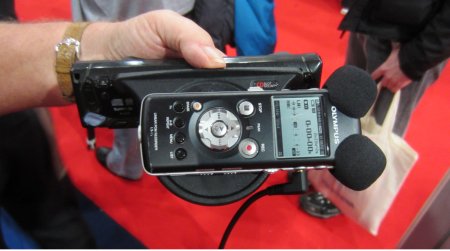 CDSlotMount, holding our voice recorder safely. Cool, and under £10
Cat Genie
The gadget that Kelly was most looking forward to trying was the Cat Genie - a pricey, but clever loo for your pussycat. Find out more at catgenie.co.uk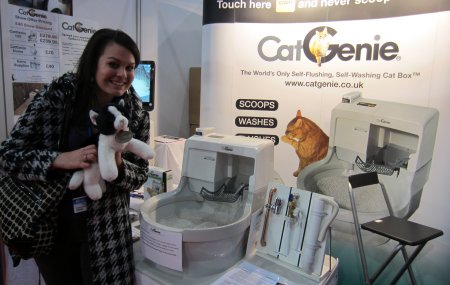 Kelly, taking a look at this high-tech self-cleaning cat loo
Logicom Robots
We looked at the Logicom Spy-C tank iPad-controlled tank, plus the Whee Me massage robot, which can be found here: logicomrobotics.com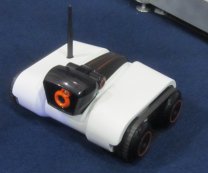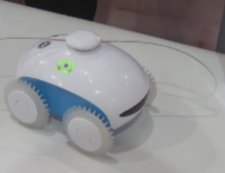 More Pics: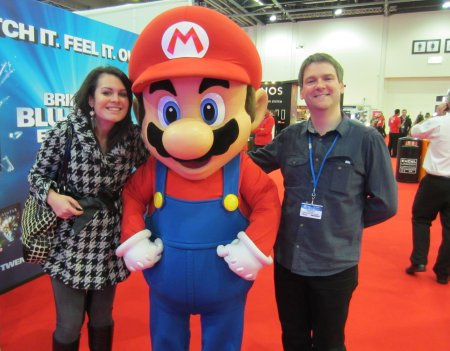 Kelly, Mario and Pete for the launch of the Nintendo Wii U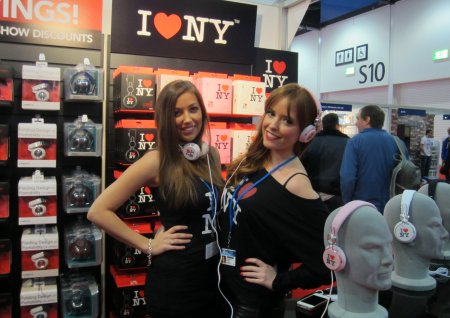 The girls, loving their I Love New York Headphones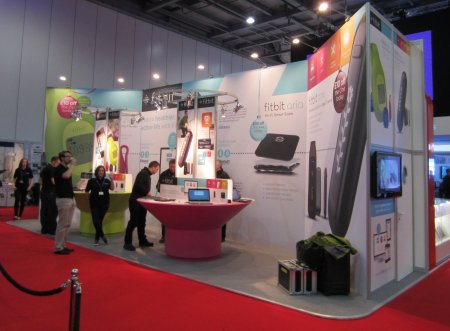 The Fitbit Wireless Trackers on display at Gadget Show Live Xmas 2012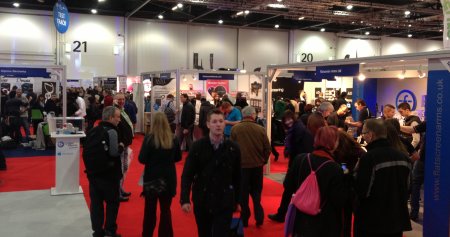 Listen to FrequencyCast Show 82 - We're at Gadget Show Live London 2012
More information: