Boombox X-Sticker Vibration Speaker Review
At the Ideal Home Show in London, we got hands-on with the Boombox Vibration Speaker. Here's our review of this innovative speaker, plus a demo of how powerful it can be
Our hands-on demo with the Boombox Speaker (4 mins)
Boombox Speaker Review:
At the Ideal Home Show in 2012, we got a first-hand demo of how this awesome little product works. It's a small white box that plugs into your mp3 player, with a small sounder that sticks onto just about any object and turns it into a loudspeaker. We tried a demo with a pizza box, biscuit tin and a polystyrene crate, to see how powerful the sound is, and how different materials produce different sounds.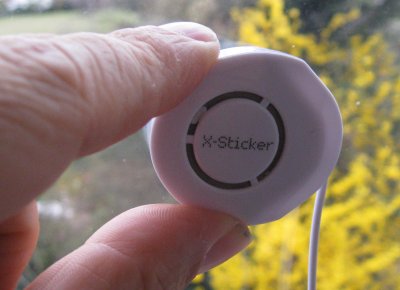 X-Sticker Vibration Speaker Availability
The Boombox was available for sale at the Ideal Home Show, but the exhibitors don't seem to have the product available via a website. We've found the product on sale at the Menkind website for £15.
We've not been able to put the Boombox through its paces here at FrequencyCast HQ, and it's a very clever product. We've had best results with wardrobe doors, a cardboard box that our furry sidekick likes to sleep in, and best of all, a metal filing cabinet.
Here are a few fun places we've tried the Boombox X-Sticker
The box is pretty basic - It has a power switch and a 3.5mm plug for connection to an mp3 player, iPhone or any other device with a standard headphone socket. Uncoil the sounder and use the sticky pad to stick it to a suitable object. The sounder, of course, is the clever bit, and it really packs a punch on a thin surface.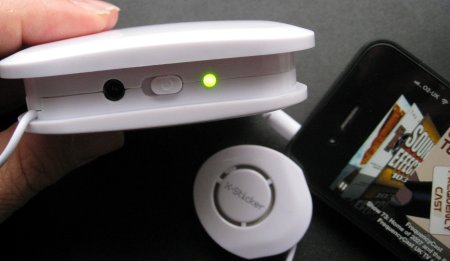 The Boombox X-Sticker comes with a USB lead, two spare sticky pads and 3.5mm extension lead, and is powered by 2 x AAA batteries. It can also be powered from a USB. Rated power is 1 watt.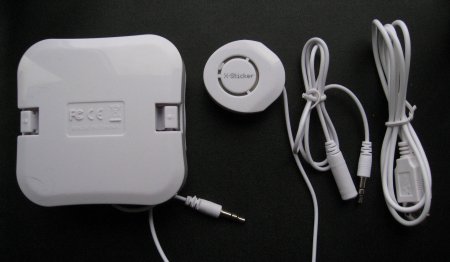 It's a surprisingly powerful sound, and the team here has spent quite bit of time playing with various surfaces - Windows and mirrors work well, teacups don't, and a metal waste bin makes a great metallic sounder.
As well as being good for its gimmick-factor, this does have some practical uses, as you can use it for travel and find a suitable surface in a hotel room - you'll be able to get a better sound than a small portable travel speaker, and if you're planning to play audio from your laptop at a presentation, a handy surface should be able to provide enough volume to cover a decent-sized meeting room.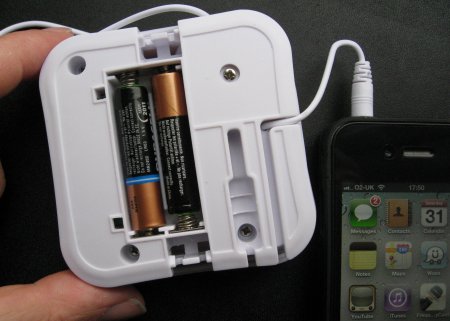 Good fun, with a practical use - we're happy to recommend the XDream X-Sticker Vibration Speaker, better known to us as the Boombox.
Thanks to Joe and Warwick at JAW Promotions for the interview and the product demo.
Related links: