FrequencyCast UK - Show #03
Details of the contents of our third show
Listen to FrequencyCast Show #03
Here's what you'll find in FrequencyCast #03: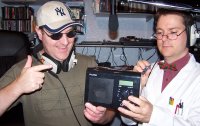 Carl, Pete and the Pure One... recording our third show
NEWS

This show's news section covers the following:

Channel 4 launching radio services soon, starting with Podcasts - www.channel4radio.com


BT's fighting back following the recent "Free Broadband" offering from TalkTalk. BT's relaunched its broadband offering as BT Total Broadband, with prices from £9.95 for the first six months. Speeds up to 8Megs and loads of extras. More


We were at Broadcast Live, the trade show held in London in June 2006. Special thanks to National Grid Wireless for their demo of DVB-H (broadcast TV on a mobile), and Red Bee Media for a peek at some of their future technology (we're looking forward to seeing the Red Bee / Microsoft / NetGem set-top box some time soon)

Freeview News

Update on what's new in the world of the digital TV service, Freeview:

Film 4 to replace More4 + 1 in June / July 2006
News of probably the cheapest Freeview box around - The Sagem box is now available for under £20, and is ideal for use with any TV with a SCART socket. Discounted down to £19.99 at shop.bt.com
Changes at TopUp TV, including a possible channel reshuffle, and a new service, TV To Go
Channel 5 to launch Five US and Five Life soon

DAB

Discussion of DAB - Digital Audio Broadcasting. We explore just what little Carl knows about digital y, what digital radio has to offer, and some of the channels available on the digital radio platform. We also take a quick look at the new Pure One DAB radio (pictured).

Slingbox

Discussion of Slingbox - the new gadget that lets you watch your TV / PVR and satellite system over the Internet. This plugs into your home TV system (such as your Sky+ or Freeview setup), then lets you take control and watch your system by remote control over broadband.

Interactive

Thanks to everyone who got in touch with feedback on our last show - below is a summary of some of the questions we answered on this show. Remember - please keep your feedback and questions coming...

Primetime radio - There's been a fair amount of upset of the disappearance of Primetime, the national DAB station aimed at an older audience. We checked with Digital One, who own the national multiplex that used to broadcast Primetime. They say that the station's owner decided not to renew the contract to continue broadcasting. Searching around online, there are stories about the station's owner deciding that the station wasn't profitable, and that the advertising world didn't appreciate the station's uniqueness as an advertising option.

The disappearance of Primetime leaves a free slot on Digital One's multiplex, so we may see a new channel appear in due course.


Show listener Nick is having problems with his Dynamatek L920 and loading MP3 files: Remember to turn USB on, and get the latest software pack. Also worth considering getting a Bluetooth adapter.
Two listeners got in touch regarding Sky Multiroom - although costly, it does offer a good option for many home users - there are other options though - such as buying a Freeview box (such as the low-cost Sagem box), to provide TV in other rooms
Questions about how to improve Freeview quality - You'll find more help on our Freeview Advice page
A quick shout to the boys and girls in the NetGem Forum - stay passionate about the iPlayer

Competition

Competition now closed. In case you were curious, the answer is that we are "Barking" over at thevirtualunderground.com
Want new shows as soon as they're released?
Get FrequencyCast shows automatically, as soon as we've finished them:
Got iTunes? Add FrequencyCast to iTunes


Otherwise, use Juice or another podcatcher to subscribe to our show feed.
Our feed address: https://feeds.feedburner.com/frequencycast