Top Up TV Explored
This page looks at Top Up TV and the "Top Up TV Anytime" service, and explains whether it's the right choice for you.
What is Top-Up TV?

Top Up TV launched in 2004, offering Freeview viewers a number of extra channels, on a subscription-basis.
Until September 2006, eleven extra TV channels were broadcast on Top Up TV, but over subsequent months, the number of channels and broadcasting hours began being reduced, to make room for a new service, Top Up TV Anytime.
Now, Top Up TV's service offers live TV from Freeview, a library of extra content sent to the box overnight, and some live content from five other TV channels not available on Freeview:
Sky Sports 1 and Sky Sports 2
ESPN
G.O.L.D , from 6pm-11:30pm
Home (formerly UKTV Style), from 2pm-4pm
If you're looking to top up Freeview, there are two options with Top Up TV:
Use Top Up TV to get Sky Sports and ESPN
Use Top Up TV to get extra programmes and movies on a special hard-disk box
For current offers and prices, go to www.topuptv.com.
Top Up TV no longer recommended

The service no longer offers extra channels, and increased price mean it's no longer good value for money.

Instead, we recommend YouView, with extra content, movies, on demand and catch-up TV

Subscription Free YouView?

YouView boxes are available from Amazon

With BT Already?

Want Sky Sports?
So, what's the 'Anytime' bit?
In December 2006, the 'Top-Up TV Anytime' service went live. Many of the old premium live TV channels vanished, and the new service was born. The Anytime box is a hard-disk recorder (PVR) set-top box records extra TV shows and films overnight, so that they're on the box ready to be watched on-demand the next day. The box holds up to 150 selected programmes from the Top Up TV channel lineup (approximately 100 hours), and these programmes are refreshed daily.
These 150 programmes are selected from the following channels:
G.O.L.D, Comedy Central, MTV, UK Food, TCM, BBC, Boomerang, History Channel, Warner TV, Crime & Investigation, Sci-Fi Channel, Cartoon Network, Nickelodeon, Disney Channel, Life & Times.


For an extra fee, you can also sign up to Picturebox, a movie service. This delivers seven films a week to your Top Up TV+ box for viewing on demand.


Sports channel ESPN became available in 2009, offering live Barclays Premier League football matches as well as a selection of European football. Sky Sports 1 and 2 were added to the line-up in August 2010.
The Top Up Anytime box is also able to receive live TV and radio channels from Freeview, including ITV2, Pick TV, 5 USA, Quest, Dave, E4, BBC3 and Film 4.
Full details are available at www.topuptv.com
To get the 'Top Up TV Anytime' service, you need to buy a special 'Anytime' set-top box. This is hard-disk recorder, with a large enough disk to store the selection of 150 programmes, as well as up to 80 hours of Freeview recordings.
There's a small number of Top Up TV Anytime boxes available - the most common being the Thomson DTI 6300. You can get a set-top box direct from www.topuptv.com.
Listen to our review of Top Up TV Anytime in Show 10:
The Top Up TV Anytime box
The set-top box used for Top Up TV Anytime is the Thomson DTI-6300. This box has the following specification:
A twin-tuner (that can record two Freeview channels at the same time)
160GB (120 hours of TV content) or 250GB (180 hours of TV content) versions available
RF modulator output (so it can be connected to a TV set that doesn't have a SCART socket)
Outputs: 2 x SCART, Digital audio (PCM), S-video and stereo phonos

The Cost?
The box is available from £40 - this includes connection, and first month's subscription. You can order Top Up TV+ boxes and starter kits from www.topuptv.com.
Monthly subscription for Top Up TV Anytime is £12.99 a month.
Alternative to Top Up TV?

BT Vision offers a wide range of on-demand films and TV shows available from a BT Vision+ set-top box. You need to be a BT Total Broadband customer.
More details at www.bt.com/btbroadband or on our BT Vision page.
Top Up TV Anytime Review:
The Top Up TV Anytime launch has attracted a lot of interest from our listeners, so we thought we'd get hold of a box for review, and try to answer our listener's questions about the new service. Pete and Carl, the show's presenters, have been testing Top Up TV Anytime's service since December 2006, and reviewed the Anytime service for Show 10 of our podcast.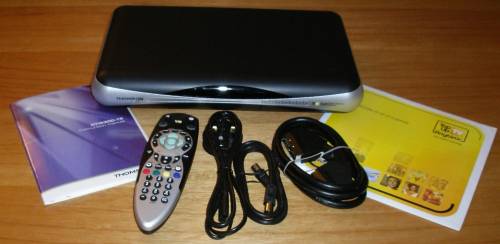 The stuff supplied with Top Up TV Anytime
Our impressions? Well, after a rough start - generally good. After some software patches in the first half of 2007, the box seems pretty stable, and picture and sound quality is good. The box successfully downloads programme content overnight, and can be played back on demand. See the screenshot below...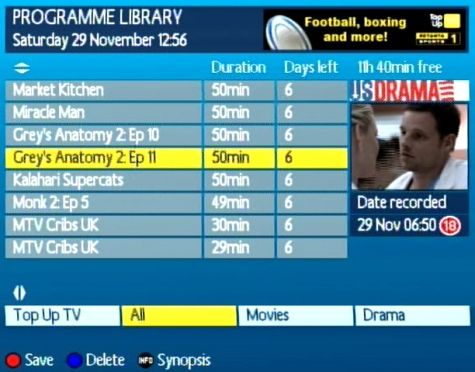 The Top Up TV Anytime Programme Library
If you're interested in finding out what programmes get downloaded to the box overnight, take a listen to our review on Show 10 of our podcast, where we run down the channels and programme names.
The Top Up TV Anytime system is pretty easy to use, the remote control is comfy and well laid out, and there's little to fault it from a usability perspective.
Top Up TV Anytime suffered a number of teething troubles at launch, including box lockups, and programmes not being recorded. After an over-air patch, Top Up TV finally issued another over-the-air software update in mid-March (to version 2.44), which seems to have resolved the problems experienced with the TUTV box. See our Blog Entry. A further patch, v2.81 was released in July 2007 also improving stability.
The one real gripe relates to the content. There's a fair amount of downloaded content that we're not interested in (nature and cartoons), and not a huge number of shows that we really want to watch, but at least there's a fairly varied mix. This is still better than the basic Freeview content (which you can also record on the Anytime box), but we were hoping for a little more comedy and drama, and a little less kids and music.
Box connectors: Here's what you'll find on the rear of the Anytime box, from left to right: RF in, RF out, two SCART sockets, two phono audio sockets, a digital out socket, S-video out and a mains socket:


Rear of the Thomson Anytime set-top box
Top Up TV Anytime F.A.Q
Q. What's TopUp TV Anytime all about?
It's a service that offers a selection of TV shows from the existing Top Up TV channel lineup, plus some new content, including programmes from Paramount Comedy, MTV, BBC, TCM, Warner and Disney.
Q. How much does Top Up TV Anytime cost?
The monthly subscription fee is £12.99 a month. Customers of the original Top Up TV subscription service were paying £7.99. To get 'Anytime', you need to get the 'Anytime' box, which costs from £40 including connection and the first month's service subscription.
Q. Why have I got to spend £100 on a new box, when my current box gets TopUp TV?
The original Top Up TV service that started in 2004 is being wound down, and is not available to new customers. Any original customers that have not moved to Anytime will find that their £7.99 subscription service now costs £4.99 a month for a greatly reduced service (less channels, and less broadcasting hours). From January 2007, Top Up TV only sell the 'Top Up TV Anytime' service and get features such as the extra content, digital recorder and the ability to pause and rewind live TV. To get the 'Top Up TV Anytime' service, you need a new set-top box, the Thomson DTI 6300, which has a built-in hard-disk recorder. More details on our Top Up Your Freeview page.
Q. I'm happy as I am. Can I stay on the original Top Up TV tariff?
The original Top Up TV subscription service will continue (at least for a while), but in a greatly reduced format, with less channels, broadcasting for fewer hours. This is because Top Up TV are now using their space to provide the newer Anytime service. As of April 2007, the original live TV package is no longer on sale to new customers, and those customers that haven't gone over to Anytime are being charged £4.99 a month for three channels: UKTV Gold (6pm - 11:30pm) and Home (2pm - 4pm). No more live programming from: UK Food, Bloomberg, Toonami, Boomerang, TCM, Eurosport, Discovery, Cartoon Network and Discovery Real Time. Content from these channels (and more) is still available on the 'Top Up TV Anytime' service.
Q. What happens if I don't want to buy a new box?
At the end of September 2006, Top Up TV confirmed to us that the non-Anytime service will continue and old Top-Up TV boxes will work with current subscriptions - although with a reduced number of channels and less hours. Top Up TV stopped selling the non-Anytime service to new customers from January 2007, so new customers will have to sign up to 'Top Up TV Anytime' to get service. If you don't fancy this option, you can consider alternatives such as Sky Digital, BT Vision or Cable TV.
Q. Why has TopUp TV decided to do this?
Our take is that the decision to reduce the original £7.99 service, and to introduce Anytime, has been made for commercial reasons - there's a shortage of channel space in the evenings, and there's unused channel space during off-peak times... they have to do this to add new content and hook in new viewers.
Q. So with Top Up TV Anytime, I can't watch TopUp channels live?
With Top Up TV Anytime, you get lots of live channels of TV and radio from Freeview, and a small amount of live content from G.O.L.D and Home (formerly UKTV Style). Then there's up to 100 hours of on-demand Top Up TV programming stored on the hard disk.
Q. What about my current Top-up box or TV set's CAM?
The original Top Up TV service is no longer available to new customers, but existing Top Up TV subscribers that haven't moved to Anytime will still be able to use their existing set-top boxes or digital TVs that were capable of getting the original TopUp TV service, together with their old TUTV subscription cards - although now all they'll get is the reduced set of Top Up TV channels.
The new Top Up TV Anytime service is the only thing on offer to new customers, and this only works with the new Anytime hard-disk box from Thomson. No other Freeview set-top box or card slot in a digital TV set can be used with the new Anytime service. More details on our Top Up Your Freeview page.
Decisions, decisions...
If you're a customer of the original Top Up TV service, and you still haven't moved over to 'Anytime', you'll find your service has now been greatly reduced, and Top Up TV are keen to get you moved over to Anytime. If you were a TUTV customer before November 2006, here are the options as we see it:
Sign up to TopUp TV Anytime:

Get selected TV programmes delivered to your Top Up TV set top box. The price for the box is £40. Subscription is £10.99 a month.
You can order your Anytime box online direct from Top Up TV.



Stay on the current Top Up TV package:

If you want, you can stay on the current basic service, which will continue in a reduced format (less channels, and reduced viewing hours on the remaining channels) into 2007. We've no idea how much longer this service will continue.



Cancel your Top Up TV account:

If you're not happy - then cancel. You can do this now by calling 08444 159 159.

If you cancel your Top Up TV service, your existing Top Up TV digibox will still get the Freeview channels, but if you want more TV channels, there are some options:
Top Up TV Anytime Summary
Back at the end of December 2006, we were a little anti the idea of Anytime, as this put many of the original Top Up TV customers at a disadvantage. Then, we saw a number of problems and complaints about bugs in the Anytime set top box software.
As an update to our original review, we looked at Top Up TV Anytime again in July 2007, and our original opinion has changed a little. The idea of downloaded TV content available to watch on-demand is actually not a bad one - you get instant access to around 100 hours of TV content from over a dozen channels. OK, so you have to wait 24 hours for new content to be downloaded (so you're effectively watching yesterday's telly), but it's actually quite nice to be able to flick through programme content without having to have recorded it in advance, or to wait for a scheduled start time. Shame that the content is not better, and that there's not a significant amount of 'live' programming available (like in the early Top Up TV days). The software bugs have by and large now been ironed out through a series of over-air updates, and this is a usable service now.
On the downside, compared with Sky Digital's lineup, Top Up TV Anytime offers a tiny percentage of the TV content you can get on the basic satellite package, so it's not the best value for money. If you're not able to get a Sky dish, or don't fancy the Sky subscription fees, then Top Up does offer something over and above the basic Freeview offering, and is worth considering. Take a look at www.topuptv.com for more.
In Show 10 of our online radio show, we reviewed the Top Up TV Anytime service in more depth, and looked at the box itself. To be kept informed, we suggest you keep an ear on our podcast and an eye on our blog for more on Top Up TV. Better still, sign up to our mailing list.
Want to know more?
We featured a review of Top Up TV Anytime in Show 10 of our podcast. Take a listen to hear the team discuss Top Up TV in more detail in our online radio show.
Got a comment on TopUp TV Anytime? We'd love to add your voice to our next show - call 020 8133 4567.