What on earth is a Chumby?
The Chumby is a rather unique little desktop gadget. Here, we take a closer look at what the Chumby's all about
What is the Chumby?
Simple - The perfect present for any gadget-lover!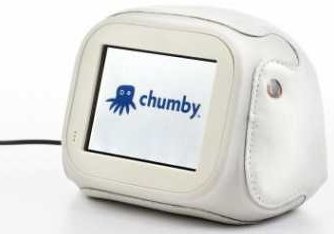 The Chumby is a wi-fi enabled desktop companion that sits on your desk presenting you with 'stuff' from over 1000 applications - display clocks, cartoons, animation, Facebook, Flicker, RSS feeds, news headlines, tech news, weather, and all sorts of weird and wonderful content. There's no subscription, just a one-off cost for the Chumby.
UK Availability:
The Chumby is available in the UK from the following UK suppliers:
Know of another supplier? Contact us
Chumby Review
Take a listen to show 46 to hear our full review.
Listen to FrequencyCast Show 46 - Chumby Reviewed
The Chumby is probably one of the oddest gadgets we've been asked to review. It's delivered in a hessian bag with string ties, in which you'll find a Chumby and two more bags with ties - one with a mains plug, and one with a set of tags to decorate the Chumby.
We were expecting USB leads, CDs and manuals - but no - just tags, bags and power. So, we plugged in, powered up and watched Chumby's little startup routine. Then, it started speaking at us, and running through a 3 minute guided tour (which you can hear in Show 46).
Next, Chumby asks you to touch the screen to calibrate it, then goes off to find wi-fi adapters. After finding and authenticating with our BT Home Hub, it's off to get an Internet connection. Once connected, next step was activation - this took a couple of minutes and involved creating an online account at chumby.com then pairing the account to the Chumby over-the-air.
Now, we're up-and running, and we can assign widgets to our Chumby. You do this via chumby.com, and your Chumby spots the online changes and alters what widgets are displayed. Here's a few of the widgets we're using:
| | | |
| --- | --- | --- |
| Chumby Twitter Widget | Chumby Facebook Widget | RSS Reader Widget |
| BBC News Chumby Widget | One of many clocks | Hot or Not Chumby Widget |
| Dilbert Cartoon Chumby Widget | UK Weather Chumby Widget | Kitten Screen Cleaner Widget |
There are over 1,200 widgets available, and there's a huge range to choose from. Many of the news and tech feeds are from the US, but there is a small selection of news feeds from the UK - best of all, you can subscribe to RSS news feeds.
Widgets are customisable - you can specify how long they stay on screen, and many can be personalised - such as weather location, RSS feed addresses, Facebook, LinkedIn and Twitter usernames, Google Blog search terms, etc.
Also, by pressing the button on the top of Chumby, you can get to the Chumby Control Panel that lets you review your widgets, mute the audio, switch profile (e.g. home widgets vs work widgets), rate a widget, set an alarm or play music.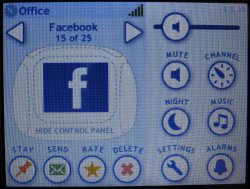 Playing music is a nice feature - you can select Pandora Radio, Shoutcast, play a podcast (including ours), pick an audio stream, control your iPod, or play MP3 files from a memory stick attached via USB.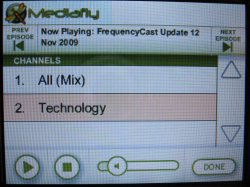 FrequencyCast playing on the Chumby
All in all, we've been pleasantly surprised by the Chumby. After a disappointing experience with that pesky desktop rabbit, the Nabaztag, the Chumby is a constant desktop companion here in the FrequencyCast office, and we're able to keep up to date with Twitter posts, news feeds and Facebook messages without logging on to our PC
Chumby Specification
802.11 b/g Wi-Fi
3.5 inch touch screen
Colours: Black, White or Blue
Dimensions: 133 x 100 x 82mm
Connectors: 2 x USB, 1 x 3,5mm headphone
Power: 12V (supplied mains adapter)
OS: Linux
Power consumption: 3 watts
Supplied with Chumby:
The Chumby is supplied in a bag, containing two other bags, a mains plug, three weird tag things, and two little bags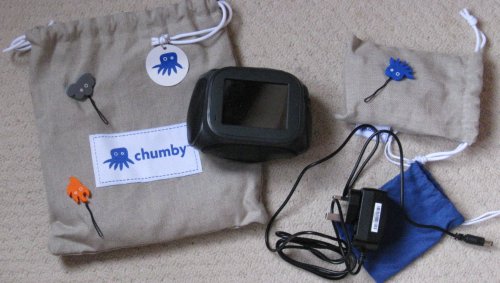 What's supplied with the Chumby
Availability: The Chumby is available in the UK from Firebox.com
Your questions?
Q. How do I add the FrequencyCast podcast to my Chumby?
You need to create a free account with MediaFly, then from MediaFly, link to your Chumby from the Devices page. Then add the FrequencyCast feed URL, which is https://feeds.feedburner.com/frequencycast