Chumby Desktop Pal Reviewed by FrequencyCast
The Chumby is a desktop companion that keeps you in touch with the world. We reviewed Chumby in Show 46.

On this page, you'll find a link to the show and a full transcript.
Listen to FrequencyCast Show 46 - Chumby Reviewed
Pete:
The next item we're looking at comes in this rather attractive hessian bag with a little bit of string at the top.
Carl:
That's good, it's like a gym bag. Have you got plimsolls in it?
Pete:
And we're doing this review because we've been nagged by one of our regulars, Michael Johnson. He's been banging on in our forum about this thing called a Chumby, and we've now got one to review.
Carl:
Chumby? - is it a cuddly toy?
Pete:
Now, Michael's been extolling the virtues of this gadget, and we were a little bit sceptical, until we were able to get hold of one for review, and actually they are rather clever. So let me just unpack this from this weird hessian bag, first of all you open the hessian bag, and inside is another hessian bag.
Carl:
It's a whole collection of hessian bags - it's like a wash kit. Oh no, it's got a plug in it - oooh!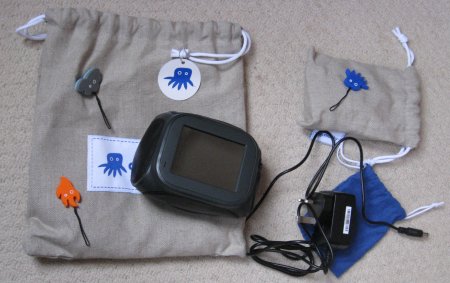 Pete:
OK, now we need to just plug that into the mains lead. Then we have another little bag that's got sort of - what's that? - it's an octopus logo on it.
Carl:
Well, they've all got octopus logos on them.
Pete:
And in here - hold your hand out.
Carl:
Rubbers?
Pete:
Little creatures - there's a cloud and a sort of a hedgehog thing and a sort of a fish thing.
Carl:
Is that another octopus? It's a hedgehog upside down, is an octopus, yeah.
Pete:
But the main thing is this ... devil to get out, here we go. Right, hold that.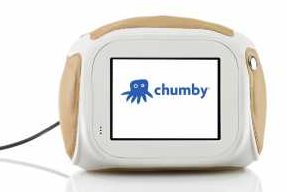 Carl:
Good grief! - what is this?? This is, it's got USB things on the back, A and B, it's got a headphone port, it's got mains in, it's got an on/off switch, it's got two speakers, it's plastic on the back, it's all soft and leathery on the main side, but is that a screen on the front there?
Pete:
A three-and-a-half inch touch screen.
Carl:
A three-and-a-half inch touch screen.
Pete:
See, it's quite durable, you can sort of pat it and shake it about a bit, and it's a thing.
Carl:
It's like a hacky sack with a screen on it, isn't it?
Pete:
Right, so go on then, we're going to fire this up. We should see the screen light up.
Carl:
Ooh - that was very fascinating!
Pete:
So there we go, it's switched on. Now, what I'm going to do, it's just come up in its sort of cold, start up mode, and there's a tutorial you can run through, and I think it's just worth sticking the microphone to the back of this unit, and just hearing a little bit of this tutorial, because it explains what it does better than I do.
Carl:
OK, off you go then.
The Chumby:
"Hello. On behalf of everyone here at Chumby Industries, I'd like to welcome you to our interactive guided tour. The Chumby is always on, and always connected to the internet. You get connected by using the control panel, which appears when you squeeze the top of the Chumby. It's a touch screen, so later you can tap the settings button to get connected.
The Chumby plays endless loops of small single-purpose applications called widgets that you add to your Chumby from your PC at Chumby.com. There's all kinds of content: news, photos, clocks, watch lists, music ... the Chumby is an internet buffet, you get to have everything you care about and nothing you don't. Some widgets are just for viewing, and others you have to tap to make something happen."
Carl:
That's very informative, and actually good fun to use. What else does it do, Pete? - inspire me.
Pete:
So it is pretty clever. Now, that's gone through its tutorial, I've already set this up with an account on a PC, so you create an account on a PC and pair it with this, and basically there's something like 1,500 widgets that people have written, or companies have released, that you can add to your profile, so you go on to this directory on the website, and add different applications, which are sent over the air to the Chumby, which means you can just sit there and have it like a rolling slide show.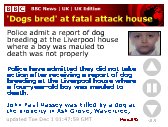 So I'm going to put it into My Slideshow mode, so you can see that's got BBC News on the screen at the moment?
Carl:
OK.
Pete:
Now the screen's flipped to an RSS reader, that's actually loading up our forum, so that's the FrequencyCast forum, so that's showing you the last three posts on the FrequencyCast forum.
Carl: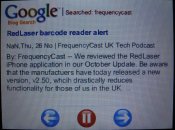 Oh, that's clever, and it scrolls automatically through there, does it?
Pete:
Yep, and now it's going to flip again, there's a little clock in the corner telling you when it's about to flip onto the next page.
Carl:
A bit like a personal Ceefax service, isn't it, really? - only it goes through sites and things that you're interested in?
Pete: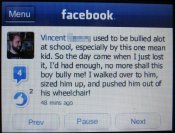 Pretty much. Now, it's just flipped onto Facebook - there are three little Facebook apps that show you people's statuses, or how many unread messages you've got, that kind of thing.
Carl:
Right, OK.
Pete:
Now it's flipping off to BBC News 24.
Carl:
And this just keeps continuously scrolling, and you can pause it at any time, can you?
Pete: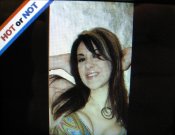 You can pause and interact with it, so it's now moved on to ... oh, I've actually got, you see the next one is, "Am I Hot or Not?" - so you've got pictures of people that you can rate, so what do we reckon, out of ten, for her?
Carl:
Ooh - seven.
Pete:
OK, so you can tap on seven there, and OK - so the average internet rating for her is 8.9, so we've kind of underestimated her gorgeousness there. But as you're actually interacting with it, it pauses the clock, so I can sit and interact with this for as long as I want, and it won't automatically move on to the next one, but when I get bored and leave it alone, it will time out and move on to the next sequence.
Carl:
Oh, that's actually quite a smart idea - can you actually set those timings, or are they automated?
Pete:
No - you can set them.
Carl:
That's nice.
Pete: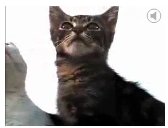 Absolutely. So this is really perfect for just sitting on your desk and it constantly updates you, so I've added a whole bunch of feeds that's useful to us here at FrequencyCast. It's actually done with Adobe Flash, so you can do Flash movies, so things like, dogs cleaning your screens, and videos - just all manner of things, it's pretty clever.
Carl:
Excellent.
Pete:
So here's just a quick summary of what I've got loaded: I've got the old BBC test card - do you remember that clock there, the old BBC clock?
Carl:
Yeah, I remember that - between programmes, wasn't it?
Pete:
BBC Weather, I've got on here, Facebook, Twitter, a different Facebook view, a daily Dilbert cartoon, Hot Or Not, LinkedIn status, and a couple of little comedy clips, and you can just add, drag them round the screen, drop them into the order you want, and click on customise to change the duration.
| | | |
| --- | --- | --- |
| Dilbert Cartoon Chumby Widget | One of many clocks | Chumby Twitter Widget |
Carl:
So this is a little bit like the Joggler really, only it's kind of, a shockproof outer casing to it - it's more for any member of the family, including two year olds that like to throw phones around, and things like that. Is it not a bit similar to the Nabaztag - wasn't that trying to do an audio version of the same thing really?
Pete:
Nabaztag would read standard RSS feeds, but wasn't quite as flexible as this, and of course all it did was speak to you, whereas this is a full colour touch screen.
Carl:
Yeah, I think this is leagues ahead, in that sense, although the Nabaztag did have moving arms and legs, and didn't its ears come off on detachable magnets, or something? - I thought that was great! We should do the Nabaztag again, it was quite good in hindsight.
Pete:
The clever bit though is, there's this little button at the top here ...
Carl:
Right, OK.
Pete: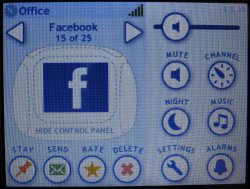 And what that does is, it brings up the menu, and you can see there's a few other features here, so if we look at the menu here, so we can change the order on the device itself. You've also got a music button, so you can press play, and it will take you to a music screen. In there there's access to podcasts ...
Carl:
Nice!
Pete:
... access to streaming radio services, like Pandora and SHOUTcast, and you can plug in a USB stick with your own music on the back.
Carl:
Oh cool, so you can actually just use it as an MP3 player, or something?
Pete:
Absolutely, and you can actually plug in an iPod to it as well, and then remotely control your iPod from here. So there you go, that is the Chumby - a very powerful little device. I'm with Michael, one of our regulars, on this - this is actually a surprisingly powerful device, and if anyone out there's actually got a Chumby, and wants to get in touch with us, my Chumby is called FrequencyCast, so send me a message.
UK Availability:
The Chumby is available in the UK from the following UK supplier: Firebox.com
Listen to FrequencyCast Show 46 - Chumby Reviewed
More Show 46 Transcripts:
More on the Chumby on our Chumby Reviewed page
Handy Links: