Destination Star Trek Convention - Transcript
In FrequencyCast Show 81, we summarised our experiences of the London Star Trek Convention. Here, you'll find a transcript of the Trekkie goodness we discovered at this Trek-fest.
Listen to our feature on Destination Star Trek London 2012 (17 mins)
Trekking to DSTL:
Our Pete had lots of fun at Destination Star Trek, London. The full version of our feature (with pics) can be found here: Destination Star Trek London Review. Coming up is the transcript of the summary played in Show 81:
Transcript continues from YouView from BT Transcript
Pete:
Now Kelly, "live long and prosper".
Kelly:
Thank you!
Pete:
Oh, look at that! - Kelly is doing the Vulcan salute, with the two fingers together thing - I'm very impressed! I didn't really place you as a Trekkie.
Kelly:
Why?
Pete:
Are you a bit of a Jean-Luc Picard fan, by any chance?
Kelly:
No, I love Spock.
Pete:
Now sadly, you weren't free to join me for a little trek to ExCel, were you?
Kelly:
No, I'm so sorry!
Pete:
I'm at London, at the Excel Centre, for Destination Star Trek London. What I can see here are various halls doing special talks, where the captains are chatting about their experiences on Star Trek; the technical people are talking about how they put the effects together, and I'm now joined by Sam and Carol, who are:
Sam and Carol:
We're the Trekkie Girls.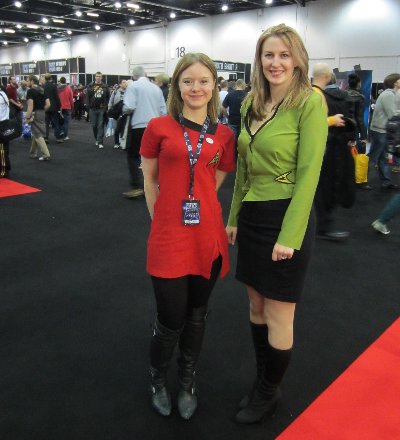 The Trekkie Girls, in their TOS uniforms
Pete:
OK, so you're bloggers, and you talk about all things to do with the Star Trek world, is that correct?
Sam:
Yeah, that's right. We're 24th century girls, stuck in the 21st century.
Pete:
Now, you're in your uniforms, which is good. If I've got this right, this is the original series' uniform?
Carol:
Yes, these are both original. I wear the red shirt, which is, "likely to die". Sammy is a captain.
Pete:
So you run a blog - could you give me a blatant plug for your blog website, so that all the girlies listening to the show can go along, and see what this is all about?
Sam:
Yeah, log onto www.trekkiegirls.com. Basically, we try to assimilate our friends into the 24th century mindset, and would like to assimilate you too, please.
Pete:
I'm guessing resistance is futile, is that right?
Sam:
Absolutely!
Pete:
Now, I have a chap in front of me by the name of Dave, from a company called Realise Digital, and what drew my attention to their stand is, they have a replica of a Star Trek transporter room.

Beam me up from Realise Digital.
Dave:
You get your friend to stand up there, and using any Android or iOS smartphone, you can download the Beam Me Up app. You ask your friend to stand on the transporter, with the augmented reality camera towards it, and your friend will get beamed up. Half way through, you can take a photograph, and upload that to Facebook or Twitter.
Pete:
Very impressive technology. If I may, I'm going to beam off now - thank you very much.
Rather than spending my time at the convention, trying to catch up with stars to get their autographs, I turned my attention to the science and technology behind Star Trek, and I was lucky enough to catch up with Ronald D Moore, who's a very well-known screenwriter and producer for the Next Generation, Deep Space Nine and Voyager.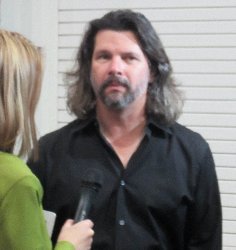 Ronald:
There were just times when I found myself writing dialogue between Geordi and Picard about some engineering problem, and it was mostly about the rhythm of the conversation, and you would just write "tech" in the script for tech, and then the science consultant would tell you want to put in for that place, and you just realised that some of this is just about pattern and rhythm:
"Captain, the tech is teching, and if we don't stop the tech within 15 minutes, the warp engines will tech!" "Well, Mr La Forge, call in auxiliary power, and transfer the tech to the techno cells." "No, Captain - that won't work!" "Wait, I have a theory!", says Data; "If we tech the tech and just, in the next five seconds, we might have a chance to finally tech our tech!" ... and you're just like, oh my God - how do I get out of this scene.
Pete:
Absolutely. Was there some kind of sort of bible of tech expressions that you had to adhere to?
Ronald:
There was a writers' guide, which we called the show bible. There was the tech consultants. The Okuda's had the technical compendium. There was a lot of information for writers, but most of the writers were liberal arts majors, and we don't know from most of this stuff. You sit in rooms, and you find yourself in passionate arguments with other writers about what the warp drive can and cannot do, and yelling at each other, because the transporter doesn't work that way, and at some point, you realise this is all madness, and it's just like, what are we doing?
Pete: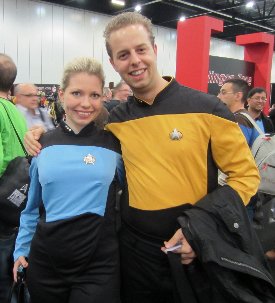 Right, I'm in a queue with two lovely, well-dressed, Next Generation people. Your names, please?
Jacob:
I'm Jacob.
Elishka:
I'm Elishka.
Pete:
And what are you queuing for here today?
Jacob:
For the show with Michael Dorn and Brent Spiner.
Pete:
Whereabouts are you from?
Elishka:
We're from Prague.
Lady:
So what we are offering today is a collection of Star Trek ships, which also come with a magazine that details the Star Trek ships, and the models are actually die-cast and hand-painted.
Pete:
Forgive me, but I know there's only about five or six Enterprises, so this is going to be a fairly short series of magazines?
Man:
Well, at the moment we've got 61 actually confirmed ships on the list. We've got some of the highlights, which I think will be the USS Defiant; the Romulan Bird of Prey; and also the Borg Queen Ship. The website address is www.startrek-starships.com.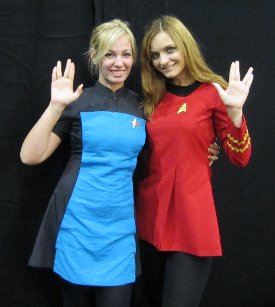 Marsha:
My name is Marsha, and I'm from Croatia.
Stadia:
My name is Stadia, and I'm also from Croatia.
Pete:
Wow, and you've travelled here just for the Star Trek exhibition today?
Marsha:
Well actually, yes. We are staying here for a few more days in London, but primarily we are here for this Star Trek convention, yeah.
Pete:
Excellent, and who are you looking to meet today? - anyone in particular?
Marsha:
William Shatner - he's so sexy!
Sadia:
And Patrick Stewart - he is so sexy!
Pete:
OK, and I have to ask - these uniforms, did you actually wear these here, or did you change when you got here?
Marsha:
We wear them here.
Pete:
I just wonder how many people are on the London underground system at the moment, wearing Star Trek outfits? You must be very brave, to wear this!
Sadia:
Well no, not really. I mean, it's London - everything is normal here, I guess!
John:
I'm from Forbidden Planet. We've got a store in central London you may know, and several up and down the country.
Pete:
From what you were telling me earlier, the thing that's flying off the shelves is the Klingon Bird of Prey Haynes Manual - is that right?
John:
By golly, people have been very excited about it!
Pete:
How to change a spark plug, in a Bird of Prey?
John:
Yeah, I mean, should it break down while you're out there, this is the book you need, obviously.
Pete:
Now, just looking at your stand at the moment, I can see a good half-a-dozen people, including some rather attractive young ladies over there, that are actually wearing the Star Trek outfits. Why do you think so many people want to dress up, come along to things like this?
John:
Dressing up has just become an enormously fashionable thing to do over, about the last five years. "Don't dream it - be it", as they said in Rocky Horror.
Pete:
John, if someone wants to get hold of some amazing Star Trek merchandise, and they can't make it down here to the show, do you have a web address where people can buy all this stuff?
John:
Yeah, it's simple enough: we're ForbiddenPlanet.com.
Pete:
And for a full 17-minute version of my look at Destination Star Trek London, including some rather interesting photos, go to the website: www.frequencycast.co.uk/trek.
Listen to our feature on Destination Star Trek London 2012 (17 mins)
Transcript continues: Gadget Show Live London 2012 Preview
More information: