Gadget Show Live London 2012 Preview
On November the 30th, the Gadget Show Live hits London. The show's normally in Birmingham, but will be hitting the ExCel centre in 2012. Of course, FrequencyCast will be there to have a look around. Here's an early look.

Gadget Show Live 2012 London:
Keen listeners will recall our trips to Gadget Show Live 2011 and Gadget Show Live 2012. We'll be at this year's London event, and here is the transcript of our look-ahead featured in Show 81:
Listen to FrequencyCast Show 82 - We're at Gadget Show Live London 2012
Transcript continues from Destination Star Trek London
Pete:
Now Kelly, remind us - where did we first meet you?
Kelly:
Ah, that was at the Gadget Show.
Pete:
And you were actually there helping out with a stand, weren't you?
Kelly:
I was indeed - that was for NeuroSky.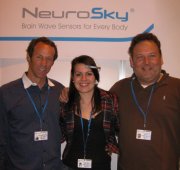 Pete:
Of course - the thing that read Carl's brain, and worked out he hadn't got one.
Kelly:
Yeah, that was the one!
Pete:
Well, Gadget Show Live is coming to London in November. Now, we mentioned this a few shows ago, but it's getting a little bit close now, and I think we're off to go and see it.
Kelly:
I actually can't wait!
Pete:
There you go, so if you are interested in Gadget Show Live, it's on Friday 30th November through until Sunday 2nd December, and it's at the ExCel Centre in London, which is a really nice venue for that kind of event. The tickets are selling pretty fast, and the shows for the Gadget Show Birmingham, as you'll know, Kelly, normally sell out very very quickly, so the advice is:
Kelly:
Get in quick!
Pete:
Now, we will be there, probably on the Friday, to have a look around. What you'll find there is the Super Theatre, which is where the Gadget Show presenters do their stuff on stage, and do a lot of showcasing and stuff like that. We're not going to be watching that, though. We're having far more fun going around the exhibition, talking to the exhibitors. Now, there are 150 tech companies there. Kelly, who's going?
Kelly:
There's Microsoft, LG, Sonos, Nintendo ...
Pete:
Ah yes - Nintendo, now they're there for the launch of the Wii U, their new games console that is moving the Wii on, with this amazing little touch screen controller, which should be fun. Who else is going?
Kelly:
Canon, TomTom - loads of names.
Pete:
And of course, for us, we tend to give the larger companies a bit of a wide berth, because there's far more fun to be had talking to the smaller exhibitors, because they have all sorts of wonderful things to offer. For instance, a massage chair - any interest to you?
Kelly:
No, that's not really of interest to me.
Pete:
OK, so as a challenge, we might try and force you into one of those then?
Kelly:
Great.
Pete:
We've also got some weird things here - something called the Road Pixel in-car CCTV. Quite why you'd want CCTV in your own car, I don't know; that's an unusual one. Also, this is the one I really want to try here - ProMech Racing Office Chairs.
Kelly:
Oh, this sounds fabulous!
Pete:
OK, well that's definitely one for us to try. Bluetooth rear view mirrors - that's an unusual one. What else have we got?
Kelly:
We've also got some robots.
Pete:
Oh, they're always good fun, yeah. hi-fi?
Kelly:
Personal transport, fitness.
Pete:
There's something here called Echostar, that apparently lets you watch your TV anywhere in the world - that could be interesting.
Kelly:
That sounds quite good - I'd like to see that.
Pete:
There was something called the Slingbox a few years ago, so I'm wondering if it's something similar to that. Home automation, and this one, you're going to love -
Kelly:
A silent disco.
Pete:
You're sold, aren't you?
Kelly:
I'm already there - I've pretty much got my headphones on, and I'm dancing!
Pete:
OK, so there you go - if you fancy going along to Gadget Show Live, the 30th November to the 2nd of December, that weekend, at London ExCel, and the web address is:
Kelly:
Pete:
And of course, we'll be there with a recorder, to capture the whole show.
Kelly:
Yes, try and find us.
Transcript continues: Show 81 Transcript Part 4
Listen to FrequencyCast Show 82 - We're at Gadget Show Live London 2012
More information: