Mobile Phones & Smartphones
As you'd expect from a tech Podcast, here at FrequencyCast, we love mobile phones. This page covers some stuff on mobile phones, as discussed on our show
Here's details of some of the phones we've recently discussed on our shows:
Apple iPhone (UK)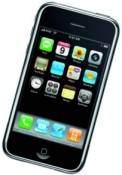 Has there ever been a more hyped phone? The iPhone launched in the UK exclusively on the o2 network in November 2007. We've been hands-on with these magic phones since they launched, and they sure are impressive - sync to iTunes, perfect music and video playback, and the best mobile web experience we've ever had.
We've put together an audio review of the UK iPhone - Our podcast's presenters Pete and Carl sat in a room, and went through each application seeing what's on offer. Pete then outlined how to get online with an o2 iPhone, then compared the iPhone with some of the other leading handsets featured on this page.
To read more on the iPhone, or to download our audio guide, see our UK iPhone review page.
The iPhone is available on contract in the UK from o2 and Carphone Warehouse. More on our iPhone page.

Listen to our audio review of the Apple iPhone:
Google G1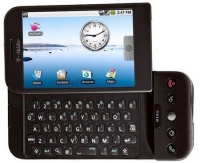 The much heralded Google G1, powered by Google's Android Operating System.
Launched in the UK in October 2008, this phone has quite a following - it's easy to use, and Google's first foray into designing mobile software seems to have made a good start. The G1 is manufactured by HTC.
The Google G1 has a touch screen, GPS, 3 Meg camera and a slide-out keyboard - it's not quite an iPhone, but it's a nice bit of kit, and certainly shows potential - it's also cheaper than an iPhone for very similar functionality. As you'd expect, it's an Internet-enabled device tightly integrated into the online services offered by Google.
We featured the Google G1 in Show 38. Take a listen to hear Pete and Carl get hands-on.
The Google G1 handset is available on contract in the UK from www.t-mobile.co.uk

Audio review of the Google G1 in Show 38
Dyal SWAP Mobile Phone Watch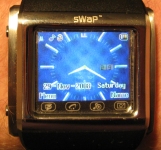 Released in November 2008, this is a powerful mobile phone in a watch. With a 1.3Meg still and video camera, GPRS, Bluetooth and a colour touchscreen, this is an impressive watch. It's also an MP3 music player and plays MP4 video.
Our Carl fell in love with this phone, and wears his SWAP with pride. You can hear Carl review the SWAP in Show 33, and we have a page containing Carl's text review and a collection of photos and screenshots. More on our SWAP Watch page
The SWAP is supplied SIM-free, and works with the major UK mobile phone networks, except 3.
The SWAP watch, from Dyal, is now available in the UK. It's available from the gadget boys at I want one of those.


Audio review of the Dyal SWAP watch in Show 33
INQ1 "Facebook Phone"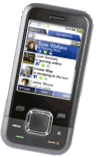 Facebook and Instant Messaging on the move: UK network operator 3's done it again - they've seen whether the mobile Internet's going, and got in early. Facebook is the killer net app of the moment, and they've married a mobile phone's address book to Facebook, Skype and Windows MSN messenger, so you can manage your mates, check and upload status messages and photos, plus do a whole bunch of other fun mobile stuff.
A powerful, but oddly inexpensive handset with a 3.2 Meg camera, media player, web browser and a decent slider keyboard, this is seriously worth a look if you have friends that live online. We now have one in our studio - so get in touch to say "hi" or ask a question!
The INQ1 Facebook phone is available free on contract (with unlimited mobile Internet access), or for £79.95 on pay-as-you-go, or free on contract.
More details on our Facebook INQ page, in our audio review (see below), or on 3's INQ1 page.

We get hands-on with INQ1 Facebook Phone in our December 2008 update
Skypephone from 3

Free Skype on a mobile: Here's a great bargain. Get this phone from UK network operator 3, and you can make free calls to other Skype users around the world, or to others with a Skype phone. The Skypephone has a dedicated Skype button and is very easy to use.
The Skypephone from 3 is also a standard mobile phone and has a good number of features, such as MP3 and video playback, a 2 meg camera, a 256Meg storage card and a stack of other applications. It also uses 3's high-speed data network for Internet and email access,
The 3Skypephone is a standard 3G mobile with a dedicated Skype button. It can make and receive free calls to other Skype users over the 3 mobile data network. It has free Skype Instant messaging too. 3's Skypephone acts as a normal mobile too, and has an MP3 player and a 2meg camera. Available free on contract, or under £40 on pay-as-you-go. Calls on the 3Skypephone are truly free, there are no calling or data charges. If you have friends on Skype, it's FREE calls to them, anywhere at anytime.
The Skypephone is available for £39.95 on pay-as-you-go, or free on contract. A newer version, the Skypephone 2 was released in mid-2008. More details on 3's Skypephone page.

We reviewed the Skypephone in Show 21
Nokia N95
We looked at this snazzy phone in Show 14. The Nokia N95 phone became available in the UK in March 2007 and is a top-of-the range device with a great screen, and a nifty bi-directional sliding keyboard.
Carl and Pete got some hands-on time with this new phone, to see what it offers. Take a listen to Show 14 to hear how we got on, and for a sample of the mapping and music playback on the Nokia N95.
One of the features that demonstrates really well on the show, is the impressive sound - the Nokia N95 has two speakers for some impressive stereo playback. Here are some of the other top features of the Nokia N95:
GPS - A built-in satellite receiver for GPS navigation - maps are downloaded as required over the air, meaning the map data can be kept up-to-date. Voice navigation files can be downloaded on demand too - listen in to this show to hear navigation in action.
Connectivity: USB, Infrared, Bluetooth, GSM, WCDMA, HSDPA and wi-fi
A 5 megapixel camera, with Carl Zeiss optics and VGA video capture. The camera has a flash, auto-focus and a lens cover
As well as MP3 playback, the N95 has a stereo FM radio and supports Visual Radio
| | |
| --- | --- |
| Screenshot of Mapping on N95 | Screenshot of the main menu on the N95 |
The Nokia N95 became available in March 2007. It's available on contract from T-Mobile and MobileShop.
It's also available SIM-free from Play.com.
We get hands-on with the Nokia N95 in Show 14
Nokia 6220 Classic
We reviewed this phone handset briefly in Show 30. It uses the same powerful operating system as the Nokia N95, so is pretty high-spec. Here are some of the features:
Onboard GPS sat-nav receiver - Uses Nokia Maps to get map and satellite data over-the-air. Voice navigation files is also possible, on a subscription-basis
A 5 megapixel camera, with Carl Zeiss optics and VGA video capture. The camera has a flash, auto-focus and a lens cover
Connectivity: USB, Bluetooth and 3G data (No wi-fi)
MP3 playback, stereo FM radio with RDS and support for Visual Radio
The Nokia 6220 is a really powerful little phone, and a lot cheaper than other equally-specced phones. It became available in Mid-2008 from O2 Online and three.co.uk.
We get hands-on with the Nokia 6220c in Show 30
o2 XDA Orbit

We've fallen in love with the new XDA Orbit, from o2. This phone combines a phone and Windows Mobile PDA, with a GPS receiver, so you have a one-box phone, organiser, Internet and email device, that's capable of satellite navigation with no extra hardware. This is powerful phone and PDA, and it's also a comfy hold. If you're into your power phones, and fancy being able to navigate in your car or on foot with just a phone, check out the sexy XDA Orbit.
This phone is available directly from www.o2.co.uk. The XDA Orbit is also carried by T-Mobile, where it's known as the MDA Compact III.
We featured the o2 XDA Orbit in Show 10 and again in Show 14 - Take a listen to these shows online.

Free SIM cards.

You can get your hands on two FREE O2 SIMs, each with unlimited texts when you top up just £5 a month. freesimo2.o2.co.uk
You can also get two free T-Mobile SIM cards, with a free weekend texts offer. More details at t-mobilesimgiveaway.co.uk.
It's also worth considering getting a free SIM from the boys and girls at GiffGaff
Lobster 700TV Tellyphone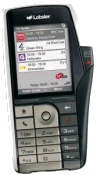 We reviewed this phone in Show 07, and were pretty impressed. We also had some listener feedback in Show 15. Sadly, this phone is no longer available. At the time of recording, the phone was able to tune in to up to 50 channels of DAB digital radio, and a small number of digital TV channels:
BBC One, ITV 1, Channel 4, E4 and ITN News
This phone doesn't get its TV content via an expensive Internet connection, it gets its telly over-the-air with a built in receiver - actually using the DAB Digital Radio system to download TV as data. Clever eh? The service is called BT Movio.
The Virgin Lobster 700TV 'tellyphone' is a tri-band phone powered by the Smartphone version of Windows Mobile v5.0, comes with a 1.3 megapixel camera, and supports Internet and email over GPRS. Battery life: 140 hours of standby. 64Meg RAM with micro-SD slot. It connects to a PC and other devices using USB and Bluetooth support.
Update: The Lobster 700 has now been discontinued (as of July 2007). It was previously available free on contract or for £50 on pay-as-you-go from www.virginmobile.com.
Swap your old phone for cash!
Got an old mobile phone handset that you're no longer using... don't leave it in the back of a drawer - you may even be able to make some money for getting rid of your old phone safely. For cashback, go to envirofone.com.
For more on making cash from your old handsets, see Sell Your Old Mobile.
Other links
Got a question on mobile phones or smartphones that we can answer in the next show? Call 020 8133 4567 or send us a message