Gadget Show Live Xmas 2012 - Transcript Part 3
Pete and Kelly from FrequencyCast visited Gadget Show Live Xmas. This is the third part of our audio review transcript of the feature from show 82.
Listen to FrequencyCast Show 82 - We're at Gadget Show Live London 2012
Gadget Show Live London Transcript Part 3:
The third and final part of our audio transcript....
Transcript continued from here: Gadget Show Live Xmas 2012 - Transcript Part 2
Pete:
Well Kelly, we're in a very very famous place now, aren't we? We're actually on the telly.
Kelly:
We are.
Pete:
Where are we?
Kelly:
On the Gadget Show sofa.
Pete:
We are. They've got a mock up of the Gadget Show TV studio here. We could be the new Polly and Jason - what do you think?
Kelly:
We could, but I think we kind of have the faces for radio.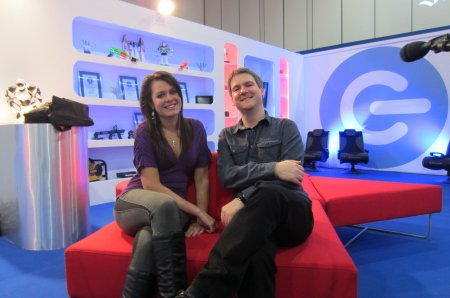 Kelly and Pete, playing in the Gadget Show TV studio
Pete:
Do you think? - do you think we should stay this side of the microphone, then?
Kelly:
Yeah, I think we're a lot better this side of the microphone, but I guess everybody else can check that out, and see?
Pete:
So yes, we'll be putting up a little video of us sitting on the sofa. You're actually in Jason's spot, I think, and I'm in Pollyanna's.
Kelly:
I think that sounds about right for you, doesn't it?
Pete:
Now Kelly, we've done lots on fitness products, haven't we?
Kelly:
We have, not that you've enjoyed that at all.
Pete:
And we're here talking to Kevin - Kevin, tell me your company name please?
Kev:
The company name is Movband UK. Well, the Movband is a simple, stylish wrist-worn pedometer, so it's actually an accelerometer, a bit based like the Nike FuelBand with a bit of a difference - it's accessible to all, and the reason I say that is because the price point is extremely affordable.
Pete:
OK, so we've got our Fitbits, which are about £80-odd. The Nike FuelBand is something like £120. So this is in that kind of ilk, and it's also got a USB socket and everything else. Where you do fit between all of those prices?
Kev:
Below - well, put it this way, if you buy it online, it's £27.99.
Pete:
And that's it?
Kev:
But it gets better, because with this device, it's interchangeable, so say you've got an aerobics class, say you're going out for a walk with the dog, and you've got a pink outfit on - let me choose a pink band. Is that going to cost me another £89? - no, it's not. It's going to cost me around about £7, but I think the most important thing for me is the doing part. The Movband is clever, because it's simple.
Pete:
What's your favourite colour to go with your phone?
Kelly:
Purple.
Kev:
Purple, we've got purple.
Kelly:
Perfect! - I'm sold, it's done!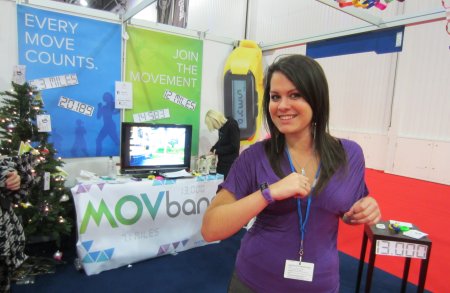 Kelly, wearing the MOVband... in purple of course
Kev:
So the website address is Movbanduk.co.uk.
Pete:
And just to be clear, there's no "e" in Mov, is there? - so it's actually Movband, and we'll have some pictures up on our website, and our address, Kelly, is?
Kelly:
Kelly:
I'm actually here with Ben from Fridja, and we've currently got up on a hanger a shirt that looks incredibly creased. So can you tell us exactly what you're about to do to get these creases out?
Ben:
Sure. This is an alternative to ironing, so instead of your conventional iron with an ironing board, what you're doing is vertically ironing. So you get a stand with a hanger and pegs. You turn it on, and it takes just 45 seconds to heat up, and it's quite simple - you just pinch the material at the bottom, and glide the steam head over the creases, and they fall out. Then you can also do dry clean only things, without getting that horrible shine, which is when you're burning it with an iron. It makes life a lot easier.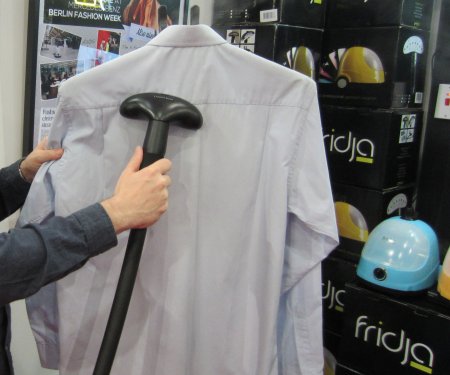 Pete, showing off his vertical ironing skills with a Fridja
Kelly:
OK, and where can people find that?
Ben:
If you just go to our website, with is Fridja.com, you can go there, and you can peruse to your life's content.
Kelly:
Fantastic! - and men have no excuse from now on.
Ben:
Neither do women.
Kelly:
Very good.
Pete:
OK, we've taken a few minutes to have a little seat. Which stand are we on now, Kelly?
Kelly:
We're at O2.
Pete:
And you're looking for a brand-new BlackBerry, aren't you?
Kelly:
I am, it's about time - my one's dying.
Pete:
Fair enough. Kelly, we've had a tweet in, I sent out a tweet when we got here, asking if anyone had any requests of things that we should look at at the show today. Who's this one from, Kelly?
Kelly:
This is from Stuart J Skinner. He said, "I don't suppose you mean singing Jingle Bells in Klingon as a request?"
Pete:
OK, Kelly - do you fancy doing a sing song for me?
Kelly:
I would love to, but I don't think I can do it in Klingon.
Pete:
Can you say, "Go-cho-cha"?
Kelly:
"Go-cho-cha."
Pete:
Right, now that do that as Jingle Bells. We'll do it together - are you ready?
Both:
"Go-cho-cha, go-cho-cha, go-cho-cha-cha-cha!"
Pete:
There we go, Stuart - don't say we don't do anything for you!
Kelly:
"Kapola!"
Pete:
Now, forget all this high definition TV stuff, what really does it for me is good old broadcast radio, and I'm here at a stand selling nothing but DAB digital radios. I'm talking to Lizzie from Aves - hello.
Aves:
Hello.
Pete:
And you've got a lovely range of new DAB radios, some hi-fi-ey type ones, and some portable ones. Just talk me through the products we've got here.
Aves:
We've got a selection of digital radios. We've also got a selection of Bluetooth wireless speakers. So our digital radios, we've brought four with us today. We've got the classic finish with the nice wood, beech finish. We've also got two in high-gloss black finish. The two in high-gloss black finish, one comes with an iPod dock, and the other comes without the iPod dock, both exactly the same. They have 20 pre-set stations. They've got digital radio and FM, and they're both DAB+, so you can get digital radio wherever you want, as long as you've got the signal.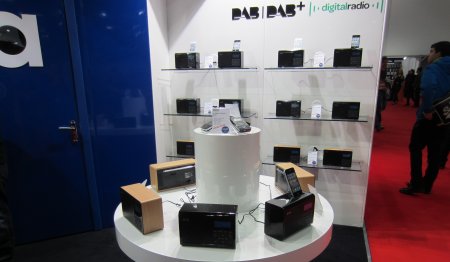 DAB Digital Radio range from Aves Digital
Pete:
Excellent, well that's a pretty impressive range. You've got a portable device as well. That is amazingly light. We've looked at these before, but this is a nice, nifty little portable. Now, if I've got this right, there is this weird plan for FM radios to be kind of switched off, and us all to be moving over to DAB at some point?
Aves:
There's a big campaign been launched recently by Digital Radio UK and the BBC. They've launched D Love, about spreading the love for digital radio, so the whole plan is to actually implement digital radio in the same way that they implemented digital TV, and eventually cut off the analogue signal. How long that'll be is uncertain at the moment, but we're at the forefront of it. We're quite happy to support the digital radio campaign, and we want our digital radios to sit in everyone's kitchens around the country.
Pete:
Marvellous, so if someone wants to get their hands on some of this lovely radio kit, where would they go?
Aves:
You can get our products via Very.co.uk and Littlewoods.co.uk, and we also are selling in a number of Euronics stores. Check out Avesdigital.co.uk, on Google and online.
Pete:
Now, as well as the more high-end expensive motorbikes and motorcycles and robots and things, we like to take a look at some of the more lower-priced solutions, and we've found a rather good one here, haven't we, Kelly?
Kelly:
We have, I quite like this one.
Pete:
And this is to solve that lovely problem of your phone needing to be secured while you're driving.
Kelly:
Basically it's a little pad that slides into your CD player. You can still play our CDs on it, but then you can put anything on it, like your phone, change, lipstick (for me), all your TomTom - literally leave it on there, and it won't slip off.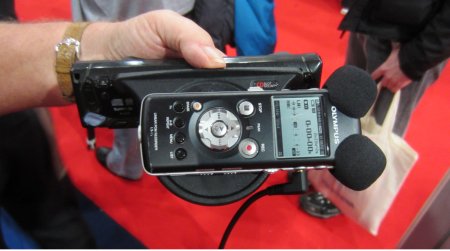 CDSlotMount, holing our voice recorder safely. Cool, and under £10
Man:
You can use it time and time again. You never need to actually change the sticky pad.
Kelly:
And now a little birdy told me that you've also won a very good award this year?
Man:
Yes, we were absolutely delighted to win the British Invention of the Year award.
Pete:
And under £10 as well, is that right?
Man:
It is, it's £9.95. They can actually buy it online at www.cdslotmount.com.
Kelly:
This is the Cat Genie.
Pete:
Go on then - tell me what it is.
Kelly:
Basically, it's like your cat litter tray, but it's a piece of tech that cleans up after your cat for you.
Man:
It's a fully-automatic cat toilet, and it washes and cleans the litter, which is reusable, so it's very environmentally-friendly.
Pete:
But it is basically a cat poo device, isn't it? It's not quite an iPad.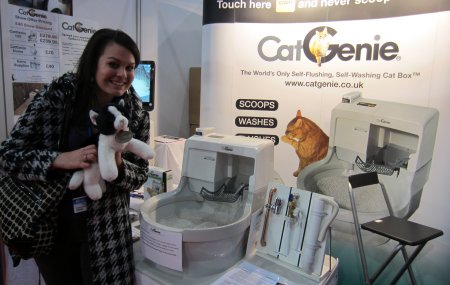 Kelly, taking a look at this high-tech self-cleaning cat loo
Man:
No, it's not quite an iPad, but if you see one, you'll see that it looks quite like a toilet, and it is quite a posh cat toilet really.
Pete:
Well Kelly, it's six o'clock on a Friday 30th November. How's your day been?
Kelly:
It has been fantastic, and exhausting.
Pete:
You see, you wore some high-heeled boots there, didn't you? That was probably a mistake, wasn't it?
Kelly:
I know, it was a really stupid thing to do. My feet kill!
Pete:
What have you seen that's particularly grabbed you?
Kelly:
I have to say, I absolutely love the electronic bikes. I wish I could have got to grips with them, because if I had, then they would have been absolutely fantastic. Other than that, I think I've been convinced I need a Bubblepix.
Pete:
We've looked at the world's first 84" ultra HD TV from LG; we've played with the Wii U, which of course is just out, the new games console for Christmas. You enjoyed that, didn't you?
Kelly:
I did - that was fun!
Pete:
We've seen some products from people like TomTom, Canon, HTC; Microsoft have been here pushing their Windows 8 interface, which I'm not particularly convinced about. What about the atmosphere from the people that have been here? - have you found people on the stands have been warming to you, when you've come up to talk to them?
Kelly:
I think everybody here's generally quite passionate about what they do, and it grabs you. It's nice to be around that sort of energy.
Pete:
And what we'll be doing is, we'll be putting up some photos, and possibly even some video, up on the website, and of course, Kelly, the address is:
Kelly:
Pete:
Kelly, thank you very much. I think it's down the pub now, isn't it?
Kelly:
It is, absolutely - and mine's a large one!
Listen to FrequencyCast Show 82 - We're at Gadget Show Live London 2012
More information: