Home Technology Event Review
FrequencyCast was at the Home Technology Event 2011 in London's Excel. Carl and Pete explore the show, and meet a number of exhibitors at the show, to see how technology is changing what we do at home

The Home Technology Event
The 2011 Home Technology Event was held at the Excel Centre in London. Whilst the show does have a heavy bias towards Business-to-Business, we found a number of exhibitors at the Home Technology Event showing their latest offerings to consumers. Carl and Pete from our podcast team had a wander around the show chatting to various exhibitors.
Day One Show Roundup
Here's our overview of the show, recorded at the show on the first day:
Home Technology Event 2011 Show Roundup (4 minutes)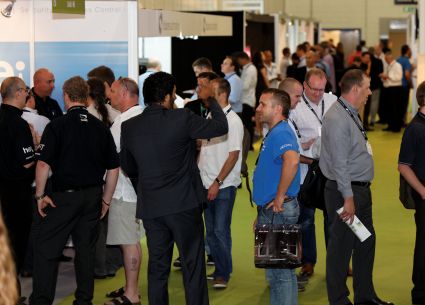 Home Technology Event Interviews:
At the show, we recorded a small selection of interviews with a number of companies that caught our eye. These were included in Show 66 of FrequencyCast, due out in August 2011.
Here are the interviews that we featured in Show 66:
Hear Show 66, containing interviews recorded at the Home Technology Event
Home Technology Review Transcript
As a service to our listeners, we offer transcripts of our features. Here's a transcript of the four minute show summary that we recorded on the day. Transcripts to the show interviews can also be found on the site:
Home Technology Event 2011 Show Roundup (4 minutes)
Now, you might notice a rather strange difference in the sound quality. It's because Pete's taken me out the studio, and dragged me kicking and screaming to London. Are we nearly there yet?
Pete:
Well, we are indeed here. Now, a couple of months ago, we were up at the Gadget Show in Birmingham. We're now back in London, and we are at the Home Technology Event which is held at ExCel.
Carl:
I'm hungry!
Pete:
Yeah - lunchtime in a minute. We're in a big hall in a conference centre in ExCel, looking at a whole bunch of stuff. What have you seen today, Carl?
Carl:
I've seen many strange, new, wonderful, wacky things; lots of things to help out with the home, but they're gadget-orientated. By the way, I'm thirsty as well.
Pete:
OK, there is a coffee shop just outside. Yeah, there's loads and loads of stands here. Admittedly, this is more for trade than the consumer market. There's lots of people here that are doing home automation services, kitting out your home so that you can get HD in every room, that kind of thing. But there's some very interesting kit on display, and some good consumer products. Now what we've done, being FrequencyCast, we've wandered around with a microphone, and we've interviewed four or five of what we consider to be the best consumer product stands here. First of all, we spoke to someone with a nice product for keeping your screens nice and clean.
Carl:
Oh yes, they were great. They got some baby oil out, and wiped it all over technology. I'll have a bit of baby oil at any event. (See our review of Screen-Kleen)
Pete:
We've also found a company that can save on your gas bill with a rather novel little gadget that you screw onto your radiators. (See our review of e-TRV)
Carl:
Yep - it had an infrared control as well, which I liked.
Pete:
And we've spoken to a company called Savant, who have got this absolutely amazing home automation system which basically uses an iPod Touch, or an iPad, to control everything. It does your home security, your media library, security cameras, and it can even adjust the temperature of your pool - how's that? (See our review of Savant AV)
Carl:
Fantastic - just got to get a pool.
Pete:
Who else did we see while we were here?
Carl:
Well, we went to a stand called Lightwaverf, where we bumped into John and Alexander.
Pete:
Indeed, and what they're offering is some rather innovative light bulbs and light switches and mains switches that you can control remotely, and get effectively home automation at a very cheap price, compared with some of the other more expensive solutions we've got here. (See our review of Lightwaverf)
Carl:
Oh yeah - James Bond stuff coming your way.
Pete:
And I final hello to a chap I think you fell in love with, didn't you? - Tom Tucker from a company called Premier Mounts. He was great - hello Tom, if you're listening.
Carl:
Yeah, he tells us the future is "growing chairs".
Pete:
Growing chairs - I think that's brilliant. Yep - you should be able to grow a chair from a seed. Personally I'm still waiting for fruit that's grown with its own barcode, but apparently that's coming soon.
Carl:
Yes, and soon when you visit Ikea, it'll just be a forest.
Pete:
There you go. We'll be looking in a little more detail at the Home Technology Event. That will probably be in our August podcast, but here we are, it's funtime, and now apparently I have to go and find Carl a nice cup of tea.
Carl:
Are we nearly there yet?
More information: