Zombies, Run!
As a follow-up to our piece about fitness in Show 72, we look at a killer running app for Android and iOS smartphones - Zombies, Run! Catch our review of this app in show 74.
What is Zombies, Run!?:
Joggers, walkers and bikers might want to break the monotony of a long workout with this rather clever little application. It combines run tracking with an immersive storyline. The first mission sees you land close to a small group of survivors of a zombie apocalypse. You have to go out running to pick up supplies, and the story mixes in neatly to your music playlist.
It's a clever concept, and with more missions promised, this has potential to run and run. Decent audio acting, and a well-thought out concept make this an excellent running companion

The Zombies, Run! Fitness App is available from Apple iTunes Store and the Android Market in Spring 2012
Zombies, Run Review:
For Show 74, we reviewed Zombies, Run! Here's a link to the show, plus a transcript of our feature:
Listen to FrequencyCast Show 74 - Includes our review of the Zombies Run! app
Pete:
First though, running - in Show 72, we got you running. Do you remember?
Sarah:
Ah, yes - the Fitbit.
Pete:
That's that little pedometer thing that does wireless tracking of your running, but as well as that, there was also some running software you used. Just remind me?
Sarah:
Ah, I use RunKeeper.
Pete:
And how do you find that?
Sarah:
It's a great app, I use it all the time.
Pete:
Well, I found something that you're going to have to try, and it's actually something that's got me, yes, me, breaking out a sweat.
Sarah:
Not breaking out a sweat, surely?
Pete:
Yes, it's called, "Zombies, Run!"
Zombies, Run:
"We're hit! I've lost my tail rotor! May day, Mayday, Mayday! Jolly five-niner is going down three miles east of the township. Two souls on board. We're going in hard. Brace, brace, brace!"
Pete:
And it's great for our running listeners, such as our Jonathan Turner. It's an Android and iPhone app (Zombies Run! iTunes Link) that combines running with a zombie attack story, so you run a series of missions to collect supplies, as directed by radio messages that cut across your music on your device, and you have to speed up to avoid being eaten.
Zombies, Run:
"Listen: this is Sam Yau from Able Township. I believe you've come down in a nest of hostiles. If there's anyone alive there, just run! Run!"
Sarah:
You - running?
Pete:
Ah - so you've noticed I'm not exactly built for running. Well, it does work with walking and cycling too, and it's really clever, and when you get back to base, you can look at the supplies that you've collected and use it to reinforce your virtual compound. It's really addictive, and well worth a go - links on our show notes. (Zombies Run! iTunes Link)
Sarah:
Well, I'll have to give that a try. What about something less energetic?
Pete:
Ah, we have a freebie for our listeners. Now Sarah, do you ever listen to audio books?
Sarah:
Yes, I do partake in that pastime.
Pete: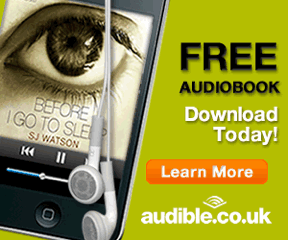 Yes, now if you're listening to us as a podcast on your portable device, rather than just listening to podcasts, what about audio books? - and here we have a little partnership in place with the good folks at Audible.
Now, they have a library of over 60,000 audio books that you can download, and we've arranged a free 30-day trial of the Audible service. So you could get yourself a book, something like the new Steve Jobs book, or the Alan Partridge autobiography, or even a classic like the Hitchhiker's Guide to the Galaxy.
You have to sign up for a 30-day trial, and at the end of it, you can cancel, and the good news is, you can keep the audio book that you downloaded as part of the trial.
It's a really nice little idea, and it's definitely worth a go, plus you'd be definitely helping us out as well. If you're interested, the 30-day free trial is available at Audible.co.uk/frequencycast, and there's a link to that one as well up on our show notes - do give it a try.
Transcript Continues: LV18 Transcript
Related Links: