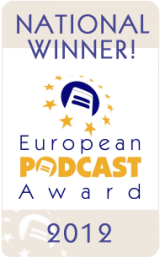 Media Info: FrequencyCast (UK Podcast)
FrequencyCast is an online radio show that discusses digital TV, digital radio, media, gadgets and technology. Shows are delivered as audio podcasts.
Key facts:
FrequencyCast shows are free-of-charge, and content is driven by listener feedback.


Each show focuses on an area of digital TV or technology


FrequencyCast won a European Podcast Award in 2010 and 2012


FrequencyCast launched in April 2006 and has seen a steady increase in listeners


FrequencyCast shows are available online as podcasts, via Internet streaming services, and are syndicated on a number of radio stations in the UK.


Transcripts of our shows are made available online as a service to our listeners


Presenters Carl and Pete originally worked in commercial radio, and use their broadcasting experience to deliver informative and entertaining content
The first of our technology podcasts was distributed online in April 2006. Shows are released once a month, and are around thirty minutes in length. Shows are distributed online as MP3 files, free of charge. The show has a supporting website, answerphone service, Facebook group and blog.
The show is hosted by presenters Kelly, Pete and Carl. Both Cartl and Pete have a strong background in broadcast, with combined experience from the worlds of commercial radio and audio production.
FrequencyCast UK podcasts are produced just outside of London, and programme content is prepared by the team behind the FileSaveAs and Radio&Telly websites.
FrequencyCast has recently covered topics such as: The Analogue Switch-off, BT Vision, Sky Digital, Virgin Media, DAB Radio, Top Up TV, Freeview and TV-over-Internet.
Media Enquiries
If you're a media organisation looking for a quote on UK technology, digital TV, or podcasting, either for press, radio, or TV, please email the FrequencyCast team, or call us on 07005 204408.
FrequencyCast FAQ:
Other links:
Press Releases