Netflix UK - First Look
Popular US on-demand video service NetFlix is now available here in the UK. Here's a FrequencyCast "First Look" at what the service has to offer...
Listen to FrequencyCast's first Look at Netflix UK (8 mins)
Hands On With Netflix:
Here's our look at the UK version of video-on-demand service Netflix, as featured in FrequencyCast Show 72. Just after Netflix UK launched, we asked guest listener Mike to try out the service. Here's the transcript:
Transcript continues from Fitness Products Review
Carl: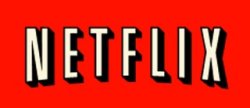 Right then, Pete - talk to me about this Netflix thing that's just been launched.
Pete:
Well, it's a US import that's out there trying to win that very crowded video-on-demand space, and we've been putting it through its paces. It's only been out a couple of weeks, and we've given it a little bit of a try.
Carl:
And what do we think? Is it going to wipe the floor with the competition?
Pete:
Well, we've enlisted the help of one of our regular listeners, Mike, and asked him to give it a try. The first question we had for Mike is, what did he think of what Netflix had to offer?
Mike:
Yes, I like the look of Netflix. First impressions are, similar to Apple TV. It's a nice interface, very easy to use. There are some very interesting films on there at first glance.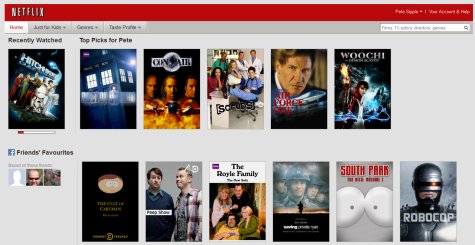 Pete:
So just a quick explanation of what Netflix is, it's an on-demand streaming video service. It has a whole bunch of content, from people like the BBC and ITV, as well as the movie companies, MGM, Miramax, NBC, Paramount and Sony, and it's a completely streaming service. You can watch on a PC, or on a Mac, or on a games console. You're a games man, are you?
Mike:
Yes, I have an Xbox 360.
Pete:
So it will work on an Xbox 360, a PS3 or a Wii. It'll also work on some internet-enabled tellies, particularly the Samsung ones; obviously, Apple TV, it's part of that, or on an Apple device; or on an Android device as well. There's quite a lot of ways of watching Netflix.
Okay, well if you just pass me the tablet there, let's just have a look at the Netflix interface. You can get yourself a 28-day free trial, which is actually what we're testing with, which gives us full access to everything for 28 days, and you can watch as much content as you want, which is rather nice.
Mike:

That's the thing I like, is the cost. Obviously, with the Apple TV, the films can be up to approximately £4. So one film for £4, or as many as you cram into a month for £6 - that sounds good.
Pete:
Now, what you do, when you first sign up to Netflix for your free trial, is it asks you a few questions - what kind of stuff you're interested in, and it gives you a list of movies that you can rate. From that, it will come up with your suggested content. Now, I've done this for me, and apparently my top choices are: Dr Who, Con Air, Scrubs, Air Force One and Fawlty Towers. Now, some of that, I can grant you, is probably fairly close to me. Hitchhiker's Guide to the Galaxy comes up, class film - you into Hitchhiker's?
Mike:
Absolutely superb. The recent film was really, really good, and I do hear there's something live going on in the future?
Pete:
Ah - the original radio crew are out and about doing a tour round the UK at the moment. I have my tickets for a local production, and I'm really looking forward to seeing Arthur Dent in the flesh. So I think really, if you're looking at spending £6 a month to use this service, you are going to be obviously trying to put it through its paces, and work out what good content's on there. Now, this is the thing I find slightly frustrating is, it doesn't have an awful lot of current content.
Mike:
My view is, it's offsetting the price. Someone who spends a lot of time watching movies could watch quite a lot of movies in a month for £6 - I think that is a bargain. Yeah, it could be a little frustrating, not having up-to-date movies on there, but looking through the availability at this time, some very good content on there. So I don't think I would complain.
Pete:
On your big widescreen telly here, we can see what's on offer on Apple TV, and there's some very current stuff. So we've got The Inbetweeners Movie, The Smurfs, Final Destination 5, Transformers, Red State, Puss In Boots - there's some very current content on Apple TV. What we're finding here, though, is movies that are a good three or four years out-of-date, although I have to say what's on Netflix for TV shows is very good, like the entire run of things like Nighty Night, or Arrested Development or The Office, so you can watch multiple series all again for your £5.99.
| | |
| --- | --- |
| Netflix Films on the iPhone | Watching a Netflix TV show on an iPhone |
Mike:
I'm definitely moving round to the Netflix side of things. I like their thinking, and I like the way it's presented. Yeah - Apple TV, it does have latest releases on it, but I'm edging towards Netflix there, Pete.
Carl:
Interesting ... so he's keen. What about you?
Pete:
Well, I have to say, the video playback is really good, but the age of some of those films, I mean three, four and five-year-old films, may put a lot of people off, although £5.99 for a month, all-you-can-eat, is actually pretty nice for a video service.
Carl:
Okay, yeah. What's everyone else doing at the moment, though?
Pete:
Well, the obvious competition isn't really the Apple TV service - it's actually LOVEFILM.
Carl:
Oh yeah? - and what do they offer?
Pete:
Well, this is a bit of a weird one. They do a mix of postal DVD rentals and online downloads. Now, LOVEFILM isn't available on as many platforms as Netflix, but they do start at the same price, £5.99, although, for that £5.99, rather than all-you-can-eat content, what they do is they post you three DVDs in the post, and let you get two hours of streaming download. It doesn't really compare that well to all-you-can-eat.
Carl:
No, but hopefully LOVEFILM will catch up.
Pete:
Well, they actually do have an unlimited service, which is £9.99 a month, and their movie content does actually seem to be a little bit more current, and in the last few days they've announced that they'll be taking shows from ABC, which will make their offering a little bit better.
Carl:
Fair enough - they're on their way, then.
Pete:
It is worth pointing out, though, that with any of these streaming video services, they can wallop your download allowance. So do make sure you are an unlimited broadband download package, otherwise you could be incurring all sorts of nasty costs.
For a free trial, go to www.netflix.com
Carl:
All good advice. Now, you seem to have a little bag there - what's that for?
Transcript Continues: Cookie Catcher Review
Listen to FrequencyCast's first Look at Netflix UK (8 mins)
Related Links: