Olympus DS-30 Digital Recorder Reviewed
The Olympus DS-30 is a lightweight handheld digital recorder. We use this for recording parts of our podcast, and thought it was worth dedicating a page of our site to discussing this recorder, for the benefit of anyone thinking of buying one.
What is the Olympus DS-30?
The Olympus DS-30 is essentially a Dictaphone, used to record voice, but as it's a high-spec Dictaphone, we've found it can be quite useful as a portable recorder for use with podcasts
The Olympus DS-30 has a built-in memory of 256Meg, so can hold anywhere between 8 hours in high quality stereo audio, and 66 hours of lower quality mono audio.
This recorder has a stereo microphone, which is detachable. It also has a built-in mono mic and can accept other mics via the 3.5mm mic socket. It also has a built-in speaker as well as a stereo headphone socket.
It can connect to a PC via USB for file transfer, is powered by 2 x AAA batteries.
This is a nice little recorder - sturdy, and well-built, with a decent spec and good functionality.
Olympus DS-30 UK Availability:
The Olympus DS-30 is an oldish model now, and is no longer available. Here are some alternatives:
Olympus DS-30 Review
This is a nice little recorder. At the top-quality stereo setting, this holds over 6 hours of audio, and we've used this regularly for FrequencyCast, our TV and Tech podcast.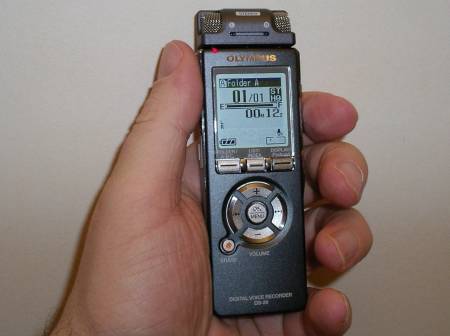 The recorder is pretty robust and flexible. We tend to find that using the built-in mono mic gives us better results than the stereo mic when recording a single voice for our podcast, and for the really high-quality stuff, we've used an external mix plugged in via the 3.5mm socket.
The Olympus DS-30 records in WMA format. For those technically-minded, the audio files are recorded using the wma2 codec. At the highest quality setting, the audio is stereo, with a sampling rate 44100 Hz, 16 bits per sample, bitrate 128 kb/s.
Hard to fault this recorder - it's generally easy to use, powerful and reliable. You can also use it at an MP3 player. One little gimmick is that the thing speaks at you - menu commands and basic functions can be audible as well as visual.

This has only been a quick review - if you'd like to know more, contact us and we'll be happy to answer your question or add to this review.
If you're looking for a more powerful recording device, you might want to look at the top-end professional Olympus LS-11
Olympus DS-30 Specification
Dimensions: 96 x 38 x 16mm (without stereo mic)
Weight: 73g
Power: 2 x AAA batteries
Battery life: Approx 20 hours in XQ quality, 32 hours in LP mode (standard Alkaline batteries)
Sampling frequency: 44.1kHz
Frequency Response: 50Hz to 19kHz
Recording time: Between 8hrs 40mins and 66 hours
What's in the box?
Here's what's supplied in the Olympus DS-30 box: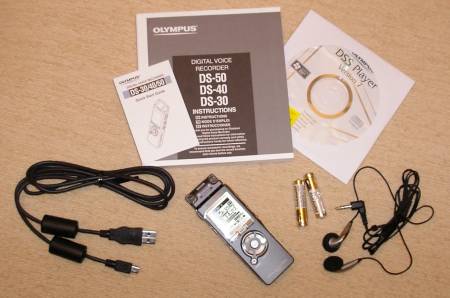 Contents of the DS-30 box
The recorder
Stereo mic attachment
Manual
Software CD
USB B lead
Stereo headphones
2 AAA batteries
Olympus DS30 FAQ
Apple Mac: A question from Adam Goodger: "I have just read your review about the Olympus DS recorder. I understand that the recorder saves audio in WMV format. I use a Mac and wondered how easy it was to convert so it can be used for Mac?"
The Olympus DS-30 can be used with a Mac. The recorder connects via USB and you can extract audio recordings without requiring any third-party software.

The DS-30 records in the WMA (Windows Media Audio) format though, which can't be played on a Mac. A quick Google search reveals that the Mac app EasyWMA can be used to convert these to a Mac-friendly format though.

Olympus DS-30 Manual? We've been asked for help tracking down an online manual for the DS-30.
The Olympus support site doesn't have some listed. If you need help with a specific feature on the DS-30 and have lost your manual, feel free to contact us, and we'll tell you what's in our manual. Also, if you know where to find a version online, let us know.
Convert to MP3: A question from site visitor Alex: "The specs state that it records in WMA (Windows Media Audio). Do you know if that can be translated into MP3?"
Many audio editing packages can convert WMA to MP3 as standard. Otherwise, the good news is that there are several WMA to MP3 converters around - free ones include Koyote and Switch.

Recording: Danny Casey asks: "I was hoping to find out how to record stopping and starting on the same file. ie adding on to already recorded information. "
It's possible to put the Olympus DS-30 into Record Pause (so that you can pause recording and result recording to the same file). While recording, press the REC button. "Rec Pause" will flash on the display. Press REC again to restart recording. You can't pause for more than two hours. Once you've stopped a recording (as opposed to pausing), you can't add to a recorded file on the DS-30.
Batteries: A question from Tessie Sciortino. "Could you kindly let me know if there is a way how to detect that you need to change the batteries before starting to record? Let's say that you are going to use the Digital Voice Recorder DS 30 for an hour. How can you have your mind at rest that it is not going to stop recording half way?"
The screen has a three-section battery status display, so you can see when it's running low. There isn't a minutes-and-seconds display of battery life remaining, so we advise that if you want to make sure that the batteries don't run out, you insert a new set of Alkaline batteries before recording. Battery life is quoted at approx 20 hours in XQ quality for alkaline batteries. Alternatively, you can power the DS-30 with an AC mains power adapter.

Audio quality: Mike Ibbetson asks: "Years ago with the cassette recorders you always had tape noise do to the moving parts, any idea how the quality is as far as getting any noise at all from the recorder itself with digital recorders and especially the DS-30 in particular?"
The Olympus DS-30 has no moving parts, so runs silently. To let you judge the quality, we've recorded a short test. This is a Windows Media Audio (WMA) extracted from the DS-30 using the built-in mic.

We've used the highest quality setting: 128kbps, 16bit, stereo, 44.1kHz. Olympus DS30 WMA Test recording.

Also, we answered this question in Show 42 of our podcast, where we recorded the answer using the DS-30.
Playback speed: "I am having trouble when I play back recordings they are in slow mode. Is there any way to speed them up? "
The Olympus DS-30 has three playback speeds - slow, normal and fast. To set the speed, make sure no audio is playing, then hold down the 'Menu' button for one second. Then, scroll to the 'Play Menu' and select 'Play speed'. Also note that when you have audio playing, if you press the Play button for a second time, playback switches to 'slow play' - if you're in this mode, just press Play again till you're back to normal speed.
Professional Recorder: I'm looking for a recorder for use for recording music in high quality. Is the DS-30 the answer?
The Olympus DS-30 is a capable recorder, but the built-in mic doesn't really lend itself to high quality or broadcast use.

If you're looking for something that can be used as a professional audio recorder (no compression, stereo mics, line in, adjustable recording controls, etc), then consider the Olympus LS-10 or the newer Olympus LS-11. See our Olympus recorders review for a podcast, spec and audio samples of these two top-end recorders.

Got a question? Contact us and we'll try to help
More information