PDAs and Handheld Computers Explored
Who needs a laptop when you can have a powerful PDA in your hand? We've discussed palmtops and PDAs in our podcasts recently, and we've created this page ready to discuss PDA issues.
Not of a lot of content here as yet, so perhaps ask us a question?
What is a PDA?
PDA stands for Personal Data Assistant. It's generally acknowledged that British firm Psion led the way with electronic organisers and PDAs in the 80s and 90s. Below is a picture of one of Psion's Series 3 family of devices, which led the way in handheld computing for many years.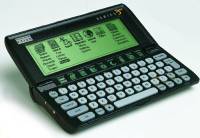 Today's PDAs continue in this tradition, but with more advanced features, such as colour touchscreens, and built-in wireless or telephony. Psion is no longer around, and the other competitor, Palm (famous for the Palm Pilot) are less prevalent than they were. These days, the most common type of PDA out there is the Windows Mobile device, powered by an operating system created by Microsoft. Here are some screenshots of Windows Mobile in action:
| | | |
| --- | --- | --- |
| Web Browsing | Excel Spreadsheet | Notepad |
o2 XDA Orbit

An example of a top of the range PDA is the XDA Orbit, pictured here. This Windows Mobile PDA is also a mobile phone and has a GPS receiver, so you have a one-box phone, organiser, Internet and email device. It's a device that's also capable of "At the end of the road, turn left" satellite navigation with no extra hardware. This is powerful phone and PDA, and it's also a comfy hold. If you're into your power phones, and fancy being able to navigate in your car or on foot with just a phone, check out the sexy XDA Orbit.
This phone is available directly from www.o2.co.uk. The XDA Orbit is also carried by T-Mobile, where it's known as the MDA Compact III.


Useful links
Got a question on PDAs or handheld computing that we can answer in the next show? Call 020 8133 4567 or send us a message