Siri - Apple's Chatty Assistant
Could the Apple Virtual Assistant known as Siri change the way we interact with our smartphones? For FrequencyCast Show 69, we review the iPhone 4S and the Siri solution.
Listen to FrequencyCast Show 69 - iPhone 4S and Siri Explored
iPhone 4S and Siri Review:
A transcript of our hands-on iPhone 4S and Siri review, from Show 69...
CONTINUES FROM Printer and Printers Transcript
Carl:
... so if you want to drop us a text on this subject: 07882 043521.
Pete:
Oh, and if you do happen to text us, your text message will now be spoken to me.
Carl:
Spoken to you? - I thought the whole point of a text was that there is no writing; it's like a memo.
Pete:
But I have the latest iShiny that takes away the whole need for that kind of stuff.
Carl:
Is that what the "s" stands for on an iPhone S? - shiny, is it?
Pete:
Right, hold out one of your hands, Carl. Now, hold out the other hand, and tell me what you're holding.
Carl:
Well, they look identical. In fact, I'm looking for a difference ... no, there's no obvious difference between the two of these. I'm assuming one's the 4 and one's the 4S, though? Is that right?
Pete:
That is correct. There's very, very little difference, other than a rather hefty price tag. So yes, I have a 4S in one hand, and a 4 in the other, and they are physically pretty much identical.
Carl:
Still as slick as ever, though.
Pete:
Okay, do you want to hear the difference though? It's all about the Siri.
Carl:
I bet it is! - and a few other modernisations, I understand, like the aerial thing with the phone?
Pete:
Yep, you get a better camera, better battery life, a faster processor. But the clever bit is the thing everyone is talking about - Siri.
Carl:
Go on then - inspire me with Siri.
Pete:
Okay, see what you reckon to this. I'm going to hold the phone up the mike here. What you do is, you press the button, and you speak at it. So I'm going to give it a few little tests here. How's about - what's your favourite podcast?
Carl:
Well obviously, FrequencyCast.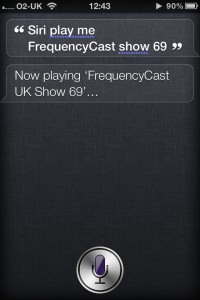 Pete:
Play me FrequencyCast Show 67.
Siri:
Okay. Let's hear FrequencyCast UK Show 67.
FrequencyCast ... start up in progress.
Pete:
What do you reckon there, Carl? - clever?
Carl:
I thought that was very clever, actually, and it is the right show as well - I can hear.
Pete:
Okay, let's try something else, shall we? Have I had an email from Carl?
Siri:
I didn't find any emails from Carl.
Pete:
Yeah, there's a surprise.
Carl:
I wouldn't know how to - I don't have the technology.
Pete:
Remind me to post a letter.
Siri:
When would you like me to remind you?
Pete:
When I leave home.
Siri:
Here's your reminder. Shall I create it?
Pete:
Confirm.
Siri:
Okay, I'll remind you.
Pete:
So what I've done there is, I've set a reminder, and it knows from GPS where I am, so when I move away from home, it will remind me to post a letter - how cool!
Carl:
It's a little bit Big Brother, but I do like it, and it confirms this all on the screen, which is a nice little touch - I like that; very similar to the technology behind Brian the Brain - do you remember that?
Pete:
Oh, Brian the Brain! Right, let me try something else clever. How about something like this? What is British Sky Broadcasting's share price?
Siri:
BSkyB group closed down today at £719.
Pete:
There you go, and on screen is the share price.
Carl:
Nice, and a screen graph to represent it as well.
Pete: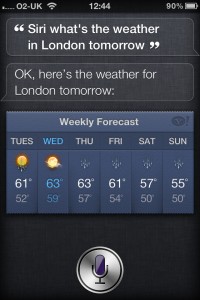 What's the weather for tomorrow, please?
Siri:
Here's the forecast for tomorrow.
Pete:
And up on screen, there's the forecast. And you can even do things like this - this is a really good little test. What's £123 in Euro?
Siri:
Let me check that for you. This might answer your question.
Pete:
141.36 Euro, or 196 US dollars.
Carl:
Very clever.
Pete:
Now, I actually find this really, really clever technology. It can do some fairly frightening things. Siri, what can I say to you? And what it's got up, it's brought up a screen here that tells me I can phone someone by saying, call whoever; play music, read or send text messages; check an event in my calendar; add a reminder; send an email; check out the weather; check out stock prices; set an alarm to wake me up at a certain time; check an address; add a note or search the web. So it does give you a fair amount of clever stuff.
Carl:
Very clever.
Pete:
There are a few limitations though, such as...
Siri:
In the UK, Siri has a male voice, but in the US, Siri has a cuter female voice.
Carl:
That's a limitation in itself.
Pete:
And at the moment, this doesn't work with UK maps, so you can't ask it for travel news, or say, where's my nearest coffee shop? Apparently though, that's coming soon. This is actually quite useful: if you're driving along, you can, just by pressing one button, get it to send a text message or an email, or read out messages to you, so that's pretty clever. But of course, it does do some silly things, and the internet is awash with asking it silly questions. Now, I've been experimenting with some of these, and looking on the net. Any of those questions you fancy trying there, Carl?
Carl:
Well obviously, what's the meaning of life? Let's try that one.
"What's the meaning of life?"
Siri:
To think about questions like this.
Carl:
What do you look like?
Siri:
Shiny.
Carl:
Beam me up.
Siri:
Please remove your belt, shoes and jacket, and empty your pockets.
Carl:
I like this one - someone sent this to us. They said, can you ask: will you marry me? (this is from Sharon).
Will you marry me?
Siri:
Let's just be friends, okay?
Pete:
Right, now - I have to play you this video clip. Are you ready? I'm going to play you a very short extract of my current favourite YouTube clip, which is all about Siri.
Carl:
Ready when you are.
Pete:
There we go, and thanks to Jonathan Mann who gave us permission to use an extract of that.
Carl:
Definitely worth a watch.
Pete:
So there you go - that is Siri in full effect, pretty impressive technology, and actually surprisingly useful. If you're interested, and you fancy sending us a text message to 07882 043521, we shall get Siri to read it out for you on the next show.
Carl:
So then you'll all have a personal assistant, whether you can afford one or not.
Pete:
And also, if you've got any question you'd like us to ask Siri, again text us, and we shall do just that.
Listen to FrequencyCast Show 69 - iPhone 4S and Siri Explored
More information: