Soladapt Touchscreen Adapters Discussed
At Gadget Show Live 2013, we caught up with the team from Soladapt about their unique adapter that converts your existing computer screen into a touchscreen monitor.
Listen to FrequencyCast Show 87 - Featuring the Soladapt Touchscreen adapters
Convert your screen to a touchscreen:
Continued from Gadget Show Live 2013 Transcript Part 1
Pete:
We've got lots of interviews from Gadget Show Live, which will come up in the next few months. We're going to spread them out over the next few shows. But we do want to play one for you now, which was based on some feedback we had to our little update, and it was on a rather clever money-saving product, wasn't it?
Kelly:
It was indeed. It was touchscreens.
Pete:
You don't like your touchscreens, do you? - because of these little thingies you've got on the end of your fingers there.
Kelly:
Yeah, I really struggle because of my nails, and I love my nails, and they've been around longer than touchscreens, so I'm happy to stick with them instead.
Pete:
Well, on our little audio update, we put a mention for a company that's selling these upgradable adaptors that you can put around your monitor. We heard from one listener wanting to find out a bit more.
Kelly:
Yes, we heard from Mark Hartley, asking:
"I couldn't make it to the Gadget Show, but I'd like to know more about that product that converts a normal monitor into a Windows 8 touchscreen."
Pete:
Well, it was a rather snazzy solution from a company called Soladapt, and here's Glen Hardy to tell us what the solution offers.
Glen:
It's a touchscreen overlay, so it's a frame which fits over your existing monitor, and turns it into a touchscreen. That's it in its simpler sense. So it's a frame with toughened glass in, and it uses one USB connection. You plug it in, it uses native Windows 8 drivers, so there's nothing to install. It's very simple, and it just works, and it works very well.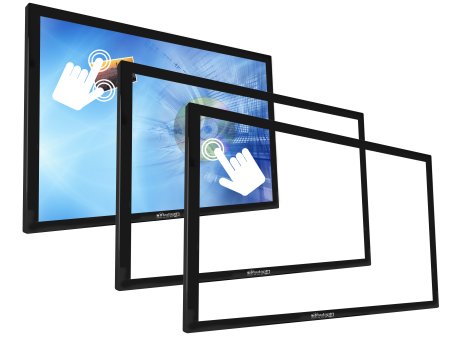 Pete:
But it isn't actually sort of a membrane behind it?
Kelly:
No, there isn't. Basically what it is, it works on infra-red, so around the top and the sides you've basically got a line of infra-red sensors, creating a grid across the touchscreen which senses where you're basically placing it.
Pete:
And what impressed me as well is the way you're actually fixing it. I would kind of assume you'd either be sticking four nails into the corners to keep it in.
Glen:
It's a bit final, if you're going to just stick it on your monitor, especially if you're not sure how long your monitor's going to last anyway.
Pete:
I was expecting sort of sticky pads around the top, which is always a little bit flaky, and they leave a mess on the monitor.
Glen:
You could use that, but what we've got is Velcro straps, and they hold without any problem at all, and the good thing is, if you've got a webcam or something on the monitor, which it will obscure, you can just take it off the touchscreen and use that, and then just put it on whenever you want.
Pete:
And it's just two simple Velcro straps? - perfect, OK. Now obviously, all monitors are different sizes. Do you do one for my monitor?
Glen:
We do all sizes from 17 up to a hundred and something.
Pete:
OK, so putting you on the spot here - what's the average price, if you went to a high street shop, and wanted, let's say, a 21 inch monitor for your computer. What would they normally retail?
Glen:
So if you wanted a 21, 22 inch touchscreen monitor, you would be looking in the hundreds. So the cheapest one that I could find was well over £200. It varies really - it goes up to £300 or £400.
Pete:
If I wanted to upgrade my existing home monitor, what sort of price is that going to cost me?
Glen:
Our normal selling price, for a 22 inch, is about £140.
Pete:
Now, we've twisted your arm, and we know you're a big fan of the FrequencyCast show, and you're prepared to do something a little bit generous for our listeners - is that right?
Glen:
Absolutely. For your listeners, we're going to give them 25% off, which means that it would bring this down to about £110, which is, I think it's unbeatable value, really.
Get 25% of a Soladapt Touchscreen converter using the special FrequencyCast code: FQC1325
Enter this code at the checkout at www.soladapt.com for 25% off, courtesy of FrequencyCast & Soladapt
Pete:
Excellent - Glen, you're a gent, superb. What we'll do is, we'll stick up on our website the special code, and just remind us of the web address?
Glen:
It's www.soladapt.com.
Pete:
And you'll find a link to the Soladapt website, and the 25% off code, on our website - FrequencyCast.co.uk, and take a look at the show notes for show 87.
Kelly:
Nice one, chaps!
Transcript continues: Android Tablets and TV Sticks
Listen to FrequencyCast Show 87 - Featuring the Soladapt Touchscreen adapters
Related Links: