Spy Camera Keyring Reviewed
Looking to capture covert images, audio and video? This handy device looks like a car key beeper, but is a high-tech recorder. Here's a review courtesy of one of our listeners...
We'd like to thank avid listener (and 3D guru) Ian Coxall for sending us the following review:
SpyCam Keyring Review:
As gadgets go, this little keyring camera is one of those things that really is more "fun" than "useful" That said, it doesn't take too much imagination once you've used it to realise that it could just as easily become an invaluable tool under the right circumstances.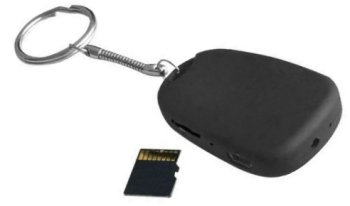 The Spy Camera Keyring
So what does it do? It has just 2 functions:
Image capture with resolution of 1280 x 1024
Audio/video capture with resolution of 720 x 480 at around 27 fps.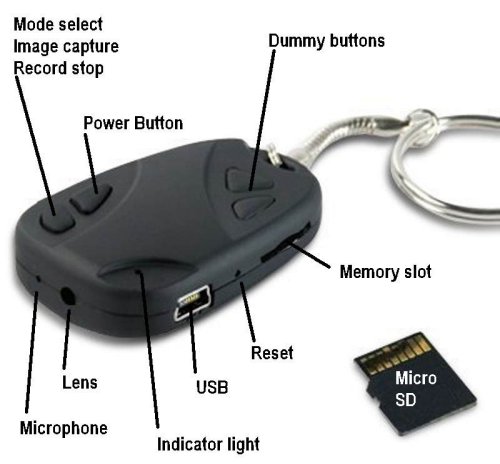 There is no internal memory and all recordings are made straight to the slot-in MicroSD card. No card is supplied with the camera but as a guide an 8GB card will hold around 20,000 still images or about 2 hours of video.
Video captures can be any length dependant on memory size. Long recordings get split into 30 minute sections. eg. 70min recording would be split into 2x30 mins and 1x10 min. The video appears to be uncompressed which means the image quality is good but does make the file sizes quite large, approx 2MB per second, this in turn can make transfer to the computer a bit long.
Battery life seems to be around 70 minutes. Data transfer and charging is done via the mini USB connection.
Availability: The SpyCam Keyring is available in the UK from:
Supplied with?
The camera comes with image handling software, but data connection with the USB lead should not need any drivers.
The instructions come in standard Chinese and Ingrish... and NO, so far I have not used this for dubious activities!
SpyCam Sample Files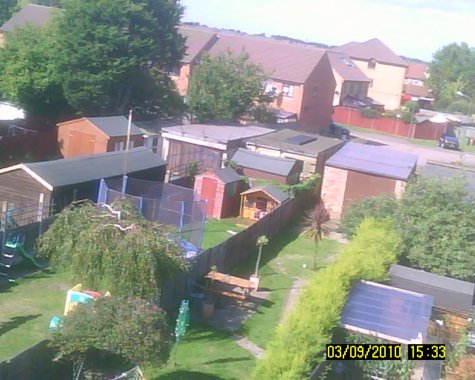 Picture captured from the SpyCam Keyring. Click for the full image
Sample video file from keyring:
10 second video clip (22 Meg download). Click to download
Thanks again to Ian Coxall for the review!
Listen to FrequencyCast Show 57 - Spy Keyring Feature
Related links: