Spy Camera Keyring - Review Transcript
Our thanks to Ian Coxall for providing us with a review of a handy covert spy keyring. Here's a transcript of our mention from show 57
Listen to FrequencyCast Show 57 - Spy Keyring
SpyCam Keyring:
Follows on from our TomTom Go 1000 Review
Carl:
So is it time to look at some of my old rusty technology?
Pete:
You know what - we're not doing that this month.
Carl:
Why?
Pete:
Well, we did the calculators last month - you enjoyed it, didn't you? - all the talking calculators, and that?
Carl:
Of course - I'm still playing with them now.
Pete:
Unless we see a bit of interest from you guys out there, we're not going to do it again.
I also want to say a quick hello to Ian Coxall, or as you called him ...
Carl:
Ian Coaxial.
Pete:
Ian actually sent us a very nice review - look at this little gadget, look at that.
Carl:
Oh, I like that - it looks like a car remote button, doesn't it? - the unlock and lock button. Hold on - it has a memory slot, takes a Micro SD, USB connector, lens, microphone - what is this, a camera?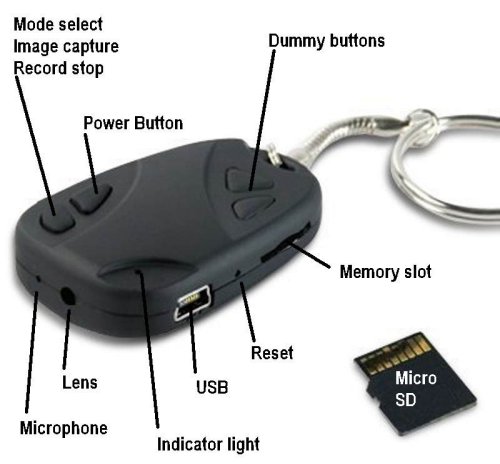 Pete:
No, this is a nice little bit of covert surveillance.
Carl:
"Covert" - what's "covert"? You mean, co-vert?
Pete:
Yeah, probably.
Carl:
Co-axial?
Pete:
We'll edit that later - don't worry. So it's a little keyring, and basically it records audio, video and photos.
Carl:
Well, that's very good - I'm really impressed. Can I have one?
Pete:
You can - it'll cost you 30 of your pounds though.
Carl:
Really? What's the quality like, though?
Pete:
Ah - have a look at Ian's review (Link: Spy Camera Keyring Review). We don't often get listener reviews coming in, but Ian has done us a full review, with a little video clip showing the quality of this, and a photo and some text, and that lovely little drawing there showing what all the buttons do. The only problem is, Ian seems to have lost his.
Carl:
Very covert.
Pete:
So if anyone sees a remote control car fob, it's Ian's - could you give it back.
Carl:
So if you do find it, have a quick look, and find out what his covert filming's been about!
Emperor Rosko:
"Greetings! This is the Emperor Rosko checking in from LA. You're listening to FrequencyCast TV and tech news, with my good friends Pete and Carl. Have mercy!"
Listen to FrequencyCast Show 57 - Spy Keyring Feature
More information: