Steadicam Smoothee - The Handheld Shudder Remover
Our look at the Steadicam Smoothee, as demonstrated at Gadget Show Live. An impressive device that allows you to record video without judder and camera shake, it has to be seen to be believed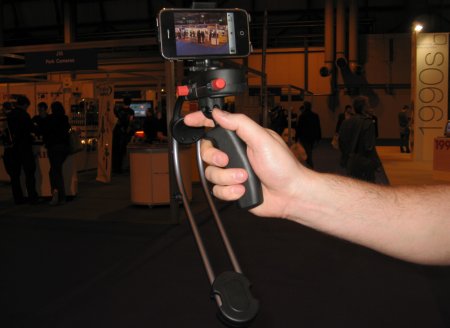 What is the Steadicam Smoothee?
If you're into taking video clips from a handheld video recorder such as the Flip, the iPhone or the iPod Touch, then this rather odd, but clever, contraption is a must. Connect your camera to a Smoothee, and camera judder and wobble becomes a thing of the past, thanks to clever counter-balancing.
Steadicam's a known name in the movie and TV industry for their image stabilisation solutions, and the Steadicam Smoothee put that industry technology in your hands.
We caught up with Tiffen, makers of the Steadicam products, at Gadget Show Live, where we saw the Smoothee being expertly demonstrated by Tara and Suze: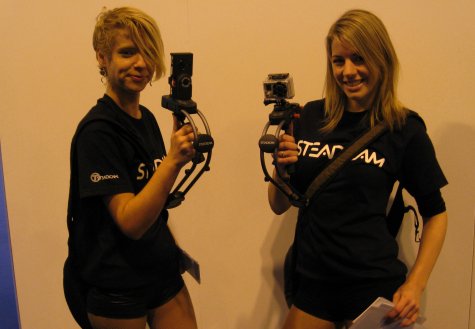 The Smoothee is a very impressive product. It does look slightly odd, but the footage produced is top notch, and hand wobble and judder is virtually eliminated. It does take a little bit of practice to perfect, but if capturing video on the move is what you do, then this is for you. Just think - no more juddery YouTube clips!
Here's our interview with Dan Waite from Tiffen, together with the Steadicam girls, who explains just how cool this product is...
Listen to FrequencyCast's Interview with Dan from Tiffen, makers of the Smoothee
The Smoothee allows frictionless movement, is easy to use, and gives your video recorder near perfect balance. To use it, you clip on your recorder, and then hold the joystick - twisting your wrist doesn't affect the balance of the camera, which is a pretty impressive feat of engineering. We used one at the show, and it works very, very well. It's lighter than it looks, so doesn't get in the way of the action, and it feels a little like holding and pointing a gun.
If you take your filming seriously, then this is work a look - handy for college media courses, YouTube fanatics, home movie enthusiasts, citizen journalists, video podcasters and budding Hollywood producers.
Here's another pic of the Smoothee in action, modelled by Suze, in front of the Steadicam promotional poster at Gadget Show Live in Birmingham...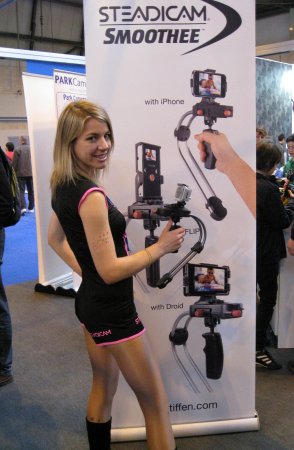 The Smoothee is available for the Apple iPhone 3GS, iPhone 4, iPod Touch, the Flip and a few other devices. You need to make sure you order the right one, as they come pre-balanced for your recorder.
For more on the ultra-clever Smoothee, go to www.steadicam.com
Listen to FrequencyCast's Interview with Dan from Tiffen, makers of the Smoothee
Related Links: