Watch TV in a Second Room
In Show 44 of the FrequencyCast Tech podcast, we looked how to get digital TV in other rooms in your house.
On this page, you'll find a link to our podcast, plus a full transcript of the feature.
Listen to FrequencyCast Show 44 - TV in other rooms
Transcript of Show 44's feature on TV in other rooms:
Pete:
Next up, we're going to be talking about something digital TV related.
Carl:
What - again?
Pete:
We're talking about how you get telly in another room.
Carl:
In another room.
Pete:
So let's assume you've got your flashy Sky box or your cable box or your Freeview box in your main front room - how do you get that around your house?
Carl:
Er - make sure it's a portable TV, and put it under your arm?
Pete:
Yeah - right. Moving swiftly on, there are three ways of doing this.
Carl:
It's just going up all the time - is this inflation?
Pete:
OK, so the easy way, if you're rich, you basically buy a second set of everything, so if you've got a Sky Box in your front room, and you want Sky up in the bedroom, you get yourself a Sky Multiroom subscription, you get a second box wired up to your dish, as well as the one downstairs.
Carl:
OK, that's one way.
Pete:
Which is also a very expensive way, because you're paying two subscriptions on your Sky equipment. So what you actually ...
Carl:
And today's show's all about cutting costs, isn't it?
Pete:
It is. So the easy way of doing it is, you take a wire out of the back of your Sky Box or your Freeview box, you run it up your stairs, and you plug it into your second TV.
Carl:
OK.
Pete:
Standard coax cable, with a little aerial socket in one end, a little aerial socket in the other, you can buy these kits - look, here's a nice picture of a kit which we'll put up on our website.
Carl:
Ooh, that's nice, it's a nice kit.
Pete:
Thank you very much. It comes with all the bits you need, cleats to nail it into the skirting board, that sort of thing. There is one slight complication, which is not all set top boxes will work in this particular way. If you've got something like a Sky box or a cable box, absolutely fine - you can plug into the aerial socket, and run it up the stairs without any problems, but some boxes, typically boxes that have only got a SCART output, won't work. Now, we've discussed this before in a previous show, you have to have a box with a modulated output - remember that?
Carl:
I remember that.
Pete:
That means an output that you can tune your TV into. If you don't have a box with a modulated output, don't worry because the second option that we're about to move onto will help you out. So if you're not particularly interested in running cable up and down the stairs, you can get these things called "AV senders", or "video senders" - heard of them?
Carl:
Yes, this is something that sits, or a little box that sits with the original set up and sends a signal locally, when I say locally that's within the walls of the house really, isn't it?
Pete:
That's very true. So here's a picture - basically you'll typically get a sender and a receiver, the sender plugs into a SCART socket, which is why, if you haven't got a box with a modulator, say you've got a Freeview box with a spare SCART socket, this end plugs into the Freeview box, and it uses a radio link to go to the other box, which will then plug into your second telly. So typically SCART at one end, SCART at the other, and it uses radio frequencies to send the output to a different TV.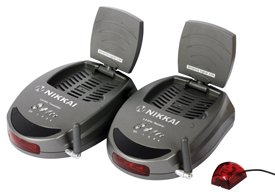 A lovely pair of Nikkai Video Senders
Carl:
And they're quite sleek as well, they don't look too ugly, do they?
Pete:
These are pretty good. A few things you do need to know about them: they actually operate on the 2.4 GHz radio band - you knew that, didn't you?
Carl:
Of course.
Pete:
Which gives you a range of something in the order of about 60 to 80 metres; however, anything metal in the way, lots of walls, lots of ceilings - that will get really shrunk down, so you do have to be careful with that. There's a new range of these that don't use the 2.4
GHz range, they use 5.8 GHz, which does give you a bit more range, that'll give you up to 120 metres, and we've actually found one here - look at this picture here, which has a range of 5,000 metres.
Carl:
Oooh! - isn't that a big one? That's for your mansion, then, that's if your bedrooms are a long long way apart.
Pete:
Yes, I'm thinking that's for anyone that's got a shed, or that wants to get something to an allotment - I mean, that's a long old range.
Carl:
Was that to an allotment? Well, it depends where your allotment is, or maybe if you're a farmer, and you want to go out in the fields and watch telly, hey?
Pete:
Very possibly, but 5,000 metres is quite a long way. You see, it's got this massive Yagi aerial there that you sit at one end to send the signal off the other end. But yes, this can be done.
Carl:
Actually, with an aerial that size, you may as well just - you know what I'm going to say there, don't you?
Pete:
You're going to say - get a very large TV, and watch it with binoculars?
Carl:
Yeah - well the aerial's done most of the distance for you, hasn't it?
Pete:
True enough. Other things that you should bear in mind if you're getting one of these video senders, some of them support remote controls and some of them don't, and obviously if you're going to be watching telly upstairs with your remote control, you want to be able to change the channels downstairs, so make sure you get one that supports the infrared remote control feature as well, and also you can get some that support multiple receivers, so you have one transmitter in the lounge and a receiver for each room in the house. Now, you'll only be able to watch what's on downstairs in the lounge on every telly, but it is a much cheaper and easier way of doing it without running all these cables up and down the stairs.
Carl:
Good, that sounds all right. Is there anything else that I need to know?
Pete:
That is the basics, now obviously it's quite a lengthy subject to go through, so what we're going to do, on our shownotes we'll put a couple of pictures, a couple of links to some of these devices, and also a link to a very informative article we found on how to get TV in another room, so hop over to our shownotes, www.frequencycast.co.uk/cast44.html, piece of cake.
Carl:
Would you like some random information now?
Pete:
I'd love some.
Carl:
Right, Davina McCall listens to the show - I'll wonder if she'll be looking up the show notes as well?
Pete:
Does she really? - wow. Well if she does, she'll be in for a treat. You know we like to be cutting edge as a podcast?
Carl:
Well, I like to push boundaries.
Pete:
Yes, you do - I've noticed, yes.
Carl:
Could you get my hand off my knee?
Pete:
I do apologise, sorry about that. We're doing something that not many podcasts are doing - we're actually now offering a transcription service, so you can actually see a summary of every single world wot we have spoken in today's tantalising take on technology, so the Focus section of today's show has been transcribed.
Carl:
Oh, thank goodness for that - that might help my condition, you know, triskaidekaphobia, being a somnambulist as I am.
Pete:
So is my friend, Mr Katchatorian-Os.
Carl:
So I wonder what our transcribers are going to make of that one?
Pete:
Let's find out! We'd like to thank the lovely folk at Typing Angels for transcribing today's Focus.
Carl:
I do hope they're all listening - carefully.
Listen to FrequencyCast Show 44 - TV in other rooms
Your Questions answered:
A message from David Loveless following a recent question about controlling Virgin Media from another room. David says:
"Hi, thought I'd just mention that I've resolved the issue of not being able to control the remote functions from a Virgin media V+ box to a second TV.

I actually ran a cable from the RF2 on the V+ box directly to the second TV.

I then tuned my TV in channel 6 to receive the picture. I connected A TECHNIKA video & sound sender (Mains powered) into the scart to TV on the V+ box using the included adapter, and place one of the included remote sensors next to where the light flashes when you press the V+ remote on the V+ box, then simply connected the receiver via scart to my second TV. The RF cable obviously gives crystal clear picture, and with the video & sound sender I can control ALL functions on my V+ box from my second TV without any menu lost. Hope this info helps some one. The TECHNIKA video & sound sender can be purchased from Tescos.
More Show 44 transcripts:
Other links