TV Listings and Guides Reviewed
How do you keep track of the hundreds of digital TV channels out there? Make sure you don't miss out on your favourite shows.
On this page, you'll find a link to the show and a full transcript.
Listen to FrequencyCast Show 45 - TV Listings and Guides Reviewed
Transcript of FrequencyCast's Update - TV Listings:
In show 45, we waded through TV mags, online listings sites and software. Have a listen, or read our transcript:
Carl:
So we're going to have a lovely time focusing in today, because I've seen what's in your bag, it's a bunch of magazines - are they ...?
Pete:
No, these are perfectly clean, apart from the coffee stain on the top of that one there. So what we're talking about today in our Focus is "TV listings".
Carl:
TV listings? - fantastic, so what are your magazines then exactly? Let's put them on the table, shall we?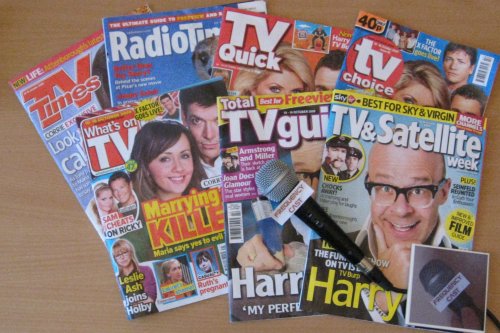 Pete:
Well, let me just tell you why we're doing this first of all. Now, two of the guys in the office the other day were working on a new website, talking about TV listings, because it's one of the main areas that we get an awful lot of questions about coming into our sister site, Radio and Telly. Now, a lot of people are saying that I've got Freesat, what's the best magazine to get? - I've got Freeview, I've got Sky - what are the listings magazines? And there are about nine TV listings magazines out there. So they've got all of the magazines together, and I have a whole pile from October, so what have we got here? - we've got ... TV Quick, Radio Times, TV & Satellite Week, TV Guide, What's on TV, and TV Choice, and these range in price from £1.20 down to 40p, and they all carry a week's worth of TV listings.
Carl:
So, which is the best one?
Pete:
Now, first of all, I have to say I was really baffled by this one, right? I'm going to give you a little test here, I need ... pass me TV Quick, here we go, thank you, and TV Choice. So here we go.
Carl:
OK.
Pete:
Now, look at this - this one here has 76 pages.
Carl:
74 that is.
Pete:
Five, six.
Carl:
Oh right, if you include the back cover - 76.
Pete:
And this one here has 82 pages.
Carl:
Not including the back cover.
Pete:
Sorry, 84 pages.
Carl:
Including the back cover.
Pete:
So let's just find the listings, so let's look at Wednesday, BBC1, and I open BBC1 on both ... and the listings are absolutely identical - you agree? Just pick one of those at random, just read it to yourself.
Carl:
OK.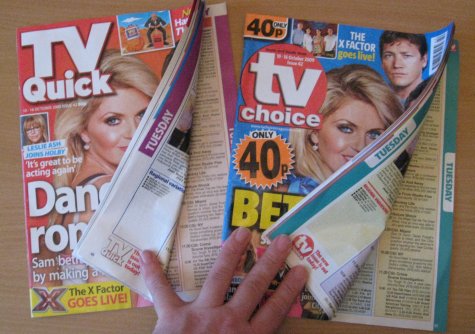 Pete:
If you just look at one of these, so here we go, Severiano Ballesteros, this Inside Sport special, this Inside ... it's actually the same words on both, and if you look ...
Carl:
So it is! Look at that - we could do that with, here, let's try True Blood, your turn, Channel 4, True Blood, it says, "Two of 12, the first taste ..."
Pete:
"... serving Sookie from the raptor's revenge attack ..."
Carl:
"... Bill uses vampire blood to ..."
Pete:
"Heal her", yes, exactly. So this is the same. So if we turn over the page, you see Good Food, the same listings in both, yeah? It's exactly the same.
Carl:
Yes, different colours though, of course.
Pete:
So if you look at the front of the magazines, you'll actually find out they're both published by Bauer Publishing, so they're actually from the same publishers.
Carl:
So why are they charging more? - because there are more pages?
Pete:
Well, OK, so which one do you think is the most expensive? - 76 pages or 84?
Carl:
84.
Pete:
So the price for the 76 page is ...
Carl:
80p!
Pete:
And the one with more pages is ...
Carl:
Only 40p!
Pete:
So you get to pay a whole extra 40p for eight less pages with that one. Right, they're gone.
Carl:
We don't like them, ridiculous.
Pete:
So what we've actually got, on this new site that our chaps are working on, which is called www.tellyguides.co.uk, there's a lovely little table, and what we've identified here is the magazine that carries the highest number of channels is TV & Satellite Week - that's this one here.
Carl:
Lovely picture of Harry Hill on the front.
Pete:
89 channels that covers. The one that's got the most pages is this old beauty here, the Radio Times, which has got a fairly tired ... that hasn't changed in 20 years, that layout, has it? - look at that.
Carl:
Yeah, but it's tried and tested, it's like a classic book, isn't it, really?
Pete:
That's true, very good articles, you know.
Carl:
Ever so good, yes, it's like a Dickens' novel really.
Pete:
The Radio Times obviously carries the largest number of radio channels, then you've got Total TV Guide that has 70 of its 100 pages dedicated to listings, so my summary here is, I reckon the best one is TV & Satellite Week if you have either Sky, Sky HD or Virgin; the Radio Times is very good if you're a radio listener, and particularly if you've got Freeview; TV Total Guide is very good for Freeview; TV Quick we're ignoring, because it's weirdly priced; if you're into your soaps, What's on TV from IPC Media, which is priced 47p, is the one to go for; and I would say if you're interested in your TV listings, go to www.tellyguides.co.uk, where there's a nice little table and a screen print of every single page of listings, so you can see which one suits you best.
Carl:
Very nice, they've been working hard, haven't they?
Pete:
But it doesn't finish there, because while we were at it, we thought, hey - let's have a look at some of the online TV listings services.
Carl:
So you mean all this can be done online? - so you don't have to waste paper?
Pete:
Yep, and to be honest, I don't know why anyone these days actually buys a TV listings magazine.
Carl:
I do!
Pete:
For a start, you've got your on screen TV guide, with things like Freeview and Freesat and Sky, and you can look at it on your TV and search, but also you can just go online. Now the services here, there's some screen shots just gone up on the website, tvguide.co.uk, there's this lovely layout - look at that.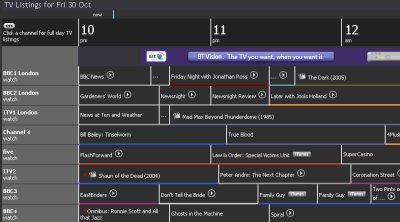 Carl:
Well, it's black, it's sleek - I don't know, I think it's a bit oppressive.
Pete:
I think it's rather good, the only thing, there's a huge advert at the top, which means you've got to scroll down before you get to the actual listings, but it's in a handy little grid format. Then you've got the Radio Times, which I think's a fairly clear layout - look at that.
Carl:
That's a nice clear layout, and it's got some orange on it - I like the colour orange.
Pete:
Then there's On The Box, which is probably one of my favourites, very searchable, which is rather nice, and there's also one called TV Easy, which looks a bit like a newspaper column layout, very smooth as well, and also one from DigiGuide that we'll talk about in a moment when we move onto applications for your PC. Now, this is where it gets really serious - if you're into your telly, this is the one you need.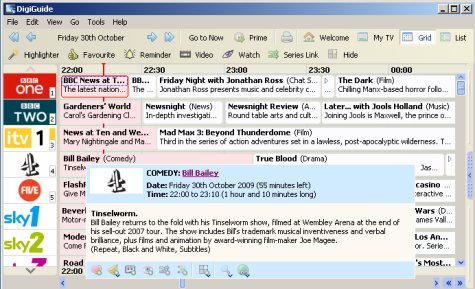 Carl:
Oh my giddy goodness! - what is that? That's like a diary, calendar style ... that looks a bit like the Joggler layout.
Pete:
This is incredibly nice, so what you've got down here, this is a particular view for a few hours of the day, it's a grid format, so you've got the TV channel logos down one side, the channel numbers clearly marked there, and you can just scroll up, down, left and right, and whatever else. This is really cool - 14 days of listing as a minimum, so most of these are only seven days, obviously the TV mags are only seven, this gives you 14 days, and for some channels even more; does all the radio stations, which a lot of these don't, which is good.
Carl:
Wow, it looks like it's fulfilling all the criteria that any man would need - keep going.
Pete:
Reminders, so you can get an email or an SMS text alert when a programme's coming up.
Carl:
That's a little bit slick, isn't it?
Pete:
And you can mark your favourite programmes, and even your favourite categories and key words, and what it will actually do is give you a daily viewing guide, based on what channels you're interested in, what programmes you're interested in, so you don't have to wade through these thousands of channels, you can just say, "I'm interested in documentaries about the lunar landing", and it will alert you when a programme's coming up, so you can watch it in advance.
Carl:
Hmm, it's quite nice, but you can't store that underneath your coffee table, can you, like you would your magazine?
Pete:
True, it does have to go on a laptop or on your PC, but you can get a mobile version, which is rather nice, so you can get it on a Windows Mobile, or something like that, and you can do it from a web browser.
Carl:
Fair enough.
Pete:
And this has a price tag with it, that's the slight downside, this is £15 a year.
Carl:
Only £15 a year? - that's cheaper than your magazines though, isn't it?
Pete:
But if you think, we're talking about a magazine that's £1.40 a week, then it soon pays for itself. You can also do really clever things, like do searching, so you can search for director, episode name, years, all sorts of things, if you're really serious about your TV and your actors and your telly viewing, this thing will let you sit down once a week, plan out what you want, it'll give you a list of what you said you want to watch, plus anything else you might be interested in, so I'd highly recommend DigiGuide, and you do get a free demo, and we'll add a link to our show notes on where to get the DigiGuide free demo.
Carl:
OK, that's a very nice thing to do.
Pete:
There you go. I also want to mention some other applications, there's one called FreeGuide, which is also rather nice.
Carl:
And what's that for?
Pete:
The same, that's for your PC, you can also get that on Linux.
Carl:
Ooh, very nice, I've that on me Asos.
Pete:
There you go, and you do need the Java Runtime for that one to work.
Carl:
Right.
Pete:
Then there's also TellyPrompter, and XML Guide, again go to tellyguides.co.uk for some screen shots and more info.
Carl:
Bet they haven't put any of these on your mobile phone yet though, have they, eh?
Pete:
Aha, you knew I was going to say that! You saw me picking up my iPhone, didn't you? So look, there's a good couple of applications I want to mention, there's this one called TV Plus, which is rather nice, if I fire that up, big orange screen with a TV on it.
Carl:
I like that, I like orange.
Pete:
And it's just loading, so here we go, we've got to just run that down.
Carl:
It says: "Entertainment, Lifestyle & Culture, Movies, Sports, News, Documentaries, Kids' Stuff, Music, London BBC1".
Pete:
OK, so what we've done is, we've opened up the view, so this is tonight's telly, and you can see we've got a list of BBC 1's stuff, so there's all the lists, and you can go, Wednesday, Thursday, Friday, Saturday, Sunday - open these up and there's all the information on that particular TV programme.
Carl:
Fantastic, and it's got a record facility, according to the bottom of the screen there - what's that big red button with 'record' on it for?
Pete:
OK, so this is tied to my Sky Plus set top box, if I want I can just hit record, that will send a message over the internet connection from the iPhone to Sky, and Sky will send a message to my set top box saying, please record.
Carl:
Ooh!
Pete:
But this is the one, this is my favourite - this is Tioti TV+.
Carl:
Well, I like the name already - say that again.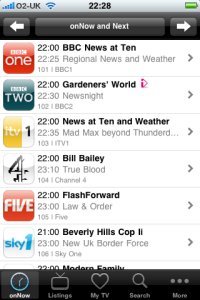 Pete:
Tioti TV+. So this one's started up, you see we've immediately got the "on now and next", and some buttons down here for listings, my TV and search. Search on here is really quite impressive, but let's just let this load, on now and next. OK, so here we go ... so this has now got BBC1, 2, ITV, 5, Sky One, and you can scroll down and see all of the on now and nexts. This is where it gets really clever - if I press "listings", see, I've got my BBC listings here, now I can also do a Sky Plus here, so if I click on, what have I got here? - the Weakest Link, I can click on that, there we go - the "mark alert or record" button, and also I can rate it out of five stars, so I could do record and that will record it, but what's really quite flash is, some of those have got a little symbol after them.
Carl:
Yes, it looks like an 'i' - information maybe?
Pete:
That's the BBC iPlayer, now if I tap on that, what it will do is, it's opening up, so as it happens we're looking at The One Show, if you scroll down it says you can watch previous episodes, and also "If you like that, you'll like this" TV selections.
Carl:
Wow, that is quite a nice little feature. And you've got two previous weeks' episodes available.
Pete:
There you go, so what I'm going to do now, this is the really clever bit, "Watch previous episode", it exits out of this application, opens up a browser, and goes to the mobile version of the BBC iPlayer, so from that listing you can just hit a button, and then watch that TV show on your device over the internet.
Carl:
Well, do you know what? - I'm actually reasonably impressed. It's a bit of a no fuss application really, isn't it?
Pete:
So there you go, if you're interested in any of the TV listings services we've mentioned, go to tellyguides.co.uk for links and screen shots.
Listen to FrequencyCast Show 45 - TV Listings and Guides Reviewed
More Transcripts from Show 45:
More information:
Handy Links: