Android TV Sticks and Tablets Featured
Following a feature in a recent show, we talk to DGM, sellers of Android TV sticks and tablet computers about their range of low-priced Google OS devices
Listen to FrequencyCast Show 87 - Featuring Android TV Sticks and Tablets
TV Adapters and Tablets from DGM:
Our feature on some new products recroded at Gadget Show Live in Birmingham:
Transcript continues from Soladapt Touchscreen Kits
Pete:
Now, in our last show, we talked about this.
Kelly:
I do like this - this is the Wi-Fi and TV cloud stick that goes in the back of your television.
Pete:
Indeed. This will turn your telly into a smart telly for about £30, and they're pretty impressive little Google operating system thingies, aren't they?
Kelly:
They are; very, very easy to use, and literally converts your television into a computer.
Pete:
Well, we've had a couple of emails in from people asking what the more expensive ones are like. This one was £30, but they do go up to around about £100 in price. Just read us one of these emails, Kelly.
Kelly:
Pat O'Mahoney said:
"Really loved the feature on the TV stick. Can you direct me to the more expensive unit with the keyboard and mouse? Is it any better than the £30 unit you reviewed?"
Pete:
Well, to find out a little bit more about these, we spoke to Ryan, who is the European sales manager for a company called DGM.
Ryan:
That's correct - we're on our second generation of this particular type of product. Our customers were asking us to offer a solution where they didn't have to spend the x amount of money for upgrading their TV to a smart television. They were looking for something where it was a quick, simple and effective solution.
Pete:
We went for a £25 one that we found on Amazon, that was right at the bottom end of the market, just to try it out, and it wasn't too bad. What we found was, it was a little bit of a pain to get the BBC iPlayer going, because it's got its native video encoding, and a little bit juddery on the video. So we're wondering, if we were to have spent a bit more money, would we have ended up with a better product?
Ryan: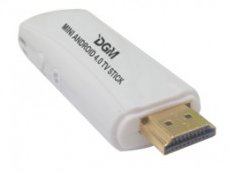 So what we've done now is, we've just launched, at the Gadget Show, the A14D, which is actually a dual-core unit, with the T-card memory slot in there as well, so that gives you the ability to take it all the way up to 32 gigabytes. So you can either load your movie straight on there, or stream them straight from the actual stick itself.
Pete:
I'm assuming we're talking the same deal, HDMI socket and USB for the keyboard and mouse?
Ryan:
Correct.
Pete:
Perfect, and of course, this is the ideal way of making your TV smart, without having to go out and buy a new set, which is rather cool.
Ryan:
The feedback we've had from our customers, they really do enjoy the product, and I think they just found it a really useful upgrade, maybe not for their primary televisions, but sometimes for the secondary, or third or fourth television, where it's the kids' rooms, or their own bedrooms.
Pete:
So I'm assuming this is slightly more than the £25 I paid for this cheap and cheerful Chinese import - would that be fair?
Ryan:
This unit, we will retail out at £59.99.
Pete:
Really? - that's not bad. We've seen some up in the sort of hundred pound mark, but it looks like, for a dual-core, for that kind of money, that's not a bad investment.
Ryan:
What we've done, we've balanced it with offering a good product, well-finished and a nice quality feel, with a good back-up service and warranty afterwards.
Pete:
I'm assuming this is using the latest version of Android?
Ryan:
Yes, it will be using the latest version of Android - Jelly Bean 4.2.
Pete:
Wonderful, thank you very much. If I wanted to get hold of one of these, how do I go about buying one from you lovely gents?
Ryan:
You can buy directly from our website, which is www.dgmeshop.com, or we sell to most major retailers: Game, Tesco's online, Argos online - places like that, it should be available.
Pete:
While we've got you, you've also got some other cool stuff here at Gadget Show Live, and you were telling me about a rather impressive tablet that is just out - go on then, tell me all about that.
Ryan:
Absolutely. We've just launched, and this is what we were all quite excited about, a 10.1 and a 9.7 retina display tablet, quad-core.
Pete:
So retina display, so we're up there in the top end iPad kind of range, but you're not paying iPad prices?
Ryan:
The goal on this one, we will be sub-£200 on this particular product. The crispness and the sharpness and the detail that it really gives back to us is absolutely amazing.
Pete:
Brilliant. When's this going to be launched?
Ryan:
We're looking to launch this at the end of May.
Pete:
Now, make my day - tell me it's got a USB socket on it.
Ryan:
Twin USB slots, a HDMI and a memory expansion T-card as well.
Pete:
All for less than £200 - excellent, I'm sold. Can I take one now?
Ryan:
Unfortunately - end of May, you're more than welcome.
Pete:
And for links to these little Android TV sticks, go to the show notes for today's show - show number 87. Now Kelly - hold that, it's my little eight inch tablet. You had a little flick around with this earlier - we were watching some silly Songify YouTube video clips earlier, weren't we?
Kelly:
Yeah, far too many YouTube clips of cats.
Pete:
And what did you think of the cat in the bath?
Kelly:
Oh, I love the cat in the bath!
Lady:
Ready for a bath, Abby?
Abby (cat):
Woah, nooo!
Kelly:
You would never, ever believe that that was a cat! Unless you saw the video, you would never believe that was a cat.
Pete:
And if you want to know what we're talking about, we'll stick up the YouTube clip up on our show notes. Do go and have a look - it is a cat really not wanting to go into the bath.
Kelly:
Although actually, it's the woman's profile for eHarmony, and about her love for cats that really got me - that was my favourite.
Pete:
OK, just for the benefit of the listeners:
(song) I love cats, I love every kind of cats. I just want to hug all of them, but I can't hug every cat. Can't hug every cat
Pete:
Songify, you can record a piece of audio, and it turns it into a song. We tried it with you, didn't we?
Kelly:
We did - it sounded very, very strange though, my voice turned into some form of disco tune.
(sings) "Hello, and welcome to FrequencyCast, the UK's digital TV and technology show. At FrequencyCast, it's our mission to keep you up-to-date ... "
Pete:
Yeah, that was a bit silly, wasn't it?
Kelly:
That was a bit silly. It actually makes me sound even more nasal than I am right now.
Pete:
That's the Songify app. What do you think of the tablet I'm playing that back on? - just take a hold of that there.
Kelly:
It's quite small in comparison to the iPad. The resolution's really, really good. It works well, it seems to have everything on it.
Pete:
Yeah, Android 4.1, so the latest version. This is called the T80X, eight inch, and eight gig of RAM, and a very nice little tablet. How much do you reckon?
Kelly:
Well, I would probably guess at about £160 to £180?
Pete:
Yeah, you'd be a bit surprised then if I told you just £80.
Kelly:
Wow! - seriously?
Pete:
Seriously, £80. Now, this is another one - have a look at this one. A little tablet, seven inch, so bigger than a mobile - quite a dinky, cute little tablet, isn't it?
Kelly:
It is - it's very handbag-friendly.
Pete:
And how much for that one?
Kelly:
Well, see, I would have gone for the £80 mark, but now you've told me that the other one was only £85 ... I'm going to guess at £60.
Pete:
£45.
Kelly:
Wow! - that's really good. I actually spend more than that on shoes.
Pete:
Yeah, we picked these up from Gadget Show Live. Admittedly they're not normally quite this cheap, but if you want to have a look at those, DGM is the company, and here's a little extract of me being rather surprised.
Ryan:
We have gone a little bit crazy on the price - I'm not going to lie. I mean, £45 for a seven inch, with full Google Play, and Google Android as well.
Pete:
That is freaky - web browser, video - all that stuff?
Ryan:
Absolutely, I mean I use one myself. I have it in my laptop bag, I pull it out, watch movies on it, browse the web - things like that, perfect.
Pete:
Now unfortunately, you have to be at Gadget Show Live to get it for that price, but presumably, if you buy it from your website, it's still cheapish?
Ryan:
Yeah, it's £69.99 from our website, or you can buy it in Game right now at the same price.
Pete:
And just to reassure our listeners, you're not presumably just taking Chinese imports and branding them - is that right?
Ryan:
Absolutely not. We've been established since 1998, as we deliver a great product.
Pete:
Excellent, and just remind us of your web address again?
Ryan:
Transcript Continues: Gadget Show Live 2013 Transcript Part 2
Listen to FrequencyCast Show 87 - Featuring Android TV Sticks and Tablets
Related Links: