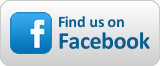 FrequencyCast UK - Show #45
The show notes to go with Show 45 of our online technology radio show.

Listen to, or download, FrequencyCast Show 45 (31 mins)
Show 45: NEWS
This show's news section covered the following stories:
Sky coming to Freeview: Well, sort of. Sky has linked up with the video-on-demand service from Fetch TV. Fetch TV offers a Freeview recorder that also has access to video content over Broadband. Fetch TV already offers BBC iPlayer, but soon Fetch users will be able to get content from Sky, including Sky Movies, Sky Sport and entertainment channels. This will enable those who don't want a dish or to be tied to one Internet provider, to get Sky content on their telly. Sky on Fetch TV should be here in 2010.


Window 7 Released: Microsoft's latest Operating System was released on the 22nd October. Following the generally hated Vista release at the beginning of 2007, Microsoft has listened to user's screams and made a number of improvements, notably to the User Interface. You can now interact with thumbnail previews, there's better application maximising and tiling, a feature called Aero Shake to let you clear your desktop, plus faster access to common files with Jump List. Home network setup is easier, there's better support for touchscreens, and to help with backward compatibility, there's a Windows XP mode.

Upgrades start from £65 at Amazon.co.uk, and at the top end, a new Windows 7 Ultimate can be found on Amazon for £158. Initial feedback to Win 7 seems positive.


BBC Multiscreen dumped: On the 27th October 2009, the BBC News Multiscreen service has been pulled from Freeview, to make room for Freeview HD. Staying with text - Fans of good old Teletext, note that Teletext is set to close in December





Channel News: TMF, The Music Factory, has relaunched as "Viva". Viva, available on Freeview, Sky and Virgin, is part of the MTV brand, and has been repositioned from a music channel to an entertainment channel. Also note that Zone Reality, Zone Romantica and Zone Thriller will be re-branded to CBS channels in mid November.


Freeview, free on the iPhone: You can now watch 11 Freeview channels live on your phone. No subscription - no signup. Go to iphone.tvcatchup.com from your iPhone


And finally: Tired of hearing the same old tracks on your local radio station? It's all to do with the size of the station's playlist and how frequently they play their 'A' list. Full marks to Absolute Radio - they've released a service at comparemyradio.com that takes all of the "Now playing" information from a bunch of stations and calculates the size of a station's playlist. At the time of recording, Capital's playlist for the last 30 days was made up of just 225 songs, compared to over 2000 on Radio 2's list. If you're a radio listener - comparemyradio is well worth a look. Unhappy at having their playlist data compared with others, Kiss 100 has now blocked its "Now Playing" feed.


FOCUS: TV Listings and Guides
In this show, we look a look at ways to keep track of TV listings:
TV Listings Magazines - We compare the big six mags
Onscreen Programme Guides - Browse on your telly
Online listings sites - Save paper, and browse online
PC and mobile applications

For a summary of all the options discussed, go to www.tellyguides.co.uk
FOCUS: Olympus LS-11 Recorder
We got our hands on the latest piece of kit from Olympus, the LS-11 Linear Voice Recorder. It made for a good excuse for the FrequencyCast team to get out in the fresh air, recording some on-location sound effects using this device.
Essentially a powerful, super high quality voice recorder, we're very impressed with this piece of kit. Check out our full review, with photos and audio recorded on the device, on our Olympus LS-11 Review page.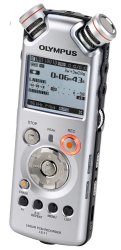 Olympus LS-11 Voice Recorder
FOCUS: CurrentCost Energy Meter
We last looked at energy meters in Show 19, but with the release of the Envi from Current Cost, we knew it was time to take another look.
This is a top meter that provides lots of useful data on your consumption - how many KWatts you're using, cost per month / cost per day, KWHr over the last day, 7 days and 30 days, plus Night / Day / Evening trends.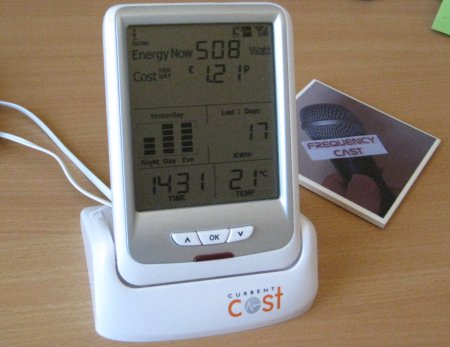 The meter can also track individual appliances using special wireless plugs (which were not available at the time of recording), and you can use a serial lead to connect to a PC or Mac to upload your data for the world to see.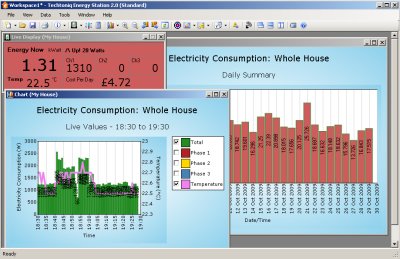 Current Cost Envi Availability
Buy direct from the manufacturers via their Amazon UK Store
Available free with the Energy Saver tariff from E-on (Switch the easy way with U-Switch.com)
Cast 45: Interactive
Thanks to everyone who got in touch. In this show, we respond to the following mails and calls:
Freeview Retune Report: Lots of mails on the Freeview Retune - Clearly it didn't go well for a good number of you. Paul Clements got in touch. He lives close to Exeter and normally gets his TV via the Ilfracombe relay transmitter. Since the retune, a number of folk in North Devon now can't get the full range of channels, or they're getting Welsh TV from a more powerful transmitter. Hopefully the powers that be are working on a fix.


3D on Channel 4: Paul also says that he has noticed that Channel 4 have been broadcasting test 3D signals at about 4 in the morning for about 5 minutes. Interesting. We know that Channel 4's planning a 3D weekend soon - guess it's getting closer.


Freeview retune help: We took a podline call from a listener struggling with Freeview channels. There wasn't much info to go on, but as part of the Freeview retune on 30th September, some channels moved - many found that they could now get Five, but not get some of the ITV channels. We don't where in the UK you are, or what channels you can't get, so can't give you any specific advice. We suggest you follow the links in our shownotes for some general advice, or call the Retune Helpline on 08456 05 11 22


HDMI Video Dark: Next up, we want to thank Mark Wheldrick, a new listener. He's answering a question from way back in Show 38, where Les Cornwall asked why video played over an HDMI cable was dark. Mark says that this is to do with encoding. When the TV programme is recorded to a Hard Disc recorder, the data is compressed and one of the side effects is a loss of brightness and contrast. The best workaround would be to record all programs at the highest quality, e.g. HQ mode. This should result in less compression. Cheers Mark, and welcome to FrequencyCast


Wide Load Sat Nav: Now, we're after some listener help. Ken asks us whether we can recommend a decent sat nav for users of Caravans, RVs and larger vehicles. The only one he's found is the Snooper Ventura. Anyone recommend anything that can help with height and width guidance? Let us know.


Apple Panel News? We've been tweeted by Jason Vandando asking if there's news of the Apple handheld panel computer. Rumours of a 10 inch iPod Touch with 3G and Wi-fi continue, but nothing official from Apple. Perhaps 2010?


Any questions for Carl & Pete? Got a comment on the world of TV and Technology?
Call 020 8133 4567 and leave a message and be heard on the show, or ask in our listeners forum.


Enjoyed the show? Add us to iTunes, sign up to get email alerts, or consider adding a nice iTunes review
Comments on this show? Please post them in our forum.

Want new shows as soon as they're released?
Get FrequencyCast shows automatically, as soon as we've finished them:
Got iTunes? Add FrequencyCast to iTunes


Otherwise, use Juice or another podcatcher to subscribe to our show feed.
Our feed address: https://feeds.feedburner.com/frequencycast