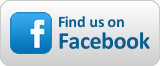 FrequencyCast UK - Show 79
The show notes to go with Show 79 of our technology radio show.
Listen to, or download, FrequencyCast Show 79 (31 mins)
Show 79 NEWS
Here's a look at the news stories covered in Show 79:
4G in 2012: The UK looks set to see the new 4G mobile data network a year earlier than expected. The new services were set to become available next year, using space freed up by the digital switchover, but regulator Ofcom has granted Everything Everywhere (the merged Orange and T-Mobile) permission to use their existing bandwidth for 4G way ahead of their competitors. See 4G networks to launch this year.


Absolute Radio Locked: National radio station Absolute Radio has decided to make listeners register with them before they're allowed to listen over the Internet. It seems that the move is designed to allow the station to target ads based on user's gender, age and location


TomTom 4 Android: Android users lost without TomTom navigation, note that finally, TomTom will be bringing out an Android app. Expect this to arrive in Google Play in October


UK Nova Game Over: UK Filesharing service UK Nova, much loved by ex-pats missing their UK telly, has bitten the dust, despite trying very hard to offer only content that viewers weren't able to buy elsewhere.


OnLive Woes: Also, customers of the cloud-based gaming service OnLive - the service that offers hundreds of games via your TV and the Internet, seems to be in trouble following the departure of its founder, and a company restructure. More: Why OnLive's Brave Venture Failed


Digital Radio Switchoff? It seems that the digital radio switchover has started... quietly. Four BBC local radio stations have stopped broadcasting on AM for a trial period of five weeks, to see if anyone notices. Affected stations are in Kent, Lincolnshire, Merseyside and Nottingham.


Apple owns September: A reminder that in September, there'll be news of the next iPhone, plus the release of iOS 6.


Freeview Retune this month: A reminder to Freeview viewers that there's a re-shuffle of channels on the 19th of September, requiring a re-tune, although following an appeal by Sky, it's news channel won't be moving yet, possibly requiring another retune in the future.


Nook eBook worth a look? US firm Barnes and Noble will shortly be launching the Nook eBook reader here in the UK, via John Lewis. A clear rival to the Kindle, the Nook retails $99 in the US, and one of their models comes with build-in LED lighting, for night-time reading. John Lewis will offer 2.5 million titles from October.


And finally: News of two upcoming services we can expect on our Smartphones. Last month Apple filed for a patent on technology that will silence your smartphone or dim its screen when it detects you're in certain public places, such as a cinema or library. Also, talk continues on IPS -the Indoor Positioning System that will help you locate yourself within a building. More more getting lost in the supermarket. Keep an eye out for a smartphone app from IndoorAtlas that will soon allow user-generated maps of the inside of buildings to be mapped and shared. Very handy, for those of us that didn't make it to the studio in time for today's show!
Focus: Kelly Health Check
At the request of one of our listeners, we perform a high-tech health check on one of our team. Here's the kit we used:
Challenge: eBooks with white text
In the first of a new feature, we challenged Kelly to find an eBook reader that supports white text on a black background.
Kelly discovered that the free Amazon Kindle app for Android tablets and iOS devices lets you change from black-on-white, to white-on-black.
On an Android tablet, open the app, press menu and look in View Options
On an iOS device such as the iPhone or iPad, press the "Aa" icon at the bottom of the screen.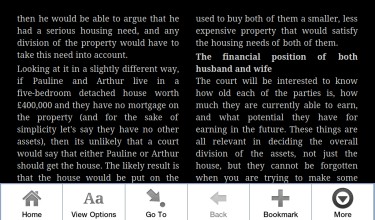 Amazon Kindle - White Text on Black Background
There's a transcript of this feature here: eBooks with white text on a black background
Want an Android tablet for £70?
At the time of writing,there's a tablet on offer for £65, and it'll run the Kindle Reader app featured in this show.
Take a look at the range of budget tablet devices offered by Maplin: Android Tablet Computers
Hands-on: Yale Home Digital Door Lock
We roped in the services of our security expert Tom to take a look at this domestic lock from Yale that ends the worries about locking yourself out of making spare copies of your keys. Find out more about the Yale Digital Keyless lock from our access expert.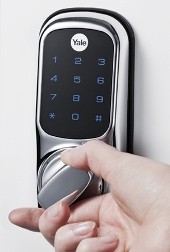 The Yale YALYD01Y3CH Electronic Door Lock
Feature: Local Digital Radio
The future of FM and AM radio is due to be decided next year, and some medium wave stations have been switched off this month as an experiment. Although up to 90% of the UK is in a DAB coverage area, the number is much lower for local radio coverage. We spoke to Tom to get his views on DAB and the FM switchover.
If you want to read our thoughts, it's here: Local Digital Radio
Update: British Gas Remote Heating Control
Pete is now on his second month trying out Remote Heating Control as part of the Don't Take Our Word For It campaign.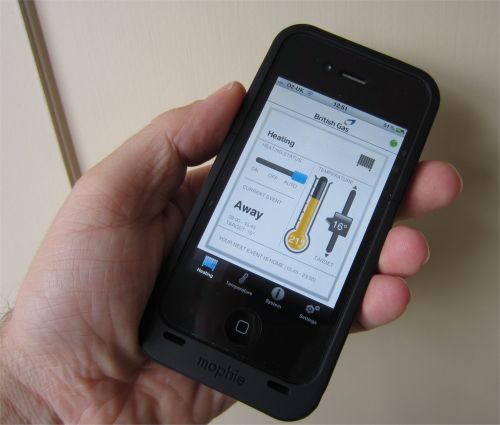 Taking control of Pete's home with British Gas Remote Heating Control
We've got a transcript of this part of the show for you here: Remote Heating Control - Month 2
Cast 79: Interaction
Thanks to everyone who got in touch with us since the last show. Today's questions were read by Tom and Kelly, and were recorded at a hospital radio station, for a change!
In this show, we respond to the following mails and calls:
FrequencyCast on YouTube?
We had this in anonymously: "Why not upload your podcasts to YouTube? It would get you more listeners, and you could make money through the monetization program. Just a thought."

It's not a bad idea. We already have some content there, but maybe it's time for more! You can check out our YouTube feed here: FrequencyCast on YouTube
Humax YouView boxes
Stephen Masters sent us the following: "What i wanted to say is I welcome the addition of YouView but feel a little short changed after fairly recently buying one of Humax's Freeview HD 500gb PVR' & having spent a few months contacting them to ask if more services will be added to the portal not to mention the addition of skyplayer which was promised & never fulfilled i can't help feeling these pvr's were used as a trial to iron out the youview release units somewhat. Minus a logo change of position & youview added,the box looks identical. Just wondered if any other subscribers who own Humax Freeview HD PVR's feel the same way? The idea of being futureproofed by connecting to the internet feels less certain now, especially with different brands of smart tv ,pvr's, gaming consoles & bluray players all offering a slightly different tailored service."

Anyone opted for YouView yet? Please get in touch!
Blackberry or Android?
Geoffrey Miller says: "I'm one of your listeners who doesn't yet have a smartphone, but am now looking in that direction. You regularly report on the latest iPhones and Androids, I don't recall ever having heard anything about Blackberries. My two daughters own a Blackberry and a Galaxy III and both report favourably, so I am torn as to which to adopt for myself."

We asked Kelly to help us out on this one, as she's our resident Blackberry user. If you want a keyboard, Blackberry's the way, but for full-screen video and gaming, it'll be Android or iOS. Interested in us reviewing Blackberry in more depth? Get in touch.
Please Use Our Amazon Store!

When you're shopping at Amazon please use the link frequencycast.co.uk/amazon - It won't cost you a penny more, and shopping via our Amazon shop helps to pay for our running costs!
Got a comment or question? You can leave us a voicemail by calling 020 8133 4567, or sending us a message. We'd love to hear from a few more of you, so please get in touch and say "hi" - our shows are driven by your feedback - So talk to us!
Want new shows as soon as they're released?
Get FrequencyCast shows automatically, as soon as we've finished them:
Got iTunes? Add FrequencyCast to iTunes


Otherwise, use Juice or another podcatcher to subscribe to our show feed.
Our feed address: https://feeds.feedburner.com/frequencycast