Health Check Tech - Fitness Product Tryout
In response to an email from listener David Harrison, we checked out the health of our newest presenter Kelly, with the aid of some top fitness gadgets.
Listen to FrequencyCast Show 79 - FrequencyCast Fitness test
The Kelly Health Check:
As requested, we used some technology to check on the health of our Kelly (the things we do for our listeners, eh?), and here is the transcript:
Pete:
It's Focus time, once again I'm here with Kelly - hello, Kelly.
Kelly:
Hi, Pete.
Pete:
How are you?
Kelly:
I'm not too bad, thank you.
Pete:
Excellent. Now, before we dive into the main tech, we've had an email from Dave Harrison, and as a result of this email, I need to ask you some rather personal questions - how do you feel about that?
Kelly:
Well, we'll see what happens.
Pete:
First of all, how's your diet? Do you eat your five a day?
Kelly:
I do actually eat my five a day.
Pete:
How about any allergies?
Kelly:
I'm allergic to strawberries.
Pete:
Now, that's an unusual one, OK, fair enough. I know it's rude to ask a lady her weight, so I'm going to get my little tablet device out here, so I've got my Samsung tablet here, and on the screen here is a little chart. Now, could you just use your little finger there, and just slide your finger to where your height is and where your weight is, and I just want you to tell me what zone you're in there?
Kelly:
I'm in the yellow zone.
Pete:
That's good - you're not underweight, you're not overweight, you're in your ideal weight, good. You see, we're getting there, aren't we?
Kelly:
That's not so bad.
Pete:
Now, how's your blood pressure?
Kelly:
As far as I'm aware, it's fine.
Pete:
Right - I'm afraid I'm going to have to check.
Kelly:
Why?
Pete:
Because there's this email from Dave Harrison.
Kelly:
OK.
Pete:
Put your arm out - I need the other hand, I need your left hand for this, and flip your wrist over the other way.
Kelly:
OK.
Pete:
Lovely, now I'm going to clamp this over your wrist, so this is a device with a screen, a little cuff going on your wrist there. Right, this is going to pump your arm up a bit - don't worry too much.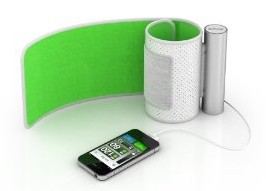 Withings Wireless Blood Pressure Monitor
Kelly:
OK.
Pete:
OK, how did that feel?
Kelly:
That felt fine.
Pete:
OK, so what have we got here? We've got 128 over 69, and your pulse there is 85 times a minute, so yeah, OK - your blood pressure's fine, nothing to worry about.
Kelly:
Are you sure?
Pete:
I'm going to hand you another piece of equipment.
Kelly:
Something that looks like a strap.
Pete:
The make on the front?
Kelly:
Garmin.
Pete:
And on the back?
Kelly:
A heart rate monitor.

Garmin Heart Rate Monitor
Pete:
OK, now what I want you to do is take your top off, and put this round your top.
Kelly:
Oh yeah - very nice!
Pete:
And then I need you to jog on the spot for two minutes.
Kelly:
Oh, is that so? - I can imagine that this is why you've got me in to do this one!
Pete:
OK, are you up for that?
Kelly:
No, shockingly!
Pete:
Oh, funny that, OK - it's worth a try, there you go. Garmin heart rate monitor - now, these are pretty cool. They send a wireless signal to your smartphone, so you can actually, as you're out running, use something like RunKeeper, and it measures your heart rate and you have to be in a certain zone when you're running to burn off calories. It's a nice bit of tech. The two bits of tech we've got, one of these heart rate monitors, and a blood pressure monitor, all wireless and all sending your information to the smartphone, which is cool.
Kelly:
That is very cool. Does it alert you if you're going over and above?
Pete:
I actually took mine with this a few days ago, and it came up that I'm normally in the normal band, but I actually was in the high band, and I think that's because I was a little bit on the nervous side, fiddling around with the settings and everything else. But there's a lot of new tech out there that does keep an eye on your health and fitness, and in a previous show, show 72, Sarah and myself played with this little device that I think you've seen before?
Kelly:
Yes, I do remember this.
Pete: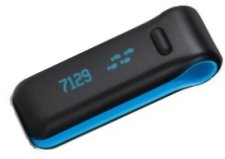 Now, this is called the Fitbit (More: Fitbit Activity and Sleep Tracker). This is really quite cool. It sits in your pocket, and you walk around with it all day, and it wirelessly acts as a pedometer, so if you press the button there, there's your pedometer steps - that's how miles I've walked today, 2.94 miles. I've burnt 2,196 calories.
Kelly:
Yeah - nice try with that one!
Pete:
I found, if you put it in a washing machine, it really clocks up quite quickly! Eighteen flights of stairs and that little flower there indicates I'm not that actively, but hey ho - you knew that, didn't you?
Kelly:
Yeah, I gathered that one.
Pete:
And the beauty is, this all synchs up to an iPhone, so I can look here and see how many steps I've done, how many flights of stairs I've done, average weight, average weight loss and graphs, and all sorts of other complicated things like that. I have a set of wireless scales at home that I just step on, and it automatically updates my weight on something called Withings, so I can see my weight progressing - you can see, I've actually lost a few pounds, haven't I?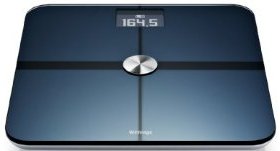 Withings Wi-Fi Scales from Amazon
Kelly:
Ah, very well done - you have indeed.
Pete:
Now, the reason that I'm asking about your general health is because of this email from Dave. If I could just get you to read Dave Harrison's email for me, please.
Kelly:
"Hi guys - loved your report from the sci-fi show in this month's show. Shame you couldn't get Kelly into the Wonder Woman costume."
Pete:
Yeah, I was a bit disappointed by that. You enjoyed yourself at the sci-fi show, but you wouldn't wear that outfit by the end of it, would you?
Kelly:
No, absolutely not! - why would I do that to myself? OK, so finishing, "Just one question for you - is Kelly fit?"
Pete:
I'm not entirely sure that's the question Dave was asking, but I think we've definitely given you the answer - Kelly, you are officially fit.
Kelly:
Thank you very much.
Pete:
And talking of fitness, you've got something exciting to tell us?
Kelly:
I have, actually - I've just started training to do the Three Peaks Challenge in 24 hours, so very nervous, but very very excited.
Pete:
Tell me - the Three Peak Challenge?
Kelly:
Yes, so you do the three big peaks in the UK, all in 24 hours.
Pete:
Right, well don't forget - take your heart monitor, and take your blood pressure monitor and take your Fitbit, and we'll see how well you do.
Kelly:
OK then - thanks.
Transcript continues: eBook reader with White Text
Listen to FrequencyCast Show 79 - FrequencyCast Fitness test
Related Topics