iPieces Jumbo Games Featured by FrequencyCast
At Gadget Show Live 2012, we took a look at the range of iPieces games - bringing board games to the Apple iPad. Catch our interview with the Jumbo Games team
We talk to Jumbo Games about their new iPad iPieces Games:
Hands-on with iPieces from Jumbo:
With today's kids being brought up on touch-screen and hands-free games consoles, you may think that boardgames were a thing of the past. Not a bit of it - and the 21st century versions of classic games show that we saw at Gadget Show Live 2012 show the new twist on some classic games...
iPieces from Jumbo
At launch, four games have been released, but we understand more are in the pipeline. The games are specifically for the Apple iPad and include a free downloadable iPad app, plus the pieces that you need to make the games a more interactive experience.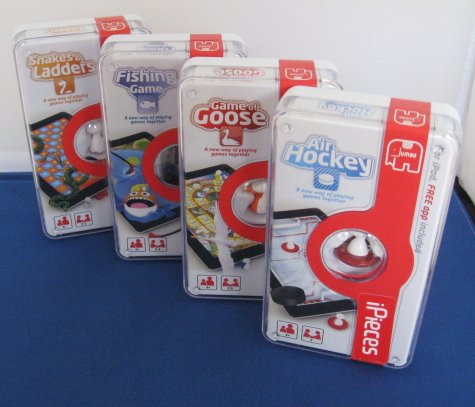 The collection of iPieces games for the iPad
We played with the games at Gadget Show Live, but have now had the time to get hands-on with each of the games, and we'll have a quick look at each one now...
Air Hockey
Always a classic, and one that the FrequencyCast team have fond memories of at our local seaside amusement arcade. The game cones with two hockey strikers that you hold between thumb and forefinger, and the aim is to whack the puck into the opponent's goal.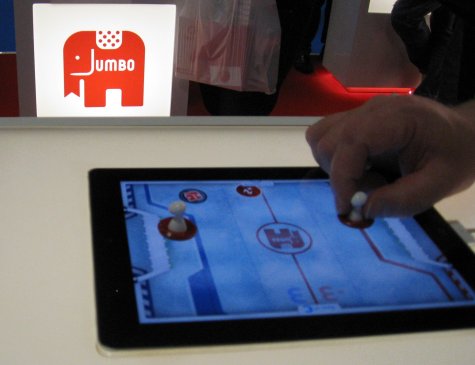 Carl, hands-on with the iPieces Air Hockey Game
The app gives you the option to play a quick battle or a tournament, and the only nice little twist with this version of Air Hockey is that every now and again, a hole opens in the ice and you'll lose points if the puck goes down the hole on your side of the board.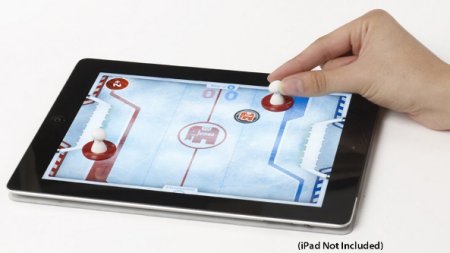 A good fun game that plays well. We've seen a couple of situations where the puck 'lags' slightly after an aggressive strike, but it's not enough to impact the gameplay. Impressive graphics, lots of fun, this is a cracking nostalgic game that's well implemented - you can even opt for a timed game to simulate that oh-so frustrating moment where the air runs out just at the wrong moment.
Fishing Game
Jumbo's version of the classic Fishing board game comes with four small coloured fishing rods to hook the virtual fish from the pond.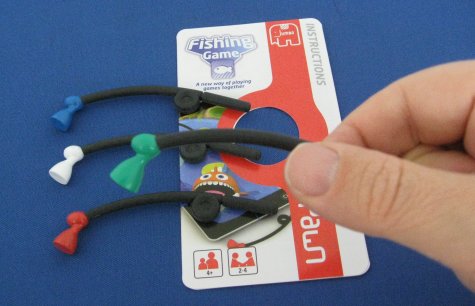 The fishing rods from the iPieces Fishing Game box
This game is definitely one for the little ones, however when we put it though its paces, we found ourselves getting quite competitive trying to yank fish away faster than our competitors. It does get fun if you have all four people playing, and we can imagine adults having fun with this one after a few drinks too. The different coloured fish equate to different points, adding to the strategy element, and you have to stop the low-flying stork from pinching your fish from your basket. A word of warning - watch out for the pesky pike, as he'll stop you reeling in your fresh catch!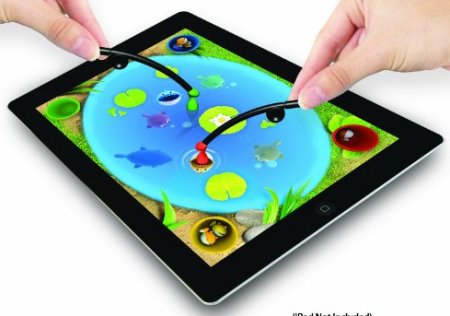 The Fishing Games takes a little bit to get used to, to be able to flick the fish out before your opponent, and it took a few goes before one of our team's four year old daughter could master the fishy drag, but it's lots of fun and as with the other games here, is well implemented.
Game of Goose
This game was a new one on us, and comes with six Goose iPawns, making it the only game in the initial collection aimed at between two and six simultaneous players.
This is in fact a very old-fashioned looking traditional board game (take turns to shake the dice and move your piece), but it's very enjoyable and really works on the iPad as it turns the board into an interactive surface.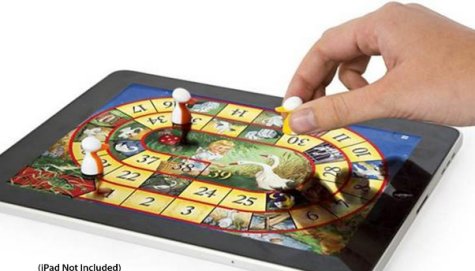 The aim of the game is get your goose into the middle of the board by going around squares set in a spiral shape. Just as with many board games, some of the squares have pictures on it, which give you advantages or disadvantages. This is where an interactive iPad version of a board game comes into its own as when you land on marked squares, the nifty animation lets you know what that square means, and how that affects your progress towards your goal.
The little playing bits are very cute, with coloured bills and little felt bottoms to protect your screen A good family game that makes the transition from board to pad with style.
Snakes & Ladders
A nice twist on a classic board game - the pack comes with four coloured iPawns, all with felt bottoms to protect your screen, and two metallic ladders (snakes not included!)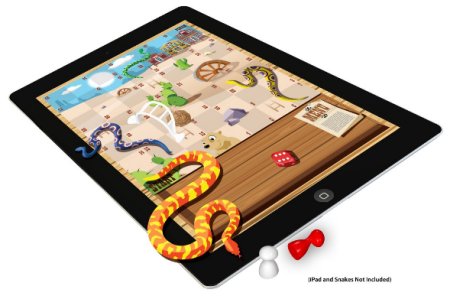 Everyone's familiar with the standard snakes and ladders gameplay, so there's a subtle twist with this iPad version. Between two and four players start off, roll the dice in turn and play as you normally would, however when you land on a ladder icon, you use one of the little ladders supplied in the pack and place the top of the ladder wherever you like on the board, to give you the best advantage.
Our reviewer played this with her four-year old daughter, who owns (and loves) a larger mat version of snakes and ladders. The feedback we got is that the game is a little short. There are only 50 squares, making it shorter than the traditional game, and this is rather odd because the packaging for the iPieces game clearly shows a board with 99 squares, not the 50 on the game itself. We couldn't see an option to switch to a larger gameplay area in the app Option menu, which was a little unexpected.
Nonetheless, a good fun game with some nice interaction, such as the "ouch" when you place a piece on a cactus, the quirky Western sound effects and the drifting tumbleweed.
Summary
These are a great collection of games, perfect for kids for whom a static board game is too two-dimensional. All of the apps make good use of sound and interaction, and have been designed to maximise on the iPad's functionality. Hard to fault, but we were surprised that the board games didn't have an option for a one-player mode with a virtual opponent's piece appearing on the board.
The pieces are small enough to be great for travelling without being too fiddly, and the games have a great mix of nostalgia and quirkiness to give them some life. These make a great gift for iPad owners, and those with kids looking to do more than dump their child with Angry Birds and leave them to play on their own - a great twist on old classics.
Well work a look, and available at a decent price from Amazon and other online retailers. Roll on Battleships, Operation and Monopoly!!
Interview: We talk to Jumbo Games about their new iPieces range:
Related Pages: