Gift Gadget Round-up, from FrequencyCast
In response to a listener request, we thought we'd give you some ideas on some top gadgets that you might like to add to this year's shopping list. Kelly, Carl and Pete hit the shops to see what's out there.
Listen to FrequencyCast Update - November 2011 Festive Gadget Ideas
FrequencyCast's Gadget Outing:
Pete, Carl, and guest Kelly went out and about on your behalf looking for some top gadgets for your seasonal shopping list. Here's our audio guide to what we found, plus some photos and links:
FrequencyCast Offers!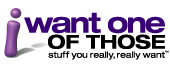 Limited time discount codes for use at gadget store I Want One Of Those:
15% off kids toys: Code KIDS15OFF (Until 22nd November)
spend over £50, get FREE next day delivery with code FREENDD
Spend £100, save £25. code: SAVE25QUID (Valid from 16th Nov to 30th Nov)
15% off gifts for him and her. Code: 15OFFGIFTS (Friday 18th Nov- Midnight Monday 21st Nov).
To take advantage, go to www.iwantoneofthose.com
Top Tech Gadgets
First off, Pete and Carl looked at some of the top gadgets we've reviewed recently, and are in our FrequencyCast studio:
WD Elements Play 1TB Multimedia Drive
Top choice for network storage and media streaming. Connect to your network and store photos, music and video for playback on your HD TV. Available from £110 from Amazon and Currys

Amazon Kindle
Top eBook reader from the online giant. See our UK Kindle Review, or get one here: Amazon Kindle
Helicopters
They're great. We love 'em. Get one with a camera in too, such as the Silverlit Spy Cam Remote Control Helicopter (Available from Menkind). Both Pete and Carl have a Micron Helicopter, which are a good laugh too.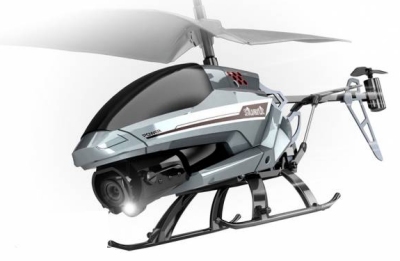 Baofeng UV-3R Ham Radio
One for the amateur radio operators such as our Pete. Get a dual-band 2m/70cm handheld radio for around £30. Full details and a review here: Baofeng UV-3R Review.
SWAP Watch
Carl's personal favourite. He goes on about them often enough. Get a mobile phone in a watch. More: SWAP Watch Range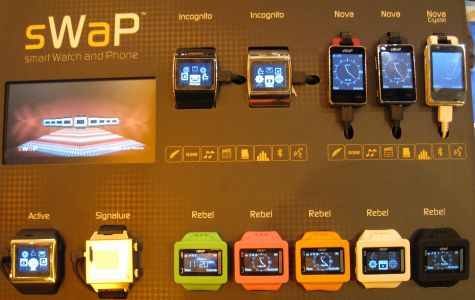 iPhone 4S
This is Pete's current gadget of choice. He's a big Siri fan. Hear our iPhone 4S and Siri review
Hawkins Bazaar
We had great fun wandering around the home of weird and whacky toys and games - Hawkins Bazaar. We found a few gadgets too. Here are the highlights:
Spinsters and Can toy racing car
Spider catcher
Build own crystal set
Carl's toy ray gun
The Giggling Lion
Fairies and Flying Saucers
You can shop at Hawkins Bazaar online at www.hawkin.com and pick up any of the stuff we reviewed in our Update!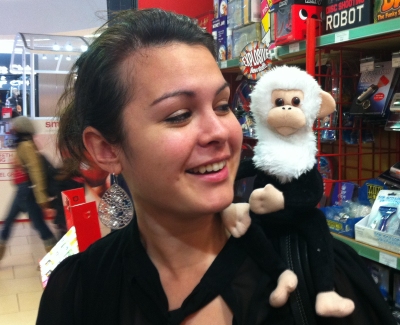 Kelly and her monkey
Electronic Dictionary Bookmark
Ever been reading a book (with long words)? What you need a an electronic bookmark that's a dictionary. Thin, and priced around £17. The Dictionary Bookmark, by a company called IF, is available from Amazon , Waterstones and Gizoo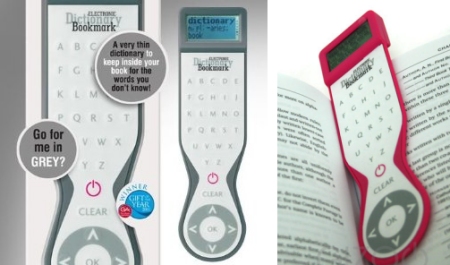 Swarovski Crystal USB stick pen
One for the ladies - Kelly fell in love with the stylish Swarovski USB Pen - a sexy pen that hides a USB memory stick - priced £56 from the Swarovski Online Store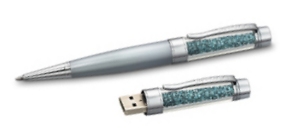 Swarovski USB Pen, around £55 from www.swarovski.com
Menkind - Lads Gadget Shop
We found some truly impressive tech at Menkind. Gadget stuff included:
Vuzi Wrap iWear video glasses - watch your iPod and iPhone videos in private
Spy gadgets, such as the spy camera pen, car key fob, and the watch spy camera
Joke golf balls - Under £3 for gifts that will wind up your family golfing nut
Leatherman tools
Survival kits, for the outdoors person
Paper Aeroplane notepad
Marmite chocolate (It's just wrong!)
Paper watches
World's smallest Walkie talkies
| | |
| --- | --- |
| Vuzi Wrap 280XL Video Glasses | World's Smallest Walkie Talkies |
| Mayhem Spy Video Keyring | Bear Grylls Survival Kit |
| Thumbs Up Spy Watch | The Paper Watch |
Find the gadgets reviewed here
Take a look at www.menkind.co.uk to see their range and to pick up any of the items we covered here!
Our Mystery Gadget
As promised, here's the lovely Kim modelling the talkative little gadget...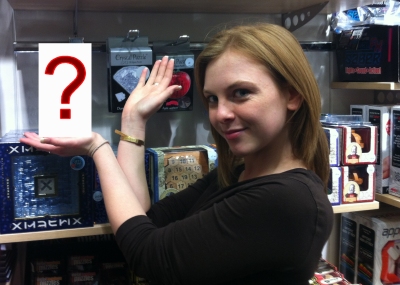 We're sure you can guess what's going on here, but in case you can't - see the Mystery Gadget Revealed
More Top Gadgets
In our December show, Show 70, we looked at three other top gadgets:
Livescribe Echo Dictation Pen

An Ideal present for students and business professionals - this records audio as you write, and you can play back the audio just by tapping on your handwriting. It combines an infrared camera, audio recorder and a speaker. Notes and sound can also be transferred to a computer, where it can be searched and converted to editable text.

See our Livescribe Pulse Pen Review or listen to Show 70 for more.

£91 at the time of recording from Amazon.co.uk.

Wireless Professional Weather Station

Forget those little indoor weather stations that give you temperature and pressure - you can now get a clever professional weather station that logs your garden's weather and uploads live data to the Internet. A great hobby product that's easy to set up, and it great for anyone with an interest in the weather. Check out Pete's weather data at southendweather.co.uk

See our Weatherstations Explored page for a review, or hear us discussing this in show 70.

On special for £70 at Maplin at the time of recording

Gear4 Unity Infrared Remote Controller

Got an iPhone, iPod Touch or iPad? Use your Apple device to control your home TV and video systems. The UnityRemote uses Bluetooth to talk to a special controller. Elegant solution with a free app to set up the commands. A huge bank of remote control codes makes it easy to set up, and this beats many of the more expensive universal remote controls on the market. As discussed in our December show, show 70.

Priced £63 from Amazon.co.uk at time of recording
Listen to FrequencyCast Update - November 2011 Festive Gadget Ideas
FrequencyCast vs Marmite Chocolate
Hands up if you like chocolate? Who doesn't?
Like Marmite? Ahh - hands going down now.
Well, the Very Peculiar Marmite Chocolate is something of a challenge. If you're brave, get some from Menkind - We'd love to know if there's actually anyone out there that find this stuff enjoyable...
| | |
| --- | --- |
| Marmite Very Peculiar Chocolate | Kelly - not a fan! |
More information: