myhome247 Home Monitoring Reviewed
Details of the home security system that lets you keen an eye on your home from your mobile phone
myhome247 Starter Kit:
Back in Show 12, we took a look at the Homesight home security system from Motorola. As that system is no longer available, we thought we'd take a look at an alternative.
We looked at the myhome247 starter kit in show 39. Take a listen to our online review - below are some more notes:
Have you ever found yourself in a position where you want to keep an eye on your house while you're away - perhaps you want to check up on your family while you're travelling, or perhaps you're curious what your pets get up to while you're at work? More commonly though, you'd want a system that would act as a low-cost guard while you're away from home.

The myhome247 starter kit is a great first step into home security and home automation. The basic kit comes with a base station that connects to your Broadband router. The kit also includes a sensor that you stick on your door and a motion-sensitive camera. Hook up the system, and it can notify you when someone opens up your door, or when someone moves around in front of the camera. It can also take photos and video of what it sees, and alerts you to activity.
The whole system is run from a web browser, which means you can access your base station from any browser in the world. You can also control the system from a mobile phone (including the iPhone)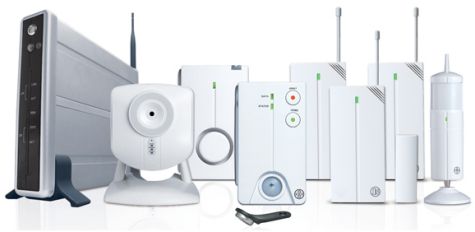 The Myhome 247 Home security system
That's the basic system - but it can be expanded quite cheaply to add a range of extra sensors and gizmos... Other sensors include motion, door/window, temperature and water level. You can also get pan-and-tilt cameras, a thermostat and even a four-camera digital recorder.
Email and Text Alerts
If you sign up to the myhome247 self-monitoring service, you can get the system to email you, or send you a text message, when something happens. With the service, photos and video are also captured, and stored remotely - so that if your base station were to be nicked, the photos of who took it are held securely off-site.
Home automation
Then there's the "macro" feature - again, all web-based. You can set off a series of actions based on events - for example, you could have a lamp switch on, or turn the kettle on automatically when you open the front door (using a special remote mains socket), or you could have a special sounder "chirp" when a door or cupboard is opened, as we demonstrated in show 39.
The system is great at keeping a log of what goes on - a timestamped series of actions are logged - "door opened at 1834", "motion detected at 1835", etc.
Audio review of the myhome247 system
We got hands-on the myhome247 in Show 39. Download the show as an MP3 file, or listen over the Internet, using our pop-up player.
Summary
A flexible system that's a fraction of the price of professionally installed system, and that you can tailor to your needs by adding extra camera and sensors as you see fit.
The myhome247 Home Security Starter kit costs £99 and is available direct from www.myhome247.co.uk
Some photos of the Starter Kit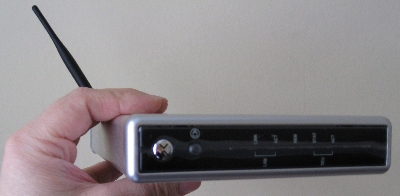 The XG1000 Gateway Base Station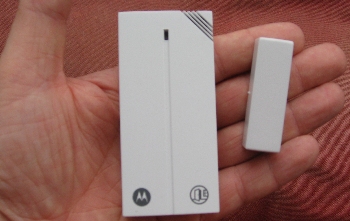 A door sensor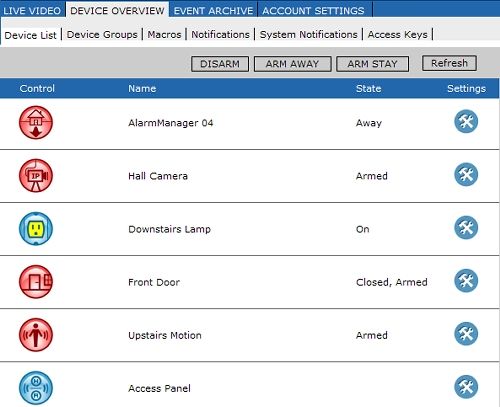 Managing devices remotely from a browser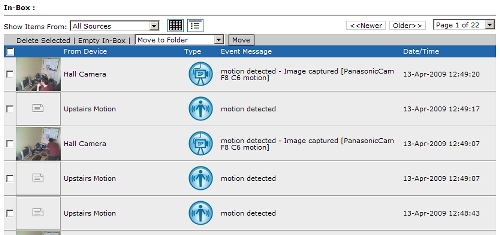 Seeing what's happened - the events list
Got a question that we can answer in our next podcast?
Call 020 8133 4567 or send us a message
Related links: