Homesight Reviewed
We investigate the Motorola Homesight all-in-one monitoring, security and control system... On this page, we look at the UK edition of the "Wireless Easy Start Kit"
We featured a review of Motorola's HomeSight in Show 12.




What is HomeSight?
UPDATE: Sadly, the Motorola Homesight system we featured in Show 12 is no longer available.
If you're interested in a similar system, check out the Wireless Home Security system available from myhome247.co.uk - Check out our myhome247 Starter Kit Review
Our original review of the Motorola system can be found below for reference:
The Motorola Homesight solution is compelling. Buy a starter kit, and use it to monitor your home while you're out - you get a motion-detector camera to capture video of anyone moving about, and a switch that detects when your door is opened. Installation is simple as the system uses wireless technology, and the system links in to your home PC and broadband. You can add extra camera, door switches and other types of sensor, and can get alerts on your PC, over the Internet, or on your mobile phone. Impressive? Well, as the system is only £50... we think so!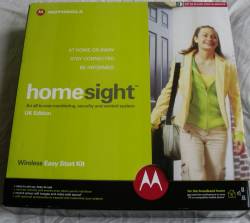 Here's a summary of the benefits:
Easy to set up
Monitor activity (door opening, motion detected, etc) while you're out
Record colour images and video (with sound)
Alerts by email or text message when something happens at home
Add optional accessories to the system, such as more cameras, temperature and water sensors, a keypad and a security siren
An activity log that can be accessed via your PC, or online
On this page, we'll take a look at the system, how to install it, and what it can do.
Getting Homesight
Here's where to get Homesight:
We purchased our Motorola HMEZ2001 Wireless PC Starter Kit directly from MyHome247 for £49.95 - Sadly, this particular version is no longer available, however, see www.myhome247.co.uk for some of their other home monitoring solutions.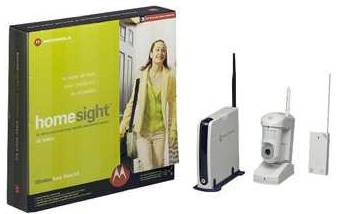 The contents of the Homesight Starter Kit
Installing the Homesight Home Starter Kit
Here are the basic of how to get started with Homesight. We're assuming you'll be starting with the Home Starter Kit:
You need to install the Homesight software onto your PC from the supplied CD
During installation, you're prompted to connect the base station (a.k.a. the Wireless System controller) - this needs to be plugged into the mains, and then into a spare USB port on the PC. Software driver installation picks up the device (ours identified as a SuperXan USBVision).
Once installation is complete, it's a case of starting up the application, and running through the setup wizard. This scans for all supported Homesight devices. The basic kit has a camera and a door sensor. You have to 'discover' the devices so that the system recognises them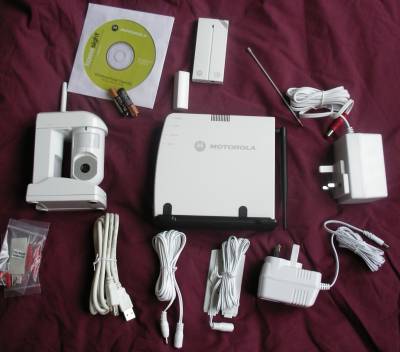 The contents of the Home Starter Kit
Review: Using Homesight
Here's our review on using HomeSight. We installed the basics - one camera and one door switch, and found this wasn't enough - so we got hold of a couple of extras - all reasonably-priced. Items like door and motion sensors are battery-powered, and wireless, so you don't have to run cables or have them near to a power supply. As long as the Homesight receiver is connected to your PC, all of the peripherals in range communicate with the base station, and report that they're happy.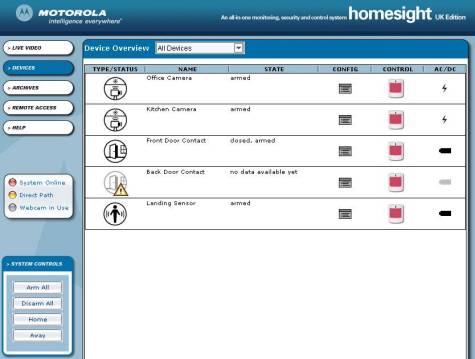 The main Devices page
Each device reports its status, and by default, events are logged - events such as motion detected, a door being opened, temperate changes, etc. You can also set HomeSight to "do" things, such as email you when an event has happened, capture video, or turn on a light (with an optional mains switch).
Obviously, having all activity logged on your PC is great, but not a lot of use if you're out of the house, which is where HomeSight's Broadband connectivity comes into play. You create an online account (which you need to pay for on a monthly basis) and you can not only access your live data from a web browser elsewhere, but still and videos are held on a special server, so can be retrieved if your PC gets nicked.


Events accessed over a webpage
Event notification is excellent - you get a nice log of dull-looking events in the text log: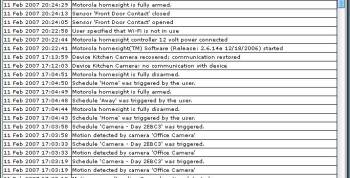 HomeSight Text Log
But you can also get more visually-impressive reports: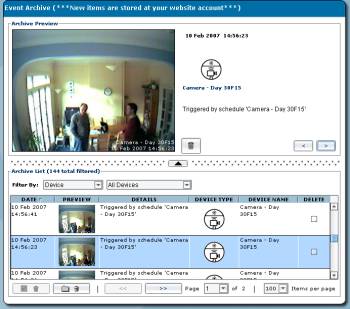 A report on some detected motion
Our Summary?
Great. A cheap way to keep an eye on your home, and the comings and goings. Offers great peace of mind, and is amazingly cheap for what you get...
Wireless Home Security systems are available from www.myhome247.co.uk
Homesight F.A.Q
Q. Is Homesight linked to the police or a monitoring service?
A. No. There is no connection to the emergency services or to a third-party monitoring service. You can set up Homesight to alert nominated mobile phones or email addresses.
Q. I have a home NAS server which doubles up as a Web Server, amongst other things. I can remotely access this from anywhere in the Web. Can Homesight be configured to work with this server instead of the Pay-For monthly service? - Hiro, March 07
A. As far as we can tell, no. The standard software package doesn't have a user-interface for setting up alternative server access. If anyone out there has anything to add, please contact us.
Q. I am interested in having a way to remotely see the cameras from another computer? Can they also be watched by a Palm PDA? - Jorge Enciso, Jan 2008
Homesight lets you access your system remotely using a standard web browser. You don't need to install special software on a remote computer to access your system. We've not tried accessing the system on a Palm PDA, but we've had good results with a Windows Mobile device and an Apple iPhone.

Q. I've lost the disk of the Homesight software. How can I get the software? - Jorge Enciso, Jan 2008
Thee Homesight software is available for download from Motorola Support and from the downloads section at MyHome247.

Q. Do you know when the VISTA drivers will be available for the Homesight 247 please? - Marc Mar 2007
Update. A new version of the Homesight software has finally been made available by Motorola to support Vista. It's available for download from Motorola Support and from the downloads section at MyHome247.

Thanks to site visitor Christopher for providing the following, prior to Motorola's new release: "There is a workaround for Vista Users with powerful machines. Using VMWare or Virtual PC 2007, they can create a Windows XP or 2000 virtual machine, and install Homesight on the virtual machine. Not the best way to do it, but at least Homesight will work on Vista that way! Besides, if mainstream Virtualization is just around the corner, as many predict, you'll be learning about future technology at the same time!". However... We've heard from visitor Pat saying... "Virtual PC does not support USB ports so is not a solution."

Need help with the Vista update? Add a blog comment

Q. I want to keep an eye on my dogs in one room while I am at work? Do I have to pay a monthly charge? - Ray, Mar 2008
With Homestart, yes - to access the service remotely, you need to pay the monthly subscription. However, it may be that there's another, cheaper solution available to you. Consider a wireless webcam.
Assuming you have wi-fi at home, get yourself a wi-fi webcam, and you'll be able to access the camera wirelessly from anywhere with an Internet connection. OK, so you may not be able to use it to alert you of motion, or record video of your home being burgled, but for monitoring pets remotely, they're perfect - you just pay the one-off cost for the camera, then use your existing wi-fi and broadband, so there's no extra subscription to access the video. Pictured here is a decent general-purpose camera, the Wireless IP Camera - this and others are available from maplin.co.uk. More on IP cameras on our Internet Cameras page.
Q. Does the standard camera supplied with the Homestart kit work outdoors?
No. If you're looking for an outdoor monitoring system, consider getting an Outdoor CCTV camera - these are available from maplin.co.uk and can be connected to a standard TV set VCR, DVD recorder or DVR

Q. Does the standard camera work in the dark?
No. If you're looking for an outdoor monitoring system, consider getting a Night Vision CCTV camera. These are available cheaply from maplin.co.uk and can be connected to a standard TV set VCR, DVD recorder or DVR. More on IP cameras on our Internet Cameras page.

We featured a review of Motorola's HomeSight in Show 12.





You can listen online with our pop-up Pod Player, save as MP3 or subscribe via iTunes.