Parrot AR Drone Featured by FrequencyCast
At Gadget Show Live 2012, we took a look at the AR Drone 2.0 from Parrot. You can control this four-bladed hovering beauty from your iPhone and watch live video.
Control the Skies with the AR Drone:
Forget little tiny model helicopters - this is the ultimate airborne boys-toy.
At Gadget Show Live, we had a play with the flying sensation that is the AR Drone v2.0 from Parrot, and in this page, you can hear us discussing the Drone and having a test flight.
The Parrot AR.Drone 2.0 is an advanced radio-controlled quadricopter. It's suitable for operation indoors or outside, and it's loads of fun, drawing big crowds at Gadget Show Live.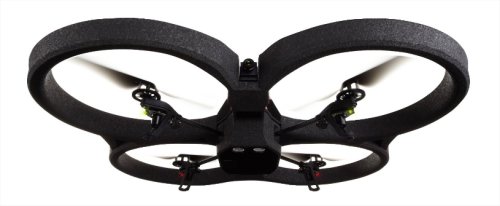 The AR Drone 2.0 is controlled using an iPhone, iPad or iPod Touch. You can steer the AR.Drone 2.0 by tilting a smartphone backwards or forwards, left or right, whilst using the autopilot to take off, hover and land.
We talk to Asif and Stuart about the Parrot AR Drone:
The AR Drone comes with a high-capacity lightweight lithium polymer battery for long flights, plus a mains charger. Best of all, it features horizontal and vertical video cameras for live streaming direct to your smartphone screen, plus a recording facility.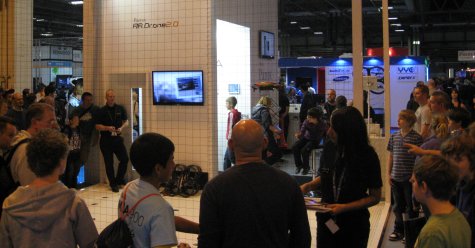 The assembled masses at Gadget Show Live admire the Parrot AR Drone 2.0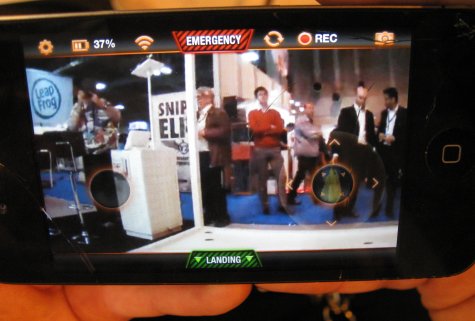 Piloting the AR Drone 2.0 from an iPhone - with live video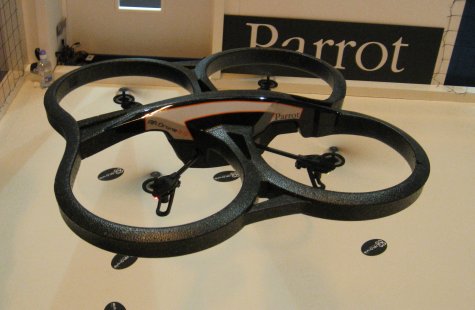 The Parrot AR Drone 2.0 in flight
The Parrot AR Drone 2.0 is available from Amazon
Related Pages: