FrequencyCast Review of 2011
Carl and Pete take a look back at the year that was 2011, and look at the TV and Tech stories that made the headlines, as well as review what FrequencyCast got up to.
Listen to FrequencyCast Show 71 - Our Review of 2011
Our Look Back at 2011:
For Show 71, we look back at the TV and Tech news we covered in 2011. Here's our transcript:
Carl:
Focus, and it's been a busy year. So let's see what we've been up to, or what they've been up to - that's the technology world, of course. Pete, remind me.
Pete:
You're absolutely correct. What we're going to do is take a look back at the last twelve months of tech, and surprisingly 2011 started with January.
Carl:
It was a strange year, wasn't it?
Pete:
And let's have a look at the headlines that we covered this time last year. Well, YouView was set to launch last year, and of course didn't.
Carl:
What was YouView again?
Pete:
Ah yes - YouView is a service combining Freeview with on demand. Allegedly it will launch sometime this year. More on that one later.
Carl:
Okay, and what else? I'm sure January had more than that to offer us.
Pete:
Well, it offered us this.
(soundtrack, laughing)
Carl:
Oh yes - Angry Birds! Over half a billion downloads, to be precise.
Pete:
And the plush toys came out in January, there you go - we interviewed one last January. What else - eBooks, the sale of electronic books outstripped paper books for the first time, according to Amazon.
Carl:
So that's the Kindle, and also, was it the Kobo that's come out? - or the comb-over? - I don't know, something like that.
Pete:
And of course the Sony Reader. And Bravo, that lovely lads' TV channel, ended after 25 years, when it was sold to BSkyB, so no more Bravo this time last year. Also Channel One, which was another one owned by Sky, that went as well fairly shortly after.
Carl:
So February, Valentine's Day and Vodafone.
Pete:
Yes, Vodafone fell over for a percentage of southern England, after somebody broke into their Basingstoke data centre, meaning their services were off for a little while. Sky launched Sky Atlantic, which is their new US TV channel covering HBO, and the iPlayer came out for the iPad. Also, on Freeview, a new channel called TBA launched.
Carl:
Yes, To Be Announced.
Pete:
And here we are, nearly a year later, and it hasn't been. There you go, that was February. What do you think comes next?
Carl:
Well, March, and that's all about the Nintendo 3DS, wasn't it?
Pete:
Yes, the first 3D games console without the need for glasses launched. We will be coming back to that one later in the show, so don't touch that dial.
Carl:
So what happened with Lord Sugar? What was he hired to do?
Pete:
Well, we've already talked about YouView being delayed. They got Lord Sugar in to kick some bottom, and get YouView back on track. Here we are, just over a year later, and still no sign of a launch date for YouView yet. I wonder if anyone's been fired?
Carl:
Well, thank you for the opportunity, Lord Sugar.
Pete:
We also got hands on with a disposable camera back in our March show. Do you remember that one?
Carl:
Crack the Kinder Egg open.
Pete:
Right.
Carl:
Yeah, I didn't want that thumb ... didn't want that finger.
Pete:
Did I get you?
Carl:
Yeah, we're doing fine - there's blood everywhere, don't worry. Get a paramedic in, we'll be fine.
Pete:
Okay, so what we've got is a bit of broken plastic. That's presumably the counter, so that counts your one to 40, a little wheely thing there. And that's the push button mechanism, such as it is. Funnily enough, it doesn't work anymore.
Carl:
And that's a spare bit of metal. Ouch, look at my finger!
Pete:
And we got hands on with the new BT Home Hub 3, their little gadgety thing that does all the internet and streaming stuff.
Carl:
Wow!
Pete:
Here's a little clip of us playing with the Nintendo 3DS that we mentioned earlier.
Carl:
So we've got 3D movie, we've got Star Wars, we've got a camera there, 3D sound - good grief, what does that do?
Pete:
In your hand, who have you got dancing around your hand?
Carl:
Mario! - how did you do that? Oh look - and if I move my hand this way, you can see around him. I can look at the top of his head. That's really clever. What happens if I press this button?
"Mario!"
Nick:
It gave the game a different element but it wasn't essential to game play. It didn't make the biggest differences, but it was impressive.
Alex:
The 3D makes it look a lot more interesting, and when you pick things up, it looks like it's coming at you. It allows you see things a lot differently than it would in a normal DS.
Katie:
It's very different, and I think it's just so clever - there's nothing like it.
Carl:
Lovely stuff - what a great game! It was really clever, wasn't it? It does your eyes in a bit. What did we do in April? Didn't we cover threats to the BBC and local radio or something, wasn't it?
Pete:
Yeah, that was the first time that we heard that the BBC were considering making some drastic changes to local radio, which still look on the cards, which is a bit unfortunate. We also saw BBC7, that comedy station, being renamed to Radio 4 Extra. Also in April, the launch of Google +1, which is the rival to Facebook's like button.
Carl:
Oh, PlayStation network hacked as well, wasn't it?
Pete:
Yep, lots of people lost their user names, passwords and credit card details, after the PlayStation network was hacked. And of course, where else did we go in April?
Carl:
Mmm ... let me think now. Was it a stripper show? - oh no, it was the Gadget Show!
Pete:
Spot on - we saw some lovely folk from places like Neurosky, Fanny Wangs - remember them?
Carl:
Nice cans.
Pete:
Steadicam, sWaP watches, Brasso - all sorts of places. Here are a few extracts of our fun and games up in Birmingham, starting off with the gorgeous Polly, who's just lost her Wikipedia page.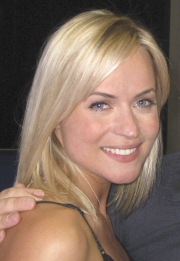 Carl:
Save Gadget Polly.
Polly:
Well, you are at Gadget Show Live! It is, of course, that time of the year again - very excited this year; we have got big halls, it's getting bigger and better. I must admit, it's great to see you guys.
Pete:
I'm talking to Peter from sWaP - hello there.
Peter:
Hi Pete - how are you doing?
Pete:
Very good, thank you very much. And you have reason to celebrate, I understand?
Peter:
Yes, we're very happy. We've just officially been given the world record for the lightest touchscreen mobile phone in the world by Alexander from Guinness World Records, who was our adjudicator for today.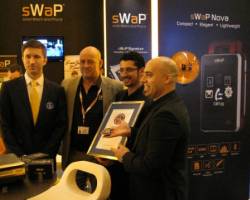 William:
This is the latest tablet product from Lenovo - it's the IdeaPad S1. So it's an Intel-based tablet with a Microsoft operating system. It's also pressure-sensitive, so if you press it harder, you know it will be a thicker line; if you press it lighter, it will be a thin line.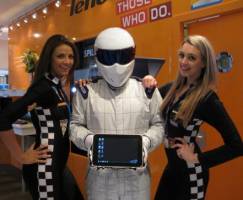 Carl:
I'm talking to R2D2. Do you come here often? Thank you very much for your time. I hope you enjoy your time here, and I'll see you again soon.
R2D2:
(wolf whistles)
Dan:
The Steadicam Smoothee is borne from the larger Steadicams that we use in the Hollywood range, and it's currently balancing an iPhone 3GS. Anybody that finds an excuse to film something, this is going to help them get that great footage.
Tara:
The Steadicam Smoothee - it's very smooth.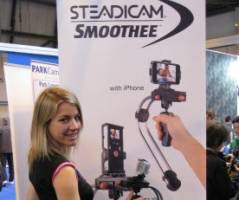 Clive:
It's a vacuum cleaning robot which allows you to vacuum your rooms in your house without you actually being there, in some cases.
Carl:
Hold on a minute - I'm almost completely redundant. I'm really impressed. How much does this thing weigh?
Clive:
They're about six kilos.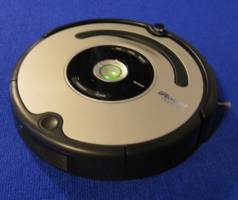 Brasso man:
Gadgetcare's completely non-abrasive. It contains anti-static as well, which helps prevent dust, and the silicon in it also helps to fill in the cracks that have come up on your gadgets.
Carl:
It has that lovely Brasso smell.
Brasso man:
This is a slightly different smell to the old Brasso, but it's still quite sweet, that individual smell.
David:
We're measuring Carl's EEG. His retention level was in sort of the bottom third.
Kelly:
I think he's a lost cause, in all honesty!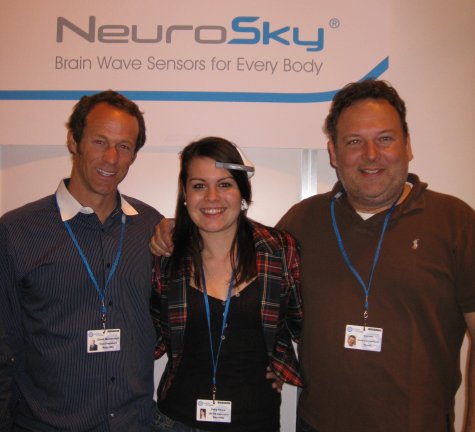 David, Kelly (with headset) and Boris at the NeuroSky stand at Gadget Show Live 2011
Brendan: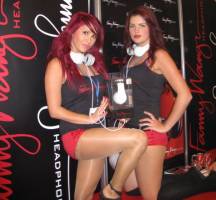 So even though they're not active noise cancellation, they do block out all the background sound, so even if you're listening to them in a very noisy environment like here at the Gadget Show, you can still get immersed in your music.
Carl:
So once again, girls - what's the name of this company?
Girls:
Fanny Wangs.
Pete:
And if you're up for going to Gadget Show Live 2012, tickets are almost sold out, so don't hang about.
Carl:
Okay, now straight onto May, and we all like May, because you get a bank holiday.
Pete:
May was a busy one - that was when Apple had their first major problem of the year, where it was discovered that iPhones were holding loads of data about where the phones had been, and they had to rush out a patch to get rid of that little security loophole.
Carl:
And what about the FA Cup Final in 3D?
Pete:
You're reading my notes quicker than I can. Yes, FA Cup in 3D at pubs across the UK, and of course on the Sky 3D channel. We also caught up with Plusnet to have a good chat about the future of the internet - more on that in a second; and we looked at the internet bubble - remember that one?
Carl:
Yeah - wasn't that some kind of insurance policy, or something?
Pete:
No, this was the concept of people being alienated by the likes of Google, and finding their searches were edited and trimmed. Here is a little reminder of the internet bubble.
Eli:
In a broadcast society, there were these gatekeepers, the editors, and they controlled the flows of information. Along came the internet, and it swept them out of the way, and it allowed all of us to connect together, and it was awesome. But that's not actually what's happening right now. What we're seeing is more of a passing of the torch, from human gatekeepers to algorithmic ones. The thing is that the algorithms don't yet have the kind of embedded ethics that the editors did. So if algorithms are going to curate the world for us, if they're going to decide what we get to see and what we don't get to see, then we need to make sure that they're not just keyed to relevance. We need to make sure that they also show us things that are uncomfortable, or challenging, or important. This is what TED does, right? - other points of view.
Pete:
A warning there to us all from Eli Pariser at TED.com.
Carl:
Right, and that takes us straight into June, which was IPv6 Day - tell me more.
Pete:
Well, the IPv4 addresses that we all know and love, the one, two, three dot, four, five dot, one two, dot, one two three type addresses, they're going to run out, and IPv6 day on 8th of June was the first experiment in the new format of addresses. We caught up with Richard Fletcher from Plusnet, who told us more.
Richard:
Basically, the number of possible addresses are running out. In order for the internet to continue to grow, the internet community needs to move to this new standard, this IPv6 standard, and we are about to start our transition before IPv4 runs out, so we can look at what needs to be done and test all of our systems, and so on.
Carl:
And of course, in our December show, we found out how IPv6 went.
Pete:
Yes, leaping forward six months, here's a quick extract of our chat with Bob from Plusnet.
Bob:
It went well. The network performed as it should do. My IPv6 connection certainly worked, which is more than I could have hoped for really. We had some novel uses that our customers put out there, one in particular being an IPv6 cat feeder.
Pete:
Also in June, we covered the threat to Freeview from 4G, which is still expected next year.
Carl:
Yeah ... remind me about, what was that threat, exactly?
Pete:
Well, with the switchover finishing later this year, part of the spectrum's going to be freed up and flogged off to 4G mobile phone companies. The problem is, people have still got TV aerials and masthead amplifiers capable of receiving signals in that frequency band. So in 2013, when the 4G services start, people will be sucking in mobile phone signals into their TV set, and there is a very real danger a good percentage of people are going to start losing their Freeview channels.
Carl:
Hmm - that's not good.
Pete:
More on that back in last June's show.
Carl:
Mmm - anything else in June?
Pete:
Well, the BBC launched a Scottish TV channel on Freeview, BBC Alba, which meant the demise of a lot of BBC radio stations, which didn't please many people north of the border. Also, the on demand service SeeSaw, which did TV shows over the internet, started to wobble, and the thing finally staggered to a close at the end of October.
Carl:
Well, lots going on there. What about July? - take me to July.
Listen to FrequencyCast Show 71 - Our Review of 2011
More information: