FrequencyCast Show 68 Transcript
For FrequencyCast Show 68, we look at the Prospero satellite, gameplay with OnLive, the Nintendo SlidePad, BT Vision's facelift, eBook Readers, Partridge, and Air Swimmers. Here's our transcript.
Listen to FrequencyCast Show 68
Show 68 Transcript:
Here we go with the audio transcript for our October 2011...
Carl:
So before we launch into what we're talking about in today's show, Pete, just tell me - what's this satellite thing all about?
Pete:
Well, this is a little bit of British history here. When all the countries were launching all their satellites and starting space programmes, we got involved, and in 1971 we launched something called Prospero X-3, which was our first British-made and British-launched satellite, and it made us only the sixth nation to get in orbit.
Carl:
So who was the first? - the Americans with Telstar?
Pete:
No, back a bit further - Sputnik, for the Russians.
Carl:
Bless you.
Pete:
So the full story here, this launched in 1971, and it was officially deactivated in 1996, but the signal was still audible ten years later, as long ago as 2006. Now, what they're trying to do is revive this and get it going again, but the problem is, everyone involved in the project is no longer with us, and they couldn't find the paperwork, because the department has been disbanded. The good news is, on the back of a piece of paper at the National Archives Office in Kew, they have found the magic pin number. So later this month, it could be the 40th anniversary, reviving this satellite.
Carl:
Well, this sounds like it's all for nostalgia - I mean, a 1971 satellite? What's it going to do? - send us the BBC in black-and-white?
Pete:
Now, if anyone's interested, it is apparently able to be received on a certain frequency. Now, shall we just give this a try? - get my scanner out over there?
Carl:
Ah, the frequency is 137.560MHz.
Pete:
Go on then, let's give this a go - get my little scanner out here, here we go: 137560 ...
Carl:
"This is the BBC ..."
Pete:
No.
Carl:
It sounds like they're broadcasting in Squelch.
OnLive Transcript
We've given our review of OnLive its own transcript page...
Part Two Transcript
... Transcript continues
Pete:
Well, next up we are talking about an online service. We're talking about Google+, which is of course the rival to Facebook. It's been an invitation service now for a little while. We've been using it, but now they've opened it up to a wider audience. So Carl, do you Google+?
Carl:
I've heard of it, but I haven't played with it.
Pete:
Okay, now one of the big problems I've found, I've been on Google+ for a couple of months now, and we have a FrequencyCast Google+, but we're finding it very difficult to actually find people. Let me just show you the interface. I'm doing this on a smartphone. What do you think to the interface there?
Carl:
It looks a bit basic - there's only five icons. You've got Streaming, Huddle, Profile, Photos and Circles.
Pete:
So Huddle is where you can all get together and share stuff, and Circles, if you go into Circles, you can see all of the different groups, so you might have a circle of friends, a circle of colleagues, a circle of listeners, and there's the few people I've got signed up - not that many, you can see there.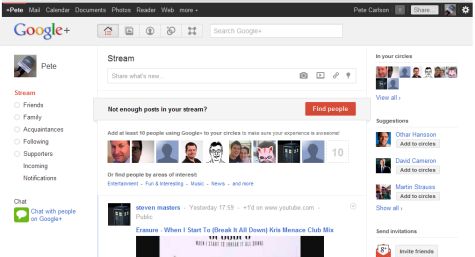 Carl:
No, that's not very impressive for you, is it?
Pete:
I've got loads of Facebook friends, but not that many on Google+. Now, it sounds like Google is ramping up their effort, and what they've announced is, they're closing down ten of their services to free up staff to go big time on Google+.
Carl:
Ah, so they're sending out more footman to make sure the combat's better.
Pete:
That's about the size of it. So they have announced, as part of what they're calling their "fall spring clean" (fall being the American autumn).
Carl:
Not "fool", then?
Pete:
Not April fool, no. So they're having a spring clean, and they're ditching services like Google Desktop, Google Side Wiki, Google Notebook and Google Web Security to free up resource to get Google+ really out there into the mainstream. We've also just heard that the developer APIs for Google+ are out, which now means third parties can come in and start making applications and add-ons and the like.
Carl:
Fantastic!
Pete:
Just before we leapt into the studio, we put out a quick tweet to find out how many of our lovely listeners out there are indeed Google+-ing, and not a particularly positive response there. Paul Gulliver says, "Do I use Google+? - no." Scott McSweeney-Rober, I think that is, says, "I use Google+, but it's getting quieter and quieter." Select Performer says, "Hey guys - are you on the big G+? I've been using it for a few months, and love it. Most of my thoughts are about Google+ on Google+." Paul Stone says, "Not using it, but I'll have an invite, if you've got one." And James Dunford says, "The quality of posts and of the people I follow is of a highbrow level on Google+. I feel I should wear a tie."
Carl:
Oh, I see - so it's an upper-class service, is it. [speaks in received pronunciation] "I say, we only speak the Queen's English here!"
Pete:
Also, Mark Webb says, "No, I won't be using it. I didn't even get an invite."
Carl:
Obviously not a regular party-goer.
Pete:
Right, Carl - what's next?
Carl:
Well, as you're talking about Google and Facebook, let's talk about BT and their facelift.
Pete:
Ah yes - BT Vision, the on demand TV service via BT, as we reviewed a few shows ago, has had a bit of a facelift, and if you switch on your BT Vision box now, you should notice the old layout has gone, and a new one's come in.
Carl:
It's still got the icons on the left-hand side and there's a BT Vision logo on the right, so it was all worthwhile.

Pete:
Just a quick summary of what's changed - the menu backgrounds used to be transparent, but they've now gone to a grey colour. The on demand menu had a new entry called Box Office. Some of the bugs, particularly the pre-padding and the HDMI lip synch issues, have now been resolved. It's now easier to delete bulk recordings, and also the main menu has a new, Try This, Games and Messages menu option.
Carl:
Well, it sounds like a well worthwhile facelift to me. Now, you're going to tell me about this new thing for your handheld Nintendo Gameboy-stylee thingy wotsit. What is the latest one?
Pete:
This is the Nintendo 3DS, the first 3D games console that you don't need glasses for. We covered this a few shows ago. Unfortunately, it's not selling very well, and Nintendo have dropped the price and all sorts of things to try and stimulate sales. What we've now found is, they're about to bring out this thing. Just give us a description of that, Carl?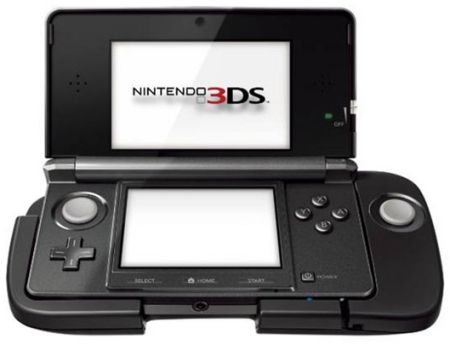 Carl:
It looks like an extension hand thing, really. It goes around the base of the unit, where all the control functions are, but it increases the size of the actual hand-held part, and it kind of docks into it, doesn't it? It's a bit like a moulded piece of large plastic. You've got two - what would you call this? - a softpad joystick thing?
Pete:
I think they're called the analogue sticks, and effectively what you've now got is the one that's built into the console, the left analogue stick, and a new right one, which is apparently better for things like first-person shoot 'em ups.
Carl:
Oh, I see - more convenient gameplay.
Talk to me about the next generation of eBooks? - we had the Kindle, we did the Sony one ... I like the Kindle the most. What's going on with Waterstones? What are they trying to do?
Pete:
Waterstones are desperate to get in on the action. They've realised that books are beginning to die out, and of course their sales are being impacted, and more and more people are going onto eBook readers such as the Kindle. They will be launching their own, due out in spring next year. No idea on the price, or how it's going to work, but they have apparently been looking at what Barnes & Noble do in the US. They have a thing called a Nook.
Carl:
And a Cranny?
Pete:
And apparently, when you go into a Barnes & Noble store, you can actually read books for free while you're in the store on their product. So that could be something we see coming to Waterstones next year.
Carl:
So they're making their money by selling coffee?
Pete:
What I would say, while I'm here talking about eBooks, I'm going to have a quick rant, if I may. Can I do that?
Carl:
I've never stopped you in the past. In fact, you've never stopped in the past.
Pete:
Who's this chap here?
Carl:
Alan Partridge - aha!
Pete:
Well, his autobiography, "I, Partridge", will be out by the time you hear this. Now, I've got my tablet device in my hand here, and I've dialled up the appropriate Amazon page. Now, if I wanted to buy the physical paper copy of his autobiography, how much would I be paying for that?
Carl:
Well, that would be £10.19, please, sir.
Pete:
Right, now what if I wanted the eBook version? Now, bear in mind, there's no printing, no paper and no postage. How much would I be paying for that?
Carl:
That would - oh, hold on a minute - that's not half the price, that's more! That's £12.99! Good grief - why?
Pete:
Yeah, surprisingly, £2.70-odd more expensive to get the electronic version than the paper version. Cashback for Partridge publishers, methinks?
Carl:
Yeah.
Pete:
Right - would you like an Air Swimmer?
Carl:
Obviously - who wouldn't? Hold on a minute - I'll get my trunks on.
Pete:
I'm just going to go to YouTube, and show Carl a video clip. Tell me what you're looking at now.
Carl:
Oh, how cool's that? Do you know what - I've seen these. Right, okay - so these are like those airships that you get, which are huge, helium-filled balloons with motors on the front, but these are better still. There's Finding Nemo meets Bruce: "Fish are friends - not food!". Now, how cool's this? - there's a shark swimming through their living room!
Pete:
This is amazingly cool - a remote-controlled inflatable shark or clown fish.
Carl:
Ha ha - have it swimming around an office building. Oh, he's cool!
Pete:
I like that - the lift opens, and one of these fish just swim out of the lift, and the look on the faces of people here. Where are they now?
Carl:
Now they're in the Underground, or on the subway.
Pete:
There you go; so, would you like one of these Air Swimmers?
Carl:
I think there's a lot of potential here. You can have them swimming outside a swimming pool. They should put them in a swimming pool environment - that'd be quite funny, wouldn't it?
Pete:
Go on then - how much do you reckon for one of those, either the shark or the clown fish?
Carl:
I reckon they're about £50.
Pete:
Yeah - not too far off, £40 - that's all they are. The only downside is, you have to buy helium to keep them up in the air, so it is going to cost you to keep this thing inflated. But how cool?
Carl:
Air Swimmers - I do like the tail action. The tail is actually motorised, and goes from side to side.
Listen to FrequencyCast Show 68
More information: