SlouchMat Mouse Mat Featured by FrequencyCast
At Gadget Show Live 2012, we spoke to Nuala Lewis about her marvellous mousemat, the SlouchMat. Using a mouse in your lounge will never be the same again. Here's more on SlouchMat:
Why your couch need a SlouchMat...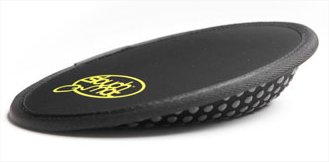 If you've ever tried using your laptop on your lap - you'll know that controlling your mouse is a tricky business.
At Gadget Show Live 2012, we found a solution to balancing a mouse on your leg, or using a fiddly laptop touchpad. The future of lazy mouse management is here!
We're rather impressed with this nifty solution, As you'll hear from the interview, this is a product design to solve a particular problem - that of using a mouse on a surface other than a desk, and where a traditional mouse mat won't work.
Take a listen to find out more about how the Slouchmat was designed and developed, and whether this could be the product for you
We chat to Nuala Lewis about her creation, SlouchMat: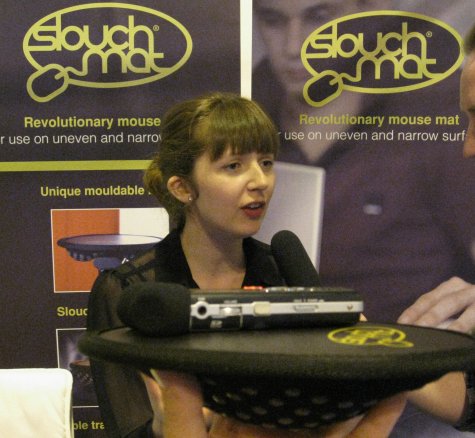 We interview Nuala Lewis, creator of the superb SlouchMat
Slouchmat Review
The Slouchmat is a well-made and well-designed concept. Using top-secret balls in a material that's designed to grip firmly to the arm of your sofa or your leg, this gives you a smooth surface for your mouse and solves a problem with style.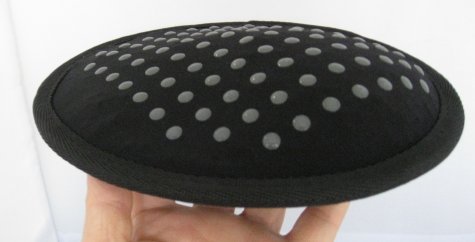 Admiring the bobbles on our Slouchmat
The Slouchmat is available online for under £15 from Scan Computers or you can find out more at www.slouchmat.co.uk
Related Pages: