TomTom Go 1000 Live Review Transcript
Our first look at the new touchscreen TomTom Go 1000 Live. Here's a transcript of our hands-on test drive of TomTom's flagship satellite navigation device.
Listen to FrequencyCast Show 57 - TomTom Go 1000 Review
Hands-on with the TomTom Go Live 1000:
Transcript of our review from Show 57
Follows on from our Apple TV Review
Pete:
Next, new sat nav time.
Carl:
Ooh, your favourite. How many of these have you got now?
Pete:
I think I'm up to five, if you don't count the one on my phone.
Carl:
I'm surprised you still manage to get lost, but you do. So what's this new one?
Pete:
This is the TomTom Go Live 1000. It's just out, and the big change is the screen. They've added a proper touch screen, what they call their fluid touch screen. This has got a 4.3" touch screen, and as you can see, if I go into a map here, you can do a very iPhone thing - you can sort of zoom in and zoom out with two fingers, and drag the map around.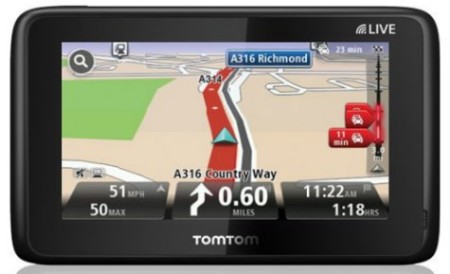 Carl:
Nice - so you're quite pro this one, then?
Pete:
Well, before we dive in, let's play the recording of our road test that we did a few nights ago.
Carl:
So here we are on a dark, cold and stormy night, sitting in Pete's car in the middle nowhere, a darkened car park. You always take me to the most romantic places. What's that in your hand?
Pete:
OK, this here is the new TomTom, the Go 1000.
Carl:
Oh right, OK. It's a smaller device, it's not so clumpy, so almost a flat screen. Yeah, I'm liking the improvements.
Pete:
Right, let's get this connected. Now, this was how the old suckers used to be. So looking at the old TomTom 9300 there, you'd have a little sucker on the windscreen, and that would slot into the back.
Carl:
Right, yeah - I see what you mean, OK.
Pete:
Now the new one, we stick this on the screen, like this.
Carl:
And it's magnetic! - nice. Well, that looks a lot slicker, doesn't it?
Pete:
And to take it off, it's just a quick ... on and off.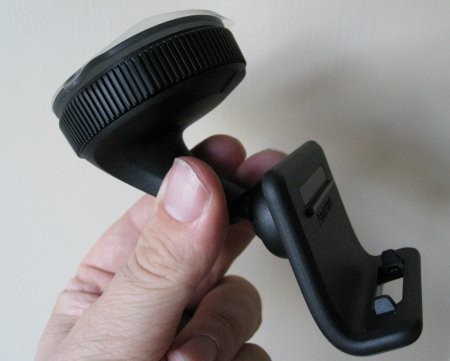 Carl:
Oh, I like that.
Pete:
Right, let's give this a go - let's try setting in a route here. Navigate to, and here we've got all of the home, favourite address, recent destination, local Google search (which is quite nifty), point of interest. So let's try a spoken address, and Carl, I'm going to get you to do this - something like 10 Downing Street's always a good one?
TomTom:
"Please state city."
Carl:
London.
TomTom:
"City of London. Please state street."
Carl:
Downing Street.
TomTom:
"Downing Street. Please state house number."
Carl:
Ten.
TomTom:
"Ten".
Carl:
Done.
Pete:
And it says, "Warning - your destination is on a toll road." There we go, so that's one hour and four minutes from here.
Carl:
Well, that's good. And what's that flashing light there?
Pete:
That is showing you live travel data. Now I don't know if you remember, the old TomTom, on the bottom here, there's a little socket, and you'd have to plug in an aerial.
Carl:
Oh yeah.
Pete:
So this actually has a mobile phone built into it. It's getting live traffic information straight off the mobile phone network.
TomTom:
"Retrieving traffic information. Roadworks on the A1203 between Poplar and Tower Hamlets 49 minutes from here."
Pete:
There's also a nice little touch here, as you can select the weather at your target destination as well.
TomTom:
"Weather report for today: partly cloudy. Maximum temperature: 15 degrees Celsius. Minimum temperature: 10 degrees Celsius."
Pete:
OK, shall we go for a little drive, and see what it does?
Carl:
Definitely. So, off we go.
TomTom:
"Take the exit."
Carl:
Smooth driving.
Pete:
I'm going to go off map here a little bit. Let's just try a hard left here, and see if it recalculates?
TomTom:
"At the end of the road, turn right. Turn right, then you have reached your destination on your left."
Pete:
And there you go - what do you think? Useful?
Carl:
Very good, and an improvement, which I didn't think they needed to do.
Pete:
From that, you'll gather I was, at the time, quite pro it. I had to do a long journey at the weekend, and I found this touchscreen really annoying. If you actually - let me just try and do this. If I'm trying to find an address, let me just see if you can do it actually. Go into Address for me.
Carl:
Address - done.
Pete:
Now, type in Bristol for me.
Carl:
Bristol - B, r, i, s, t, o, l. OK.
Pete:
Oh OK - your typing's better than mine. OK, just accept Bristol.
Carl:
Which button do I press now?
Pete:
Just tap the word Bristol.
Carl:
Oh, right.
Pete:
You picked the wrong one, didn't you?
Carl:
No?
Pete:
You did.
Carl:
Did I press the bottom one then, did I?
Pete:
Yeah.
Carl:
So it's a little bit tricky to do the touch sensitive stuff, and if you're driving, that's even worse, isn't it?
Pete:
Exactly. So I found this screen not particularly responsive. Now I was in North London, and I had to type in an address as I was driving. Now OK, I was stationary, before anyone complains. So I was at a set of lights, and I changed the thing, and I just couldn't get the town right, because it just wouldn't take it. I finally got it, and everything I wanted to do, it just was annoying. I put in the route, and it said: "Hello - you've never been here before. Would you like a tour of how to use this feature?" No - I want directions! And then it said: "Would you like to subscribe to our Live Map service?" No - I want to drive to where ... and then it had cleared the address that I'd typed in, and I had to go through it all over ... oh man, I was so frustrated with it.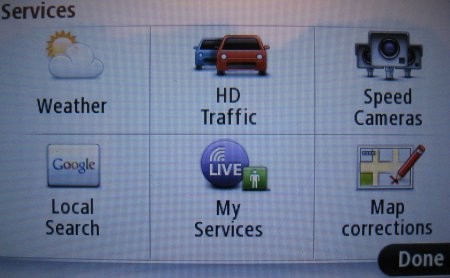 Carl:
You know what you want to do with it, don't you? - put it in the back seat, then it can be a proper back seat driver.
Pete:
Having said that, its actual navigation, when you're driving, it's a lot faster and a lot more responsive, and it's actually a very well thought out UI. It's really nice to use when you're driving, but if you actually want to put in a route and change your mind, it is a little confusing.
Just want to run through some of the other menu options - you can view the map, plan a route. You've also got Google local search, so you can search near you, which is quite nice, and again this is all doing this wirelessly over the air using a mobile phone service.
Carl:
Hang on a minute - do you pay for that? Or is this like a Kindle?
Pete:
This, for the first year, is subscription-free. After the first year, you do have to pay an annual fee to get this live travel information and the live Google search.
Carl:
Oh, I don't like that - how much?
Pete:
It used to be a lot more expensive. They've actually decided to package it in a one-off yearly fee, and it's £48 a year.
Carl:
It's still a lot of money. Mind you, if you are actually travelling around a lot, that's your job - I suppose it might be worth it. Now, you've said people weren't happy about this model - what are the things they've brought up?
Pete:
Well, what they've actually done is they've made a couple of fundamental changes, so there's some changes to the operating system. The old ones, when you hooked them up to a PC, there was a piece of software called TomTom Home, and you could actually open it up as a drive, like you do when you plug other devices into your computer. So you could actually use it as a file transfer thing. You could copy files onto it, particularly things like mp3 files, which would mean you could listen to music in your car from your sat nav.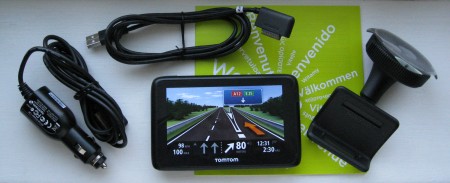 Carl:
Right - that's a nice touch.
Pete:
Now, they've done away with that. They've now got a thing called TomTom Home 3, and basically everything's done over the web. So you can't plug this in and use it as a filing system any more, and it isn't an mp3 player.
Carl:
OK, right - what else is wrong with it?
Pete:
Well, I can't make it read out street names. It will say, turn left onto the A1, but it won't say, turn left onto Smith Street. I can't find a way of making it do that, maybe it's not supported yet. But there's a service out there called Pocket GPS - a very good website, and they offer a subscription service that gives you speed cameras. So it's actually people out there in the field, getting speed camera information, and then make it available as what's called a POI - point of interest. Now this machine has a closed system, which actually means you can't install that database.
Carl:
So you don't actually get up-to-the-minute speed camera information, unless their people have done it, yeah?
Pete:
Correct. There's a list of bullet points here, Carl. Can you run through each of the features, and I'll tell you how well the new TomTom supports it?
Carl:
Right - speed cameras.
Pete:
OK, so it does have a speed camera database. However, updates are not yet supported.
Carl:
How about fuel prices?
Pete:
"The fuel price service is no longer available as part of the Live service."
Carl:
That's a bit annoying, because that can actually gauge where you stop off for petrol on your journey, doesn't it? How about backing up?
Pete:
"Currently, this function is not available for your device."
Carl:
Adding POIs?
Pete:
"Currently, this feature is not available on your device."
Carl:
Purchasing maps?
Pete:
"Currently, this functionality is not available for your device."
Carl:
Downloading voices?
Pete:
"Currently, this functionality is not available for your device."
Carl:
Map share corrections must be alright?
Pete:
"Currently, this functionality is not supported on your device."
So you're getting a pattern here. There's a whole bunch of stuff that is not yet supported. It's all coming soon, but at the moment the one that they've pushed out to the market has quite a few limitations, and really we're all waiting for some software patches. So it's fine as a basic sat nav, but any of the update services and things like back up, which is pretty important, at the moment aren't supported, and that list I've just been reading to you is straight off the TomTom website.
Carl:
OK, how much?
Pete:
The TomTom Go 1000 - £240, and we'll add some pics on our show notes.
The TomTom Go 1000 is available online from the following suppliers:
Carl:
Let me ask you one other question: is it you that goes ... "Stand clear of the doors."
Pete:
"Item number 247 to your collection point, please."
Next: Spy Keyring Transcript
Listen to FrequencyCast Show 57 - TomTom Go 1000 Review
More information: