Hands-on with the SWAP Watch Active
We get the latest mobile phone watch around our wrists to review the sporty SWAP Active from Dyal.
What is the SWAP Active?
We reviewed the original SWAP Watch in 2008. The 'Active' is the latest in the line of watches with a mobile phone, camera and media player built-in.
Just so you know, SWAP stands for Smart Watch and Phone - on this page, we'll explain why it's so smart.
The SWAP Active is supplied as a network-unlocked mobile phone watch without a SIM - It'll accept any UK SIM (except 3). Need a SIM?
The SWAP Active supports SMS and MMS messaging, audio and video playback and recording, Contacts, Calendar, WAP and a basic eBook reader.
The SWAP Active is supplied with a stylus that slots into the strap to operate the touch screen, as well as a Bluetooth headset for hands-free calling (in case you find the idea of talking into your mobile too embarrassing). It has a USB for PC connectivity and charging.
UK Availability:
The Dyal SWAP Active watch launched in the UK in February 2010. Below is a list of UK suppliers:
Know a supplier? Contact us
Dyal SWAP Watch Active Review
SWAP Watch - Audio Review
Listen to our 15 minute audio review of the SWAP Watch and SWAP Watch Active. Download the MP3 file, or listen online using our pop-up player.
The original sWaP watch is an amazing bit of kit, and the new sporty 'Active' version has taken the original retro look to a more contemporary image, all nicely packaged in a box suitable to give anyone as a gift with substance.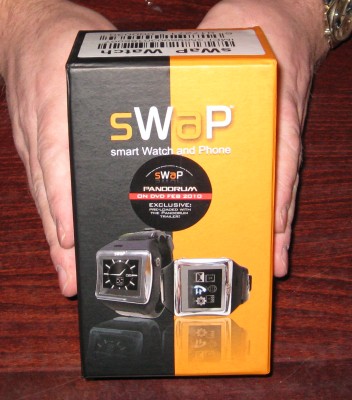 Those familiar with the original SWAP Watch will notice a number of changes, including user interface updates, and some design changes such as a silicon strap (with a slide-in telescopic stylus), quick release battery and an overall lighter weight.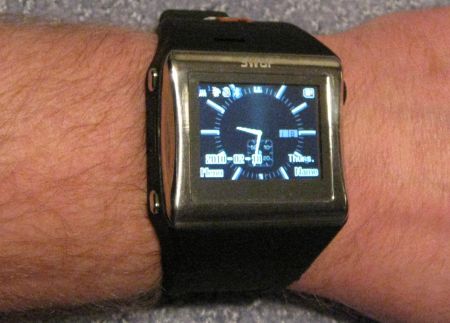 SWAP Watch: The Hardware
First off, the aesthetics. It'd be unfair to call the Active a 'sports' watch due to the fact that this sort of technology would be incredibly hard to make both shock resistant and water resistant while maintaining current functionality. There are several aspects that are tricky to make truly waterproof, such as the on-board speaker and USB port (for charging and transferring data). However, the watch does appear to be silicon-coated, which provides it with both extra durability to the elements and also a more contemporary look. The look of the SWAP now cosmetically reflects the image of a true sports watch, such as the ones with built-in heart monitor and pedometer.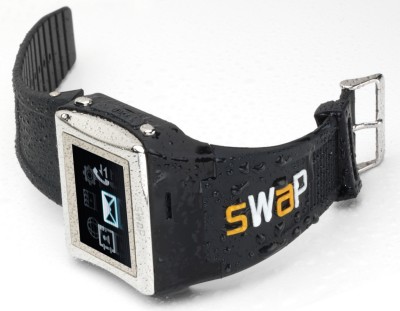 A wet watch - The water-resistant silica strap
The changes introduced in the SWAP Active have resulted in a lightweight, more durable, stylish watch with a refreshed user interface. Carl, our show's presenter, is our watch guru, and he's very impressed with the new feel: "I like the way that the Active's strap has been finished off with the 'sWaP' logo, giving it a smart look, and I'm not particularly a name-dropping kind of guy".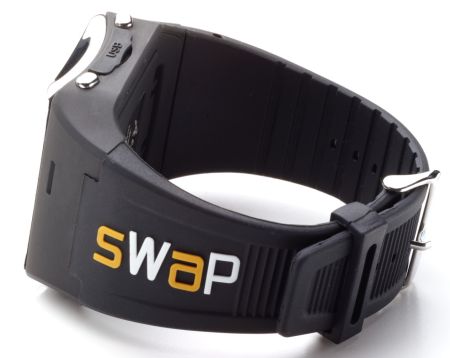 The whole feel of the watch is not so 'bling', but subtle with smoother edges and flush face/screen as if moulded as one single unit and not bolted together. What is strange, is how it appears to look considerably smaller than the original watch design, although give-or-take a few millimetres, they are basically the same size as each other.
With its slick finish and consequently lighter weight, the SWAP Active can not only go unnoticed by the observers, but can also be easily forgotten by the wearer - due to comfortable strap.
The technology incorporated in this seems almost invisible to the observer, for example the camera lens is very neatly placed on the right of the watch so therefore is facing forwards if worn on the left hand wrist. It's also discrete making it ideal for covert picture taking.
On the other side the USB port is covered and protected by a movable silicon flap.
Movable parts include a neat little telescopic stylus located in the strap, excellent storage idea, the battery, located on the back of the watch, SIM and maximum 2GB memory card. What we particularly liked here was the sturdy and sure fast way the battery both located and clicked into place. It has two plastic locator stubs that fit into slots on the watch and then you clip the top part of the battery home. Having said that, you only need to remove this when fitting or changing your SIM or memory card but probably won't need to do either of these too often as the on board memory and the 2GB memory card supplied should be ample.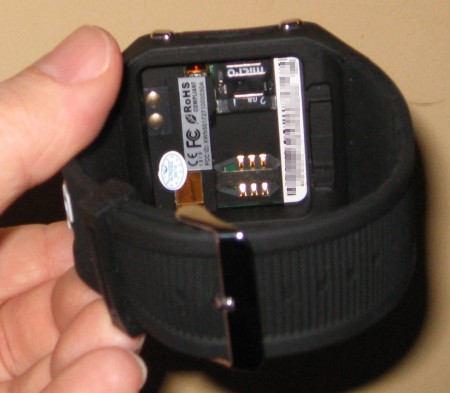 Rear of SWAP Active, showing Micro SD card and SIM slot
Charging the battery is done via the USB port (using the supplied mains plug or when connected to a PC).
SWAP Watch: User Interface
The user interface is fairly smooth and generally makes sense, although depending on how clever you want to be with it, sometimes the functions are not always buried quite where you'd expect them to be, although they do actually make sense.
| | |
| --- | --- |
| SWAP Active: Main Screen | SWAP Active: Video Player |
Some elements of the user interface appear to have been inspired by the Mac to a degree, such as the main menu scroller for app selection. Using the main functions such as phone, camera, audio player/recorder, picture viewer, video player, stopwatch, and calendar is very straightforward even on such a tiny screen.
| | |
| --- | --- |
| SWAP Active: Telephone Dialler | SWAP Active: Audio Player |
The touch-sensitive screen is generally fairly responsive, and we found the use of the two hardware buttons on the left of the watch are really handy, as they serve as shortcut keys and an exit to the watch main-screen from most modes.
| | |
| --- | --- |
| SWAP Active: Camera View | SWAP Active: SMS Text Entry |
SWAP Watch: Extras
Extra bits such as the wired headphones with in-line microphone are functional and not offensive to the eye, and the USB lead and mains plug serve their purpose. It's the Bluetooth headset that's worth a special mention.
The charging port for the wireless headset is a standard sized USB connector with a small docking port for the headset. This means that the headset can be charged by slipping it into tiny dock, then into a computer's USB port. A nice touch, meaning you're not loosing valuable pocket real-estate on connectors and chargers.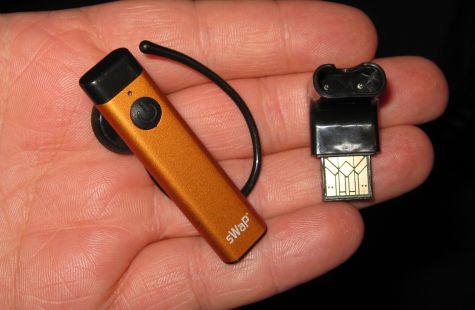 SWAP Watch Active: Summary
In conclusion - to compare this watch to another essential Bond toy (his Aston Martin), the sWaP has gone from what we would now class as the Retro look Aston From 'Goldfinger', to the up to date Aston in 'Casino Royale'.
Let's face it though, who really cares which one of the SwAp range you have, as long as you've got one.
Dyal SWAP Specification
Phone: 900 / 1800 / 1900 GSM Bands
Screen: 1.46 inch colour touch screen (176 x 132 pixels)
Dimensions: 240 x 59 x 16mm (inc strap). Weight: 74g
Camera: Supports stills and video
Media: 3GP, Mpeg-4, Wav, AAC, MP3, Midi
Memory: 128+32MB onboard, plus 2GB Micro SD card
Battery: 150-180 mins talk, 100 hours standby (Li-Ion 400mAh)
Data:
Connectivity: GPRS, USB, Bluetooth (v2.0 and A2DP stereo)
Supplied with: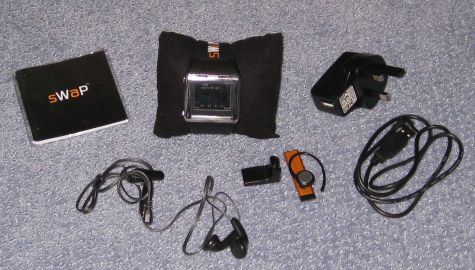 Wired stereo headphones
Bluetooth Headset
USB cable (charging and data exchange)
Li-ion Polymer 400mAh battery
Touch-screen stylus
User manual
Mains charging plug
Silica rubber strap with stainless steel buckle
Got a question about the SWAP Watch? Ask in our forum
SWAP Watch - Audio Review
Listen to our 15 minute audio review of the SWAP Watch and SWAP Watch Active. Download the MP3 file, or listen online using our pop-up player.
Handy Links: