We Interview the sWaP Watch Team
At Gadget Show Live in Birmingham, we met up with the team behind the popular sWaP range of watch and keyring mobile phones. We discuss their ever-expanding range, and witness sWaP's world record attempt!
The sWaP Watch Range: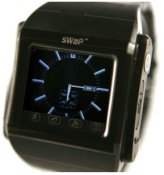 Here at FrequencyCast, we make no secret of the fact that we're fans of the sWaP watch range. Carl, not known for being a gadget geek, is the proud wearer of the sWaP Classic, and is often seen showing off his phone watch to anyone who'll listen.
Since the release of the first of their wearable watches, sWaP have been increasing the range to include the Rebel (for kids), the stylish gents Signature, the sporty Active, the ladies Incognito, and their keyring phone, the sWaP Nova.
The range of mobile phones share a common operating system, and are all amazingly powerful devices, with most of the range featuring a hands-free mobile phone, video player, media player, Bluetooth support and a camera.
Carl and Pete, our podcast boys, were at Gadget Show Live 2011, where sWaP had a huge stand. We caught up with Ty and Peter from sWaP to see what was next for the innovative wearable watch company...
Listen to FrequencyCast's Interview with Ty Jackson, from sWaP (7 minutes)
We took a quick pic of the impressive display of sWaP watches from their stand at Gadget Show Live, pleased with the fact that we've tried just about all of these wearable phones, and continue to be impressed: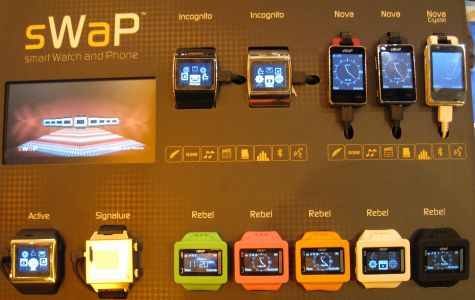 A display of all of the available sWaP mobile devices, as seen at Gadget Show Live
For more details of what sWaP has to offer, visit their site at www.s-w-a-p.co.uk, or check out our look at the sWaP Watch range for a list of our photos and reviews.
Record Breakers
The sWaP Nova is a truly tiny phone - small enough to wear around your neck, or keep on your keyring. Sadly, no camera on this diddy phone, but it's touch-screen, has a fully-featured video and audio player, comes with an FM radio, and also doubles as a USB mass storage device. See our Review of the sWaP Nova.
At Gadget Show Live, the Nova got a Guinness World Record for the Lightest Touchscreen mobile phone in the world weighing just 40.3 grams. We chatted to Alexander from Guinness World Records to verify that the record was broken.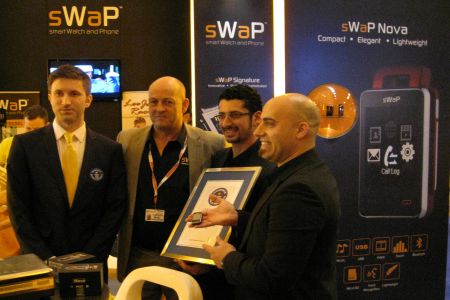 Alexander, presenting the Guinness Book World record to Ty, Das and Peter - the team from sWaP
More about sWaP Watches:
We've reviewed more of the sWaP range. Here are some links to our reviews: